2015 Suzuki Outboards: News from the Outboard Expert
The new Suzuki DF200A outboard promises V6 power from a four cylinder package, with features like variable valve timing and Lean Burn to maximize performance and fuel economy. We also got our first test of the new EFI DF25A and DF30A portable outboards.
Suzuki Marine revealed a new DF200A four-cylinder outboard and put its new DF25A and DF30A outboards in the water for the first time at a recent event in Key Largo, Fla. The three-cylinder DF25 and DF30 debuted in February at the Miami International Boat Show, but was not available for demos. The DF200, however, was a surprise and is so new that the motors I ran in Key Largo were considered "pre-production" examples. Suzuki also displayed three SS Series models – a DF115, a DF150 and a DF250 – in new matte-black paint with bright-red trim and bold graphics designed to appeal to the bass boat market. In a final bit of news, Suzuki announced that its digital Precision Control joystick system is now available for the four-cylinder DF150G and DF175G model outboards.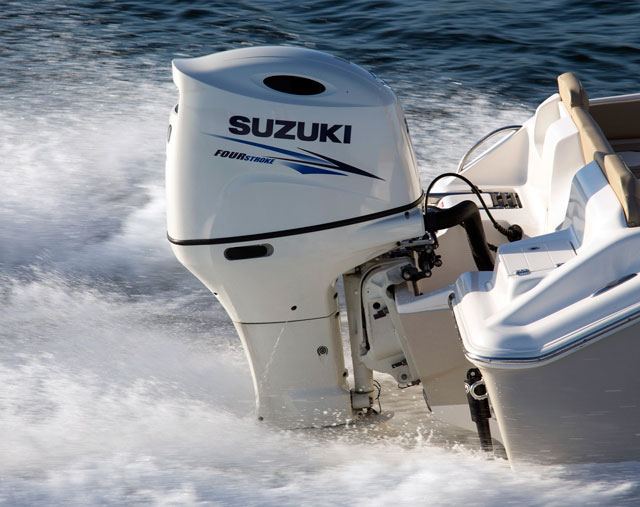 Loaded with features to boost performance and economy, the four-cylinder Suzuki DF200A weighs 69 pounds less than a Suzuki V6 200 outboard.
Suzuki DF200A
While it has the same 2.9-liter displacement as the DF150/175 motors, Suzuki says the new DF200A is more than just a "tuned up" 175. Its block casting has been updated to accommodate an exhaust oxygen sensor and a knock sensor, and it has different cylinder heads with a higher, 10.3:1 compression ratio. The goal is to provide the performance of a 200-hp V6 outboard in a more-compact, lighter-weight four-cylinder configuration, and it's the same path Yamaha has followed with the development of its four-cylinder F200 model.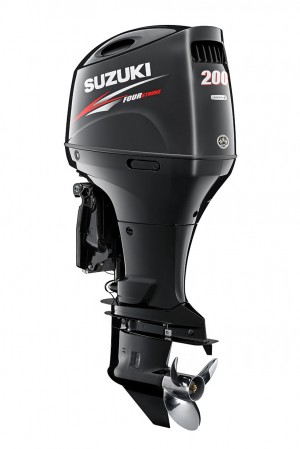 The slim profile of the Suzuki DF200A makes it a candidate for repowering older boats with twin outboards mounted on 26-inch centers.
The Suzuki DF200 weighs a claimed 498 pounds, or 69 pounds less than the 3.6-liter V6 DF200. The 2.8-liter Yamaha F200 weighs a claimed 487 pounds. The Suzuki DF200A is happy on 87-octane fuel, and comes with a full complement of bells and whistles, including variable valve timing, a multi-stage tuned intake tract, and an offset powerhead that shifts weight forward closer to the transom and also accomplishes some of the gear reduction in a chain drive, between the crankshaft and the drive shaft. The Suzuki Lean Burn System utilizes an oxygen sensor and a knock sensor to lean out the air-fuel ratio at mid-range cruising speeds, to achieve a claimed 33 percent increase in fuel economy. These slim motors can be mounted on 26-inch centers, and so are a great candidate for repowering an older boat with V6 two-stroke outboards – with little weight gain but a big boost in economy and technology.
I ran the DF200 on a Key West 219FS, a 21' 9", 2,250-pound center console that's rated for up to 250 hp. With 40 gallons of fuel and three people on board, we clocked an average top speed of about 45 mph, with the motor bumping its rev limiter at 6100 rpm while spinning an 18.5" pitch three blade prop. Acceleration was adequate but not what I'd call spirited, and I wonder if in this configuration the motor might perform better with a four-blade prop just to improve hole-shot. Remember these were pre-production motors, so we should not place a lot of stock in these performance numbers.
The DF200 is impressively smooth and quiet, with a balance shaft cancelling vibration and the intake well muffled. Suzuki did not have pricing info available for this motor, which will reach US dealers and boat builders in September. In February 2015 Suzuki will offer a DF200AP model that will offer Precision Control drive-by-wire and a keyless ignition that uses a proximity key fob to activate or lock the ignition. All DF200 models will be offered with a white or black finish.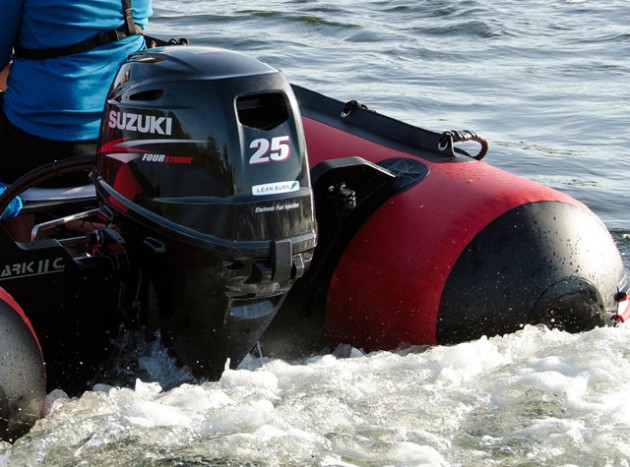 Offered in every configuration, the Suzuki DF25 outboard is a good match for inflatables, skiffs, aluminum fishing boats and compact pontoons.
DF25/30
The DF25A and DF30A are all-new from the skeg up, and replace a 597cc V-Twin DF25 that was an interesting configuration but hard to prop due to its narrow powerband. The new motors share a 489cc three-cylinder powerhead that features Suzuki's battery-less EFI (so it can be started manually without a battery) and the Lean Burn system for better fuel economy. Use of new casting techniques and more composite materials reduces the weight of these motors to 137 pounds (158 pounds with electric start) which Suzuki claims is the lightest weight in the category. The Mercury 25 FourStroke weighs 157 pounds, and the lightest version of the Yamaha F25 – which is a two-cylinder engine – weighs 168 pounds. Even the lightest two-stroke Evinrude E-TEC 25 is nine pounds heavier than the new Suzuki.
One interesting DF25/30 feature is an actual air filter – the first I've seen on an outboard – located just upstream from the throttle body. Watch this quick video for a cutaway view:
According to Suzuki, the new air intake system on this motor is so un-restrictive, engineers were concerned that debris and dust could reach the engine, making the filter a good idea. The intake tract also has an attenuator tuned to tone down noise, and it's very effective. This motor is super-quiet. How quiet? During my test run on a Carolina Skiff JV15, I stopped to try the rope start. The engine is designed to start with just 420 degrees of crankshaft rotation, which equates to an easy tug on the starter cord. I gave it a yank, and then another without realizing that the motor was already running! This is while I was kneeling about two feet away from the powerhead.
I think you buy a motor like the DF25/30 more for dependability than performance. In addition to offering easy starts and improved fuel economy, the EFI system will help avoid issues with ethanol and stale fuel that plague motors with carburetors. I also like the easy-to-reach hose flush fitting on this motor, handy if you're boating in salt water.
The little Suzuki has enough poke to put the JV15 smartly on plane, it's quiet, and will be available in all of the usual variants: remote or tiller steering, manual or electric start, and manual or power trim. Even the electric start models will retain the rope start, a nice back-up.
For more information visit Suzuki Marine.