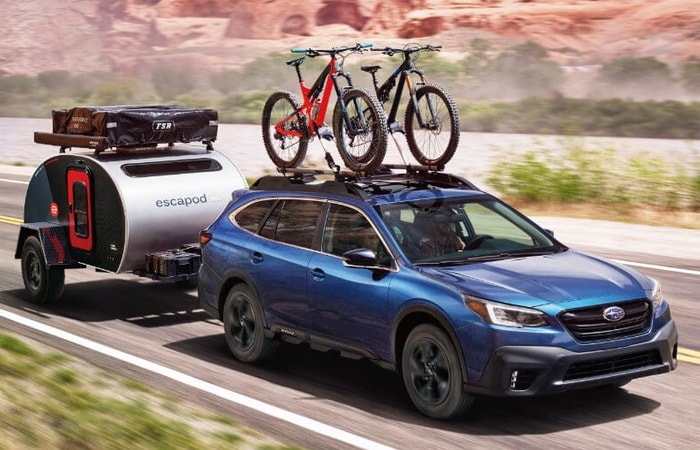 The Subaru Outback is one of those vehicles that could be placed in a couple different categories. For many years the Outback had a wagon body style, but it has recently evolved to be more of an SUV/crossover style of vehicle. We know that the Outback is versatile, but can the Outback tow if you need it to? Today we'll look at the towing capacity of the Outback and we'll see how it performs.
The amount of towing capacity you get will depend on which engine you opt for. You'll have two choices, those being the 2.5L SUBARU BOXER engine and the 2.4L Turbocharged SUBARU BOXER engine. The 2.5L engine will get you 2,700 pounds of towing capacity, while the turbocharged 2.4L will give you 3,500 pounds of towing capacity. 2,700 pounds can go a long way, giving you the ability to tow pretty much any trailer you want. For some reference, a large boat trailer typically weighs 2,200 pounds, while a large enclosed utility trailer usually weighs 2,700 pounds. If you're looking to tow more heavy items, such as a large flatbed trailer, you should think about going for the turbocharged Outback.
If you're going to use your Outback to tow we have some tips you might want to utilize to make sure you're being as safe as possible. First, you should accelerate slowly and steadily, and you should try and keep your speed to around 55-60 miles per hour. You should also keep a greater distance between you and the car in front of you. The general rule of thumb is to keep about one second of distance per every 10ft of your vehicle, so for example, if you have a 15ft Outback and a 15ft trailer you'd want to keep about 3 to 4 seconds of distance between you and the vehicle in front of you. The last tip we have is if you're towing a trailer with cargo you should load over 60% of the cargo weight in front of the trailer to prevent swaying.
If you had any doubts about the Outback's ability to tow, think again. You'll be able to tow pretty much anything you want if you go with the Subaru Outback. If you're interested in this SUV, or if you want to give it a test drive, come on down to Briggs Subaru and speak to our staff. We would love to help you out and make sure you're satisfied.