Imagine being able to get out of bed, walk a few steps into the kitchen and pour yourself a cup of coffee, look out the window and see the mountains, or a beach, or a national forest.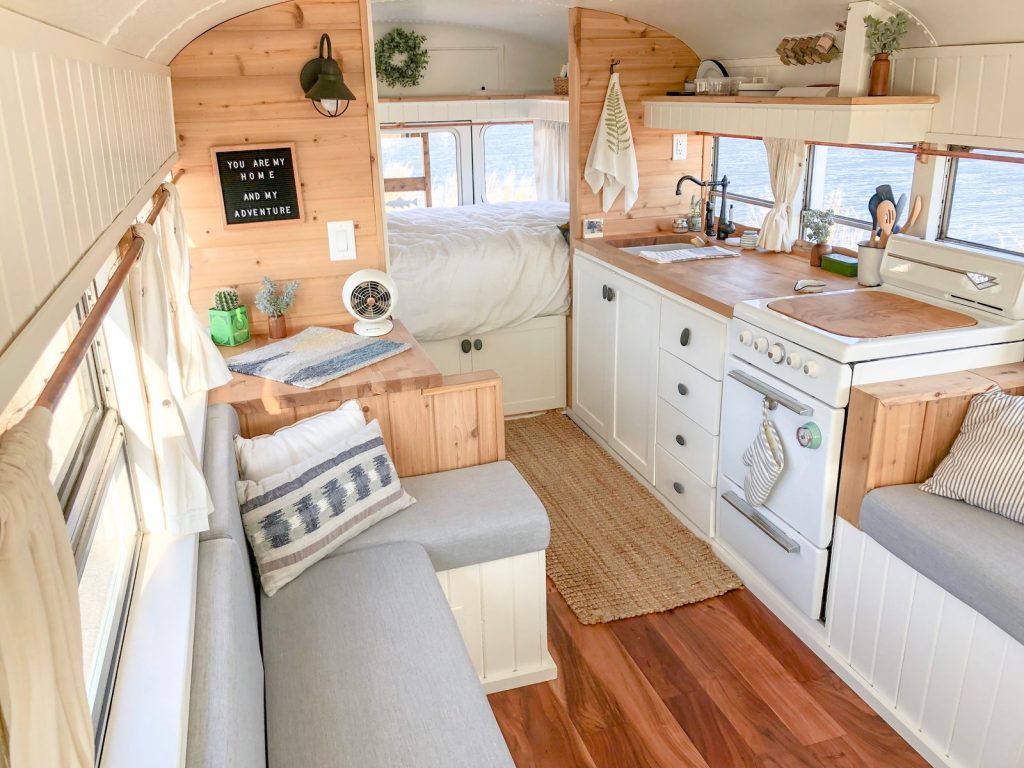 Or maybe all three of those within a few weeks' time. Wait, what?
When you live in a converted bus (known as a "skoolie"), your home can go anywhere there are roads.
Skoolies have all the amenities of home
You won't be roughing it, either. Most bus conversions, or "skoolies" as they're known in the bus life community, have kitchens, heating, air conditioning, electricity, and even indoor plumbing. Can't live without coffee or wifi? You can still have both of those in a skoolie.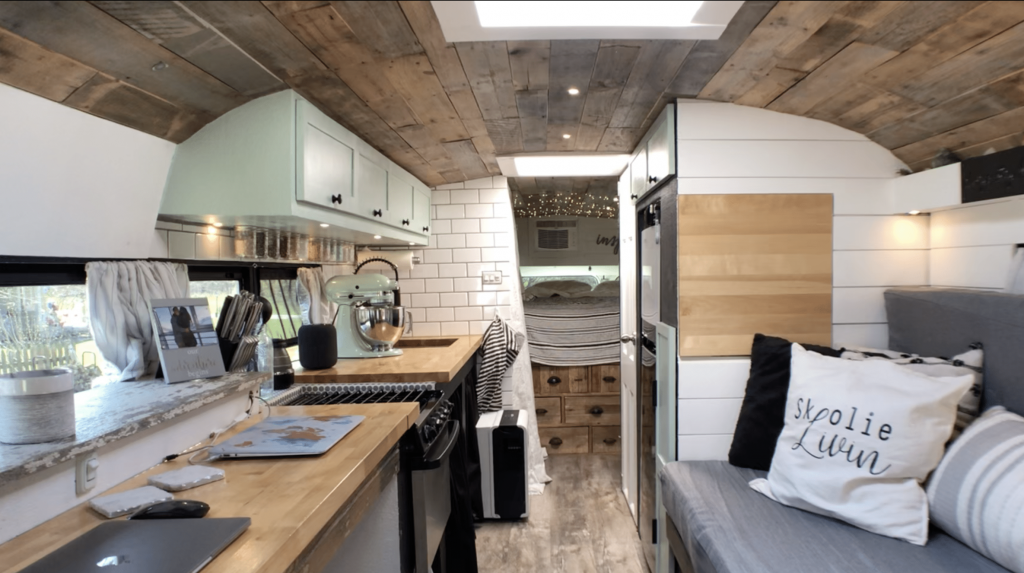 You've probably seen van conversions (search for #vanlife on Instagram) where folks modify a sprinter van. These builds usually include a bed, a basic kitchen setup, and sometimes a bathroom.
Bus conversions, but buses are of course much bigger. As a result, most skoolies you'll see have room to sleep, a bathroom and shower, "full" kitchen, and living area. The extra room is well-suited for those with kids, pets, or who just enjoy a little bit of extra indoor space.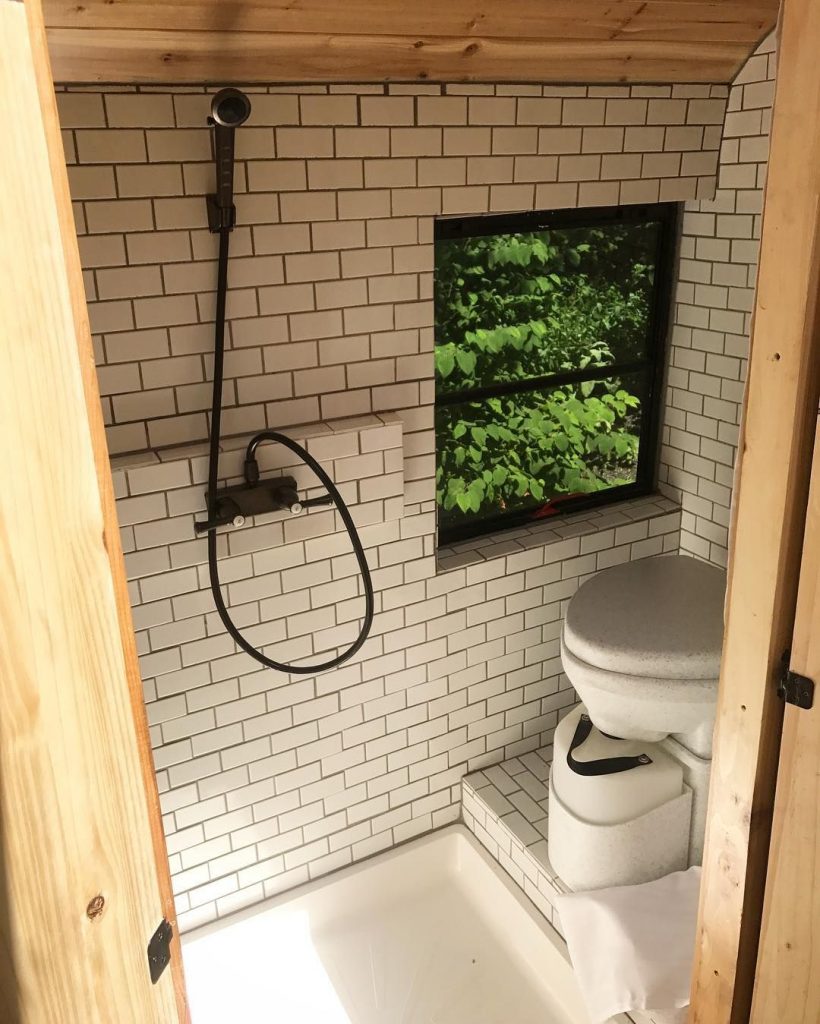 At 250-300 square feet for a full-sized bus, it's like driving your apartment around with you… to National Parks. You won't be roughing it, but you'll still be able to "camp" and get away from the big city.
What's the gas mileage like?
Not great, I'll be honest. However, despite being on wheels, living in a bus doesn't mean constantly driving. One of the benefits to "bus life" is that you can vacation at a much slower pace, and, paradoxically, traveling for longer periods of time makes travel more economical.
Think about it: most Americans only get a few weeks of vacation a year, so they put a premium on their time. That means packing as many experiences as possible into a single week. The tourism industry knows that people are limited on vacation and are generally willing to pay more for convenience and timing. But as with vagabonding, longer trips are often cheaper.
If you live in your skoolie full-time, gas money is quite a bit cheaper than rent in most cities. Or, you can keep your house or apartment but rent it out while you're gone.
What if my job isn't conducive to living on a bus?
This is a sticking point for most people, but remote and online work is becoming more and more common, especially in the wake of COVID-19. While some bus and van dwellers have jobs as travel photographers or bloggers, some have "normal" jobs and work remotely through a wifi hotspot.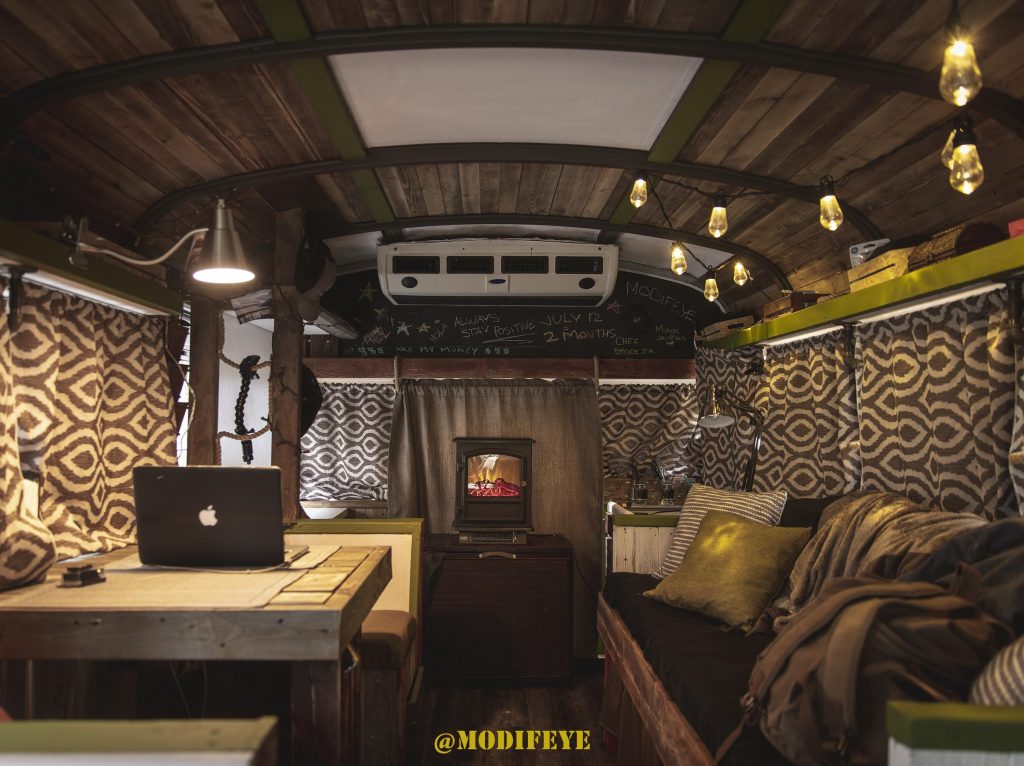 Another option is to work at campgrounds and parks. If you work for a campground chain, you can spend a few weeks or months at a location and work part-time, get a free campsite, and then move to the next location.
If you're more established in your career, and/or have a family to support, you might not be able to travel full-time. But that's fine. Skoolies can be great for shorter trips too, and are convenient for families in the same way that RVs and campers are.
Living in a bus with kids or pets
There are plenty of skoolie families who travel with their kids and pets. If you travel full-time this mean you need to home school or do some type of online or alternative learning.
Being able to travel to different parks, landmarks, and other historic sites can be a great experience for kids and create a ton of great memories for your family. And it can be educational, too.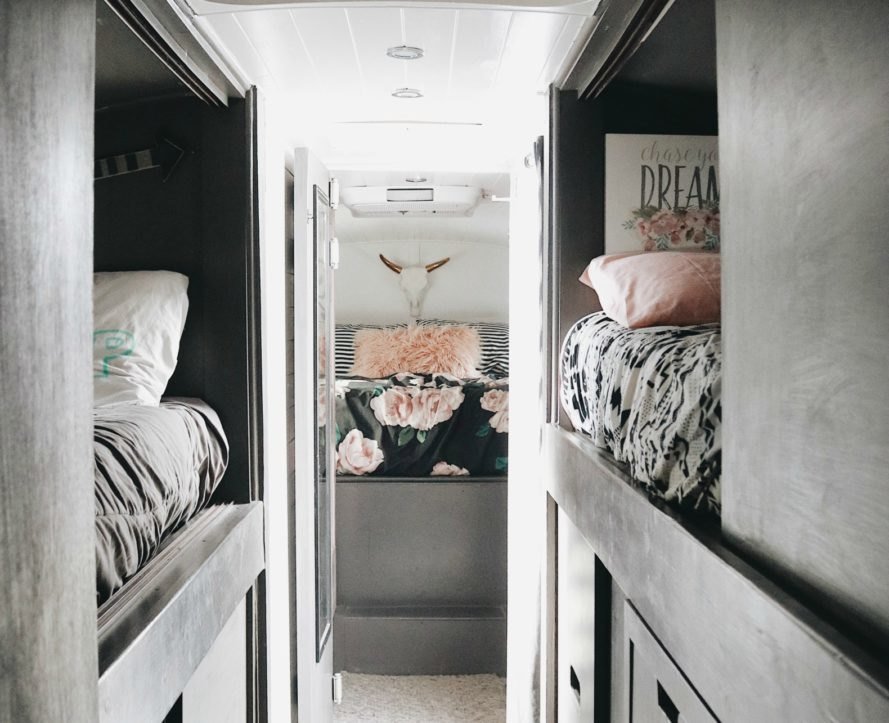 As for pets: most dog owners know their dogs wouldn't complain about extra walks or outside time. But some van and skoolie folks travel with cats as well!
The other thing about traveling in a school bus: they're safe. A type "C" school bus (the classic yellow kind) usually weighs upwards of 25,000 lbs, making them much sturdier than even SUVs when it comes to traffic accidents.
Oh, the places you'll go!
Searching for #buslife on Instagram shows a ton of beautifully composed photos with skoolies in front of mountains, overlooks, or the wide open plains.
Skoolies excel at these types of trips, allowing people to enjoy the natural beauty and freedom inherent in roadtripping, but without having to camp or find hotels.
Living in a converted bus might put your bucket list idea of seeing all 63 National Parks within reach!
Mountain biking and hiking lovers can rejoice too, as you can bring your gear with you (you've seen bike racks on the back of RVs, why not on a skoolie, too?) and have a comfy place to rest at the end of the day.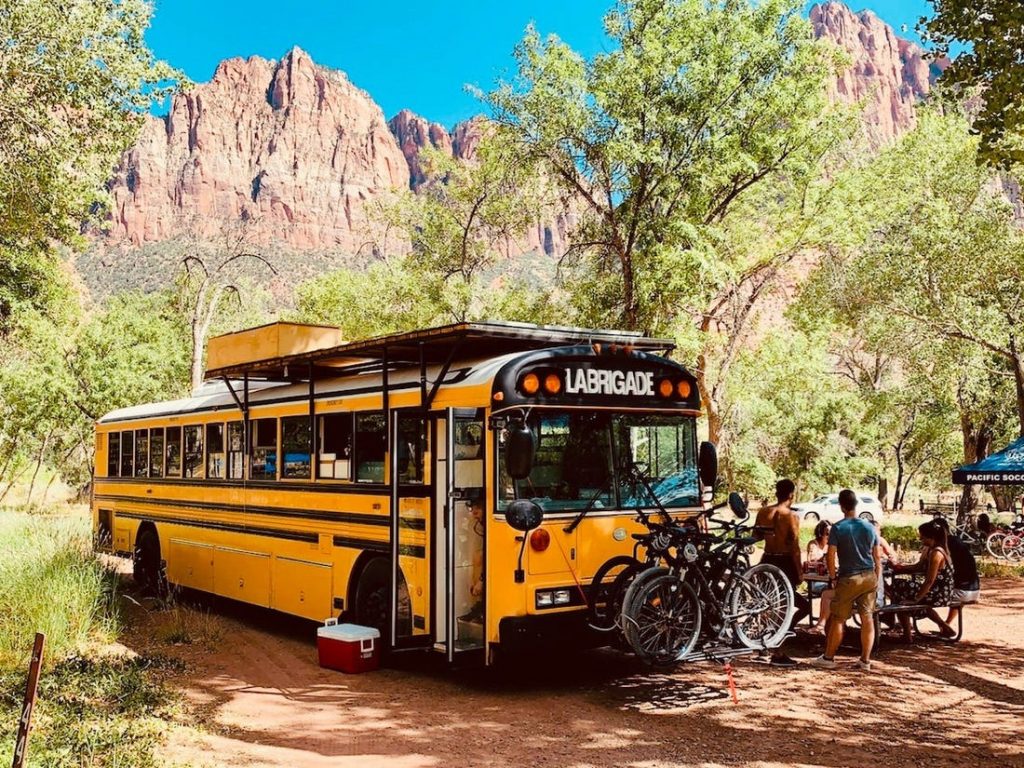 Downtown driving in a 40 foot school bus is not most people's idea of fun. But with some extra planning, you'll be able to visit more populated areas as well.
This could mean visiting museums, festivals, and other attractions in major cities. Or it could "just" mean catching up with friends and relatives who are scattered across the country!
How do I get a skoolie?
If you are interested in living the bus life, there are three main options for you:
DIY your skoolie (after buying an unconverted school bus)
Buy a used skoolie
Commission a custom-built, brand new skoolie.
DIY Skoolie Conversion
Because skoolies are homes on wheels, they require a lot of home improvement skills and are ambitious projects. But if you're a handy person, or if you are up to the challenge of learning new skills, it can be an incredibly fun and rewarding process.
First, you will need to buy a bus. This could be from a dealership, Craigslist, or through other connections. Used school buses usually have a lot of miles, but are often designed to run for a long time. So don't let mileage be your only factor. Regular maintenance is just as important. Do your research before buying!
Next, you'll need to remove the seats so you have an empty bus.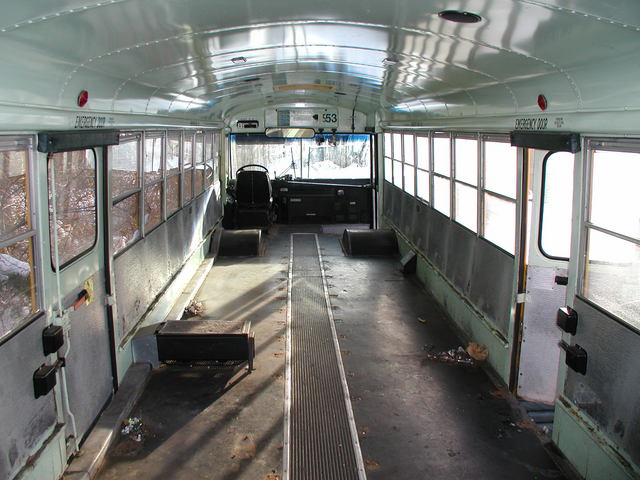 Depending on what your plans are, you might need to strip out the flooring (did you know that a lot of buses have wood flooring under the black vinyl floor?).
You also might consider a "roof raise". Some buses are designed for elementary school kids and thus have pretty short ceilings. If you're tall, it might be worth it to raise the roof of the bus by a foot or two. Be warned, though, this is a pretty intensive process that requires special equipment and welding skills (farming it out might be an option, however).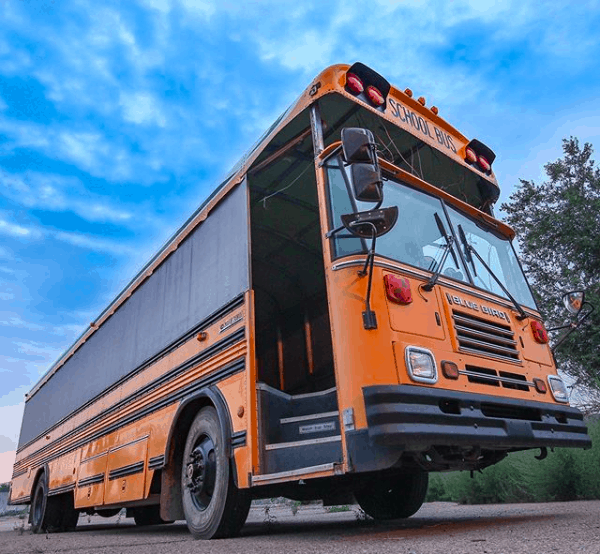 From there, you will need to put up walls; repair, improve or install HVAC systems; install plumbing; do electrical wiring; buy appliances; and make the bus a cozy place to live.
If you're not the architectural type, don't worry, as there are a ton of skoolie floor plans available online.
By the time you're done, you'll probably have visited every section of your local home improvement store, and have a host of new DIY skills that you can use to fix up your normal home, too.
This can totally be a "weekend warrior" project, but it can take between 6 and 24 months of casual weekend work to get a skoolie ready.
Buy a previously-owned skoolie
If that sounds like a lot of work, don't fret. While the bus life is great, some people have life changes that necessitate leaving the bus life behind. When that happens, they have a fully converted bus to sell.
In addition to a convenient option, this can be a great way to meet some people in the skoolie community and make connections. You might also find a used skoolie at a skoolie meetup event (yet another way to make new and interesting friends).
It also gives you an idea of what the resale value of a skoolie is, should you go the DIY or pre-owned option.
Check out your local Craigslist for options, or skoolie classified sections like this one. You might also find listings on "tiny house" listing sites.
Buy custom-built
If you spend enough time on Instagram (oops!) you'll find that there are some skoolie owners who are so talented with their DIY skills that they build skoolies full-time.
Because they're talented woodworkers, welders, and builders, the buses they convert look absolutely gorgeous.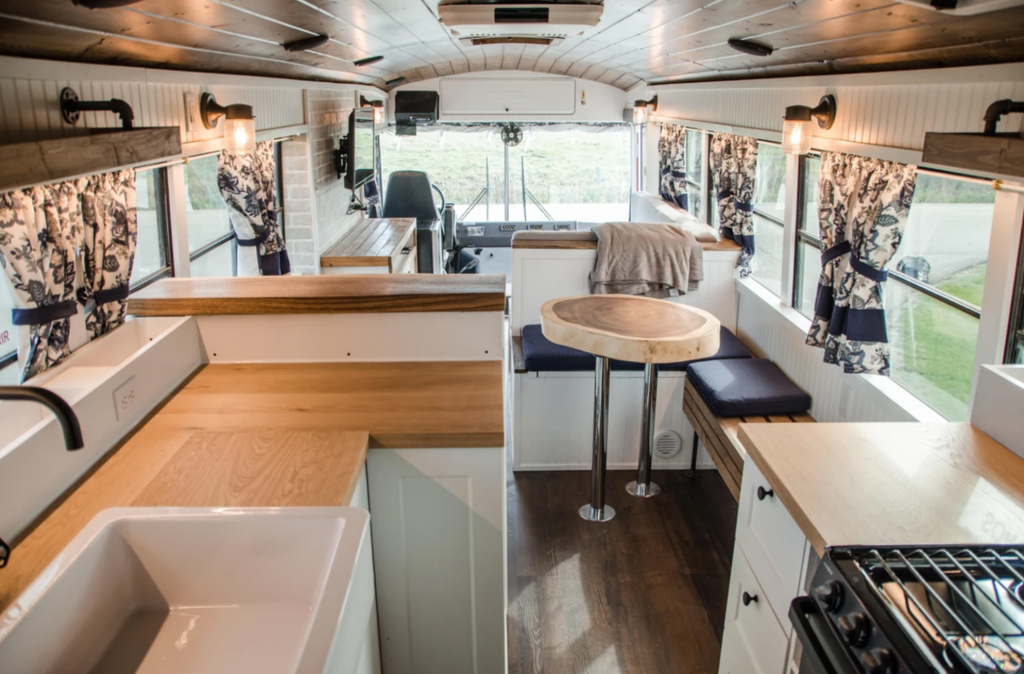 The one downside is–you guessed it–cost. But even if this isn't the option you want to go with… it's worth a look, right? A few options to drool over:
So, how does living in a skoolie sound?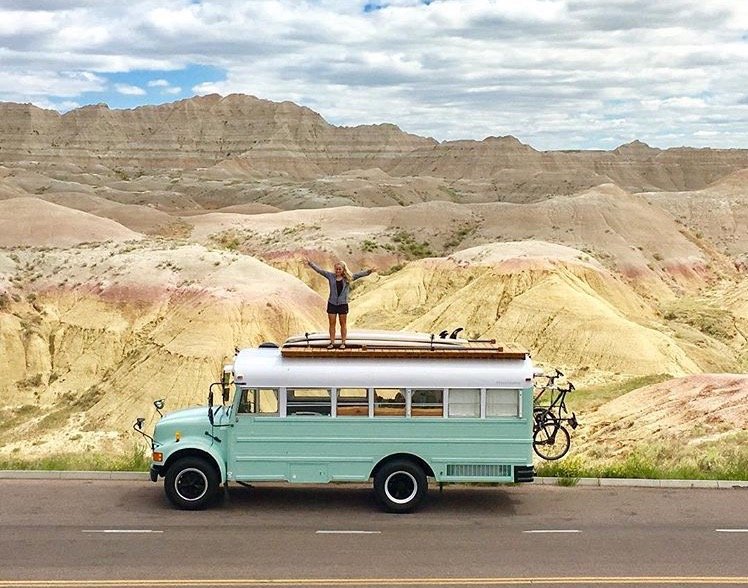 Could you see yourself taking an extended roadtrip in a converted bus?
Where would you travel to first?