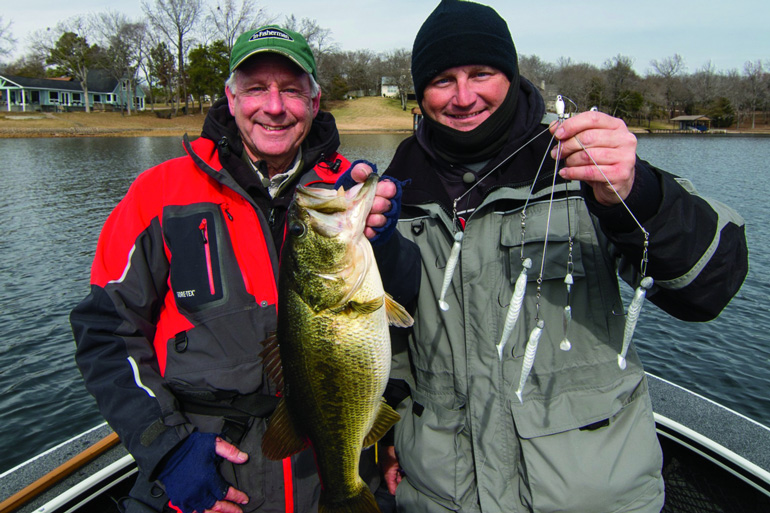 October 19, 2020
By Dr. Hal Schramm
The castable umbrella rig, also known as an Alabama rig or A-rig, made its debut to bass fishing stardom when Paul Elias won an FLW Tour event at Lake Guntersville, Alabama, in October 2011. Other remarkable catches soon followed, like a 15-pound unofficial Tennessee state-record largemouth bass from Pickwick Lake, the South Dakota state-record smallmouth bass, the flurry of giant bass from Lake Chickamauga, and manifold reports of catches of multiple bass on a single cast. For a brief period, Andy Poss' castable umbrella rig was a precious commodity. Indeed, the lure was so effective, particularly for big bass, that many anglers and a few fishery agencies and tournament organizations considered fishing umbrella rigs unethical. (I heard the same prattle about depthfinders in the 1980s.)
The umbrella rig was (in 2011) not new. The concept had been used for several years by anglers trolling for striped bass, but the castable rig built by Poss was new to black bass anglers. And it truly was sensational. Eight years later, umbrella rigs still catch bass. It's a staple presentation among winter bass anglers on many southern reservoirs and sometimes catches bass when nothing else will. Touring bass pro Jason Lambert considers the rig just another tool. Tennessee River bass guide Jimmy Mason agrees, but he says that it remains his go-to presentation when he has clients willing to work for a really big bass.
Click to View Post Navigation
Where to Fish Them
"Around shad," says touring bass pro Fred Roumbanis. And that could be just about anywhere you expect to find a bass: 45-degree banks; over and around brushpiles; cove mouths, points, and channel swings; from shallow water down to 20- to 25-feet deep. Mason concentrates his winter fishing in the flowing-water reaches of Tennessee River impoundments like Pickwick. Productive targets are neck-down areas where water flows under a bridge, points that provide a current break, eddies along bluff walls (the bigger the eddy the better), edges of weedbeds (the deeper the edge the better), and creek channel and main river channel intersections. Shad are a must-have part of the equation, but he also uses an umbrella rig to tempt big fish around visible, isolated cover like laydowns and docks.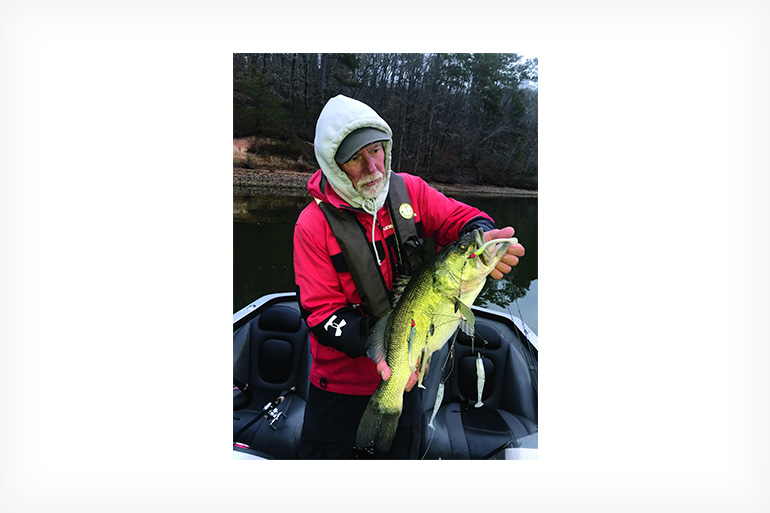 Umbrella rigs often mimic a tight school of shad. Shad often form tight schools in late fall through winter.
The umbrella rig excels in triggering suspended bass in open water. The default presentation is to swim the umbrella rig at or slightly above the "shad balls" (condensed shad schools). Roumbanis relies on his Garmin Panoptix Livescope to track the pelagic shad and to monitor the running depth of his umbrella rig. Mason similarly uses his Humminbird 360 to present rigs with maximum efficiency. "The A-rig looks like a ball of fire on the 360 screen," Mason says.
Bass don't spend all day everyday suspending under bait balls, and they aren't necessarily quick to rise off the bottom to chase a mini-school of shad, real or fake. I have had times when the umbrella rig had to be slow-rolled along the bottom to draw bites, even where schools of shad were suspended. And umbrella rigs can be effective along steep banks or shelves along bluff walls where shad are absent but in the vicinity. Mason and Roumbanis both suggest fishing an umbrella rig anywhere you would fish a jerkbait.
Not Just Another Multi-Lure Presentation
Other multiple-lure presentations have been used successfully for bass. In-Fisherman Editor In Chief Doug Stange has had good success with tandem-rigged fluke-style baits (called a donkey rig by some anglers). The Livetarget Bait Ball lures (crankbaits, topwater poppers, and spinnerbaits) and Fishing Fire Multiple Baitfish capitalize on the school-of-forage stimulus, but these lures don't seem to have caught on. I've had success with multi-bladed spinnerbaits like a Booyah Super Shad or Strike King Quad-Shad in the fall. While all these lures or presentations catch fish, they come up short on the "schooling behavior" of a multi-arm umbrella rig.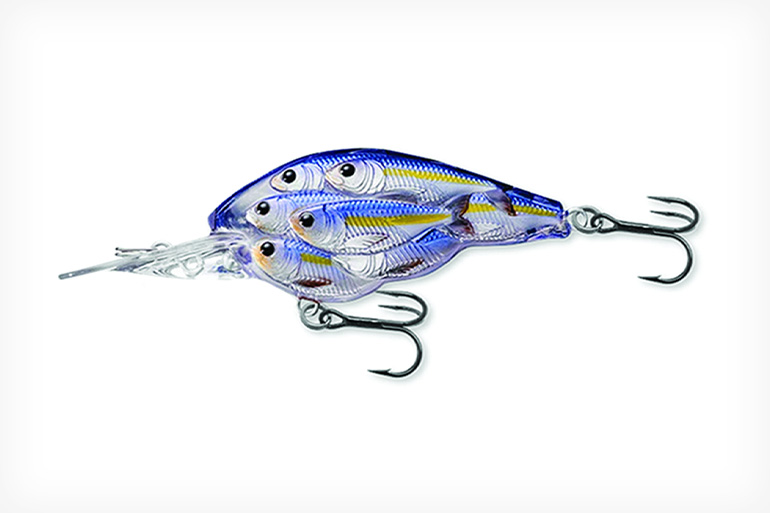 Livetarget Baitball Crankbait
When to Fish Them
Gizzard and threadfin shad move into shallow coves during fall in many southern reservoirs. Lambert adds an umbrella rig to his arsenal beginning in late fall, when the shad leave the coves and return to the main lake, and he keeps it ready until the bass begin their annual move shallow to spawn. Mason uses a 60-60 rule; he begins fishing an umbrella rig when the water temperature drops below 60°F in late fall, and fishes it until the temperature rises to 60°F in the spring.
At times, using an umbrella rig works like magic on bass that won't otherwise go for an individually presented lure like a paddletail swimbait.
Lambert describes the "perfect storm" as a mild winter with lots of moving water; for the Tennessee River, a lot of moving water happens during a wet, rainy winter and early spring. Bass are hard to catch when your temperature gauge reads in the 40s; this is when Roumbanis often relies on an umbrella rig in waters where he can use it.
Lambert and Roumbanis prefer water with greater than 2-foot visibility. Mason would rather see water with visibility around or a little less than 2 feet, but he doesn't shy away from dirty water. Rather, he makes the same adjustments you would make with other presentations to brighter colors and larger baits that move more water to help bass zero in on your offering.
Rigging considerations
The default for lure bodies is swimbaits or grubs in shad hues sized to match the hatch with the center bait the largest offering. Lambert uses shad-pattern or white swimbaits. Roumbanis relies on shad patterns, tending toward darker colors on overcast days and lighter colors on bright days, and prefers a different and usually brighter bait on the center wire. Mason matches the baits on two arms with the center-wire bait and uses different colors on the other two arms where he might go rogue with something like chartreuse-pepper grubs.
In the fall of 2011, any umbrella rig you could buy was the right one. But soon several lure companies offered umbrella rigs, some pretty radical and others just sufficiently different from Andy Poss' original to dodge patent infringement. I tend to lump the umbrella rigs into groups, large and small, and with and without spinner blades. Roumbanis fishes exclusively rigs with blades, reasoning more flash and vibration is a good thing. Mason, who fishes waters that get bombarded with umbrella rigs, relies on a YUM Flash Mob Jr., a smaller rig with spinners, about 80 percent of the time, but he switches to a larger umbrella with blades in muddier water, or to a no-blade rig to give the fish a different look during the peak of the umbrella-rig season when a lot of anglers are heaving rigs.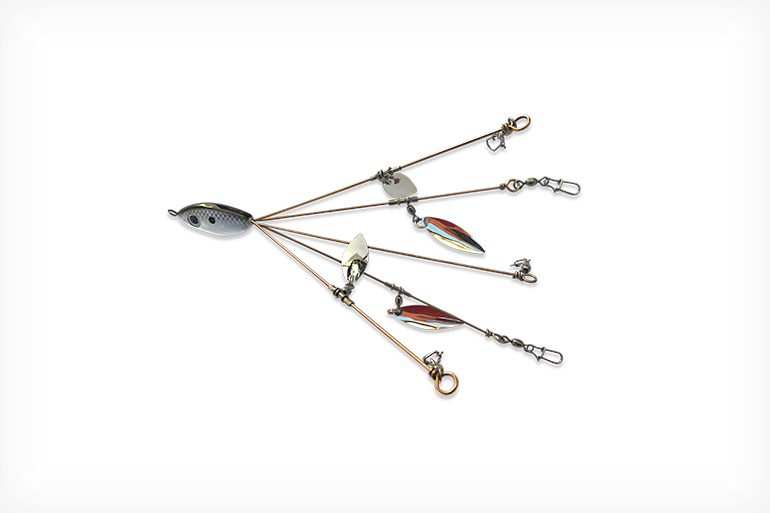 The original Andy Poss A-Rig started a multiple-lure rigging revolution.
Type of hook or jig is of little importance as long as the hook is sharp, sufficiently strong to hold a big bass, and sized for a clean hookup with the softbaits you are using. Poss recommends exposed-hook rigging. Ballhead, minnow-head, and belly-weight hooks all work. Using a heavier jig or hook on the bottom wire keeps the rig from rolling on the retrieve.
Roumbanis tethers the umbrella rig to 20-pound fluorocarbon; Mason prefers 25-pound test. Losing an umbrella rig is an expensive proposition, and rebuilding one is time-consuming. It's tempting to protect your investment with stronger braid, but Mason has found that he gets fewer bites on braid. Poss, on the other hand, uses 80-pound braid for better bite detection. "Sometimes bass just 'tick' a bait," he says. "If you can hook one of these fish you can fire up the school."
You are casting a lot of weight—usually 2 ounces or more—a long way. A stout swimbait rod like a St. Croix TBC 710 HF or a Dobyns DC 795 SB (for lighter rigs) or DC 806 HSB (for heavier rigs) handles the load and makes casting (lobbing) easier. For me, the hardest part of casting an umbrella rig is keeping thumb pressure on the reel spool while loading the rod. Experimenting to see whether a round or low-profile reel is the right tool for you, but select a low-speed reel with a well-supported spool.
Why they work
I'm not a bass psychologist and, honestly, I don't know why umbrella rigs work; but a few well-proven principles of animal behavior may apply. Bass are opportunistic predators; a palatable forage organism that easily fits in their mouth and can be easily captured often gets eaten. Bass anglers call this a reaction bite.
While opportunistic feeding provides vital energy in the here-and-now, more reliable feeding strategies are essential over evolutionary time. To an angler, bass feeding is getting a bite. To an ethologist—scientists who study animal behavior—feeding (acquiring energy) is a sequence of behaviors programmed to maximize net energy gained. For simplicity, let's say feeding consists of detecting prey, then attacking it, capturing it, and finally ingesting it. Transitioning from one step to the next in the sequence requires a releasing stimulus.
Generations have "taught" (survival is a good teacher) bass that forage—animals that provide energetic benefits—have certain characteristics: they are shaped and colored a certain way, swim a certain way, make certain sounds, create the right water displacements, or release certain chemical cues. Ethologists have demonstrated that releasing stimuli are simple characteristics and usually only a part of a complex image. For example, the releasing stimulus to trigger pursuit of a forage fish may be only the presence of a particular color in a certain part of the food item's body or a flash when it swims. A simple releasing stimulus facilitates a fast go-no go decision to initiate capture. The challenge to a lure designer or an angler is figuring out what the releasing stimulus is.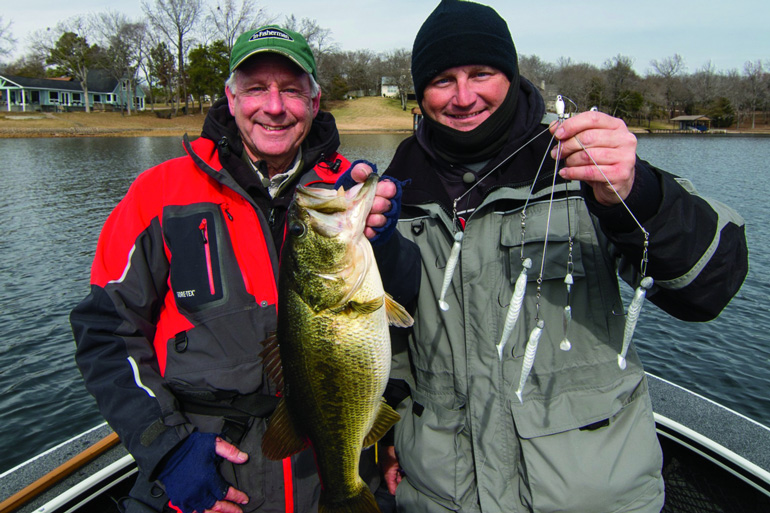 During a January In-Fisherman TV trip to North Texas, bass were chasing shad in open water. The umbrella rig was all they would respond to.
A second ethological construct that applies to triggering capture is search image. While bass may be opportunistic feeders, especially if you hit them on the head, there is long-term energetic benefit to chasing a prey that fits a very narrow subset of characteristics or releasing stimuli. Within the broad realm of lures, all of which catch fish and therefore provide effective releasing stimuli to trigger capture, only a select subset of lures may work on a given day or a set of environmental conditions. The same can be true for presentation: depth in the water, proximity to cover, position on structure, lure speed. If you've spent more than a few days bass fishing, you have experienced search image. Except for those stupid-good days when bass bite almost anything, catching bass involves rotating through lures and presentations until you find what works—in ethological terms, what fits the search image. Search image can last for a season or abruptly change daily or even within a day.
So what does this have to do with umbrella rigs? First, they present a suite of potential releasing stimuli. The soft plastic bodies look—shape, color, swimming motion—like a common forage (shad or minnows), and spinner blades provide multiple flashes that are common from a school of shad or minnows. But maybe more importantly, the baits in an umbrella rig swim in a school like young-of-the-year shad, and the rig can be effectively fished in open water at the depth of nearby schools of shad.
"School" is a term with specific meaning. A group of fish of the same species is just an aggregation. A school is an aggregation that swims as an organized, cohesive unit. Unlike a single swimbait, which can be highly effective at certain times and conditions, the umbrella rig appears as a mini-school of shad fished at a time—late fall through winter—when shad are in tight schools. Poss has better success fishing with as little spread in the rig wires as possible without tangling the lures. This makes good sense—shad swimming in a school are tightly packed. Pulsing the retrieve by speeding up, which closes the spread of the arms, and pausing, which allows the arms to flair, further enhances the school-of-shad look.
An open book
My thoughts on why umbrella rigs work are speculation because crucial information is missing. Better deductions could be offered if information was available about conditions when umbrella rigs don't work. Specifically, would umbrella rigs work in lakes where shad, either gizzard shad or threadfin shad, are not the dominant forage? Many northern waters where shad are not the dominant prey have other pelagic (open-water), schooling forage, like emerald shiners, alewife, or rainbow smelt, that resident bass feed on. That multi-hook umbrella rigs are illegal in these northern waters possibly discourages anglers from trying them, but In-Fisherman Field Editor Steve Quinn shared that some northern anglers are quietly finding them effective.
Umbrella rigs are effective winter presentations in southern, shad-filled waters. Umbrella rigs have proven that a lot of bass prowl the pelagic zone, presumably benefitting from the abundant shad schools. Fishing open water is mentally challenging, but a proven presentation that mimics the look and location of the forage ups my confidence. Bass everywhere congregate where the forage is abundant and easily captured. I think legally rigged umbrella rigs are worth a try in waters where and when pelagic forage are part of the bass' diet. Lambert says, "Just like for other lures, there's an art to fishing umbrella rigs." Maybe a big part of the art is where and when to try them.
*Dr. Hal Schramm, Counce, Tennessee, is a fishery scientist and frequent contributor to In-Fisherman publications.