Try Crabbing for Family Fun
Gulf Shores & Orange Beach
Get the family together for a fun crabbing experience in Gulf Shores & Orange Beach.
Good fun during a beach vacation doesn't have to be expensive, and crabbing is one of the best activities for adults and kids alike. Grab the family and go hunt for these crawling creatures!
Ghost Crabbing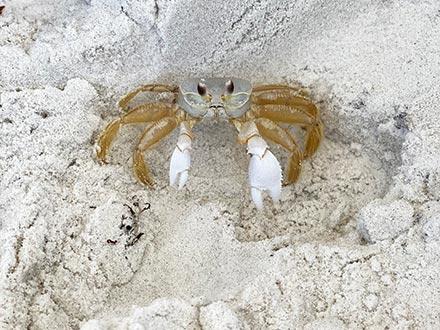 In Gulf Shores and Orange Beach, summer evenings bring out guests with flashlights scouring the beaches for tiny sand crabs before they burrow into the sand. Ghost crabbing is the name of the game.
Finding the small shore crabs is much easier at night, hence the name ghost crabbing. It's a fantastic family activity and will quickly become a vacation tradition.
All you need is a bucket and a flashlight. Don't forget to use red filter stickers to keep the bright light from your flashlight from disorienting newly hatched baby sea turtles. The Welcome Centers in Gulf Shores and Orange Beach have free red filters. Be sure to stop by and ask for some.
Some families turn ghost crabbing into a friendly competition by forming teams and counting crabs to find a winner at night's end. Give yourself a point every time you catch one, and then release the crab back into the sand. Do not take the crabs off the beach or back to your lodging.
The Quest for Blue Crabs
Hunting for blue crab is also a fantastic family activity. You can catch these creatures and cook them up for a delicious meal or just have fun catching and releasing them. Blue crabs are found in the back bays and waterways during the summer months.
The most common method used to catch blue crabs is a crab basket. You can purchase these inexpensive tools at one of the many tackle shops in the area. Then, all you have to do is drop them from a pier, sea wall, kayak or canoe and wait.
Gulf State Park Pier is a great place for recreational crabbing or fishing. You can obtain your fishing license here and take advantage of the pier's facilities and amenities, including bait and tackle, souvenirs, and concessions.
Baskets aren't the only way to catch blue crabs. The most basic crabbing is accomplished with a line and bait. You don't even need a hook. Just tie the bait to the end of the line with a sinker. Drop the line, and when a crab finds it, pull him slowly to the shore. A net will be necessary if you plan to keep the crab for dinner. Crabs are not picky eaters, so you can use most anything for bait, and fish parts work well. Have a container to keep your crab alive to ensure it is safe to consume.
Keep in mind that, even for recreational crabbing, you must have a saltwater fishing license. For more information on recreational crabbing, visit Outdoor Alabama to review the rules and regulations.
Ready to go crabbing? Start planning your next trip to Alabama's beaches today.