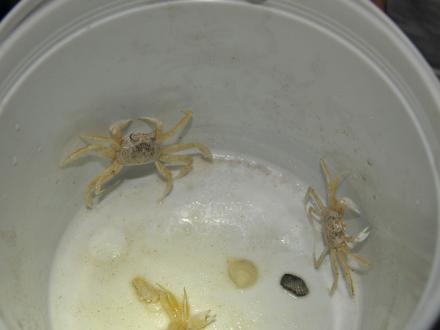 Just after sundown, you'll find parents and kids chasing little sand crabs along the beaches of Gulf Shores and Orange Beach.
Ghost crabbing, they call it. Basically, these critters are little shore crabs who burrow deep down into the sand and can be easier found at night when the beach is darker. Flashlights and pails are the only tools needed to create hours of squealing fun for families. Many make it a beach vacation tradition to go hunting for crabs.
It's definitely a fun activity the entire family can enjoy and teaching kids to release their catch is always a good lesson in ecological awareness. Another good subject to talk about with your children is sea turtles which nest on the beaches of Gulf Shores and Orange Beach. As they hatch and are searching for their way to the water, flashlights may disorient them or cause them to take the wrong path. If you are going to be crabbing at night, stop by one of the Welcome Centers for free red stickers to use with your flashlight (even on your phone flashlight) to help protect the sea turtles.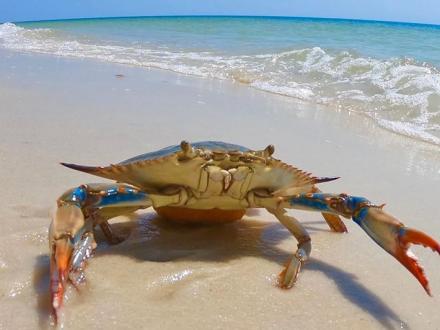 And, then there are Blue Crabs
Of course, if you're looking for crabs to cook up for dinner, the Alabama Gulf Coast is famous for tasty blue crabs.
From April through June, and September through October, blue crabs mate in the area's estuaries and rivers.
Gulf State Park Pier is a popular place for recreational crabbing or fishing. A saltwater fishing license can be purchased at the pier and one crab basket per person is allowed (do not leave your crab basket unattended and no pets are allowed). This state-of-the-art pier offers full facilities and it's worth a visit just to stroll along and enjoy the amazing view. For full Gulf State Park Pier fishing regulations go to www.alapark.com.
Many visitors enjoy crabbing off the piers at Fort Morgan, Dauphin Island, Fairhope or the seawalls at Little Lagoon Pass. And you can also cast your crabbing basket from a kayak or canoe when you're out exploring the local waters. And, for the record, you can also catch crabs with a regular fishing line and some bait. You might want to have a net handy, but it's not complicated. You can find more details by checking out the state crabbing regulations.
Are you ready to get crabby?