South Freshwater Fish Report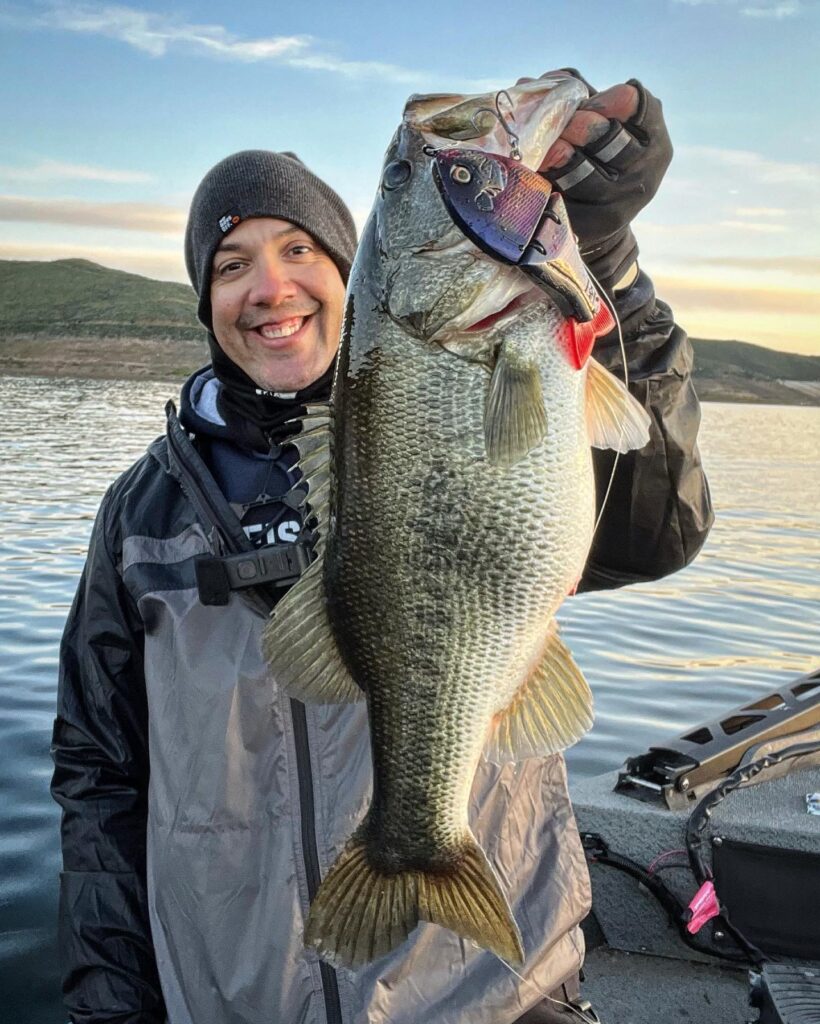 Updated March 14, 2023
AQUEDUCT (NEAR BAKERSFIELD) – Striped bass are picking up cut sardines, anchovies or live shiners while catdish are eating chicken livers, dip baits and fresh shrimp near the grates according to our friends at Cope's Tackle and Rod Shop in Bakersfield. Some bass are eating finesse baits around the check gates, but they've been finicky.
BARRETT LAKE – The lake is now closed to fishing until spring of 2023.
BIG BEAR LAKE – Angler pressure has been light due to the storms, but water continues to dump into the lake via the creeks from rain and runoff, and that is going to result in excellent fishing conditions from spring through the end of the year. Signups are now avaialble for the annual WON Big Bear Troutfest in October. Visit WONews.com and find the TOURNAMENTS tab for more info and to sign up.
BUENA VISTA LAKES – Trout fishing remains good due to regular stocking of quality rainbows and lightnings. Mice Tails, PowerBait, Gulp! Pinched Crawlers and jigs are all working. Crappie and catfish are also there for the taking with slabs picking off jigs and small worms, and catfish eating dip baits, shrimp and worms.
CACHUMA LAKE – Fishing is difficult due to a log of frigid water pouring into the lake according to Rich Tauber (RichTauberFishing.com). It points to an epic spring, but the water temps are going to have to come up quite a bit before those bass start to move shallow or even stage in respectable numbers. Lake Cachuma is now at capacity, and boat rentals are currently unavailable.
CAHUILLA LAKE – The trout bite remains slow even with three recent stocks. One of those plants included channel catfish. Jigs, floating worms and PowerBait have been best for the trout. The bass bite has been very slow. The lake hours are 6 a.m. to 5 p.m.
CASITAS LAKE – According to guide Fred Klinshaw (fredklinshawfishing.com) the water level continues to climb and the temperature has slowly increased to the high 50s. Bass bite is a little tough but not impossible as the fish have started moving up into the shallower water. Senkos have been working decent around the flooded brush. Crappie have been up as well, and can be caught on minijigs. A few trout have been caught early by trollers. This lake is up 40 feet since Jan. 1, 2023.
CASTAIC LAKE – The lake is on the "healing side of things" according to John Petroski of C3 Baits. He keeps a close eye on Castaic, and he said the last round of storms did not bring as much floating debris as those in the past, but there is still al of that out there. "Kong Island is definitely an island again," he said. "And we have water in E Canyon. It's still about 40 feet below full pool. But we will hit that target once we get the snow melt."
CUYAMACA LAKE – Weather kept angler pressure light, but fishing is decent for those getting out there between storms. There's more rain on the way in the middle of this week and a little more on the weekend. Conditions are set to be perfect for WON Troutcast which goes down April 14-15. The upper basin has trout in it for the first time in years. WON Troutcast is coming up at Cuyamaca in April. For more info on that, visit WONews.com and find it under the TOURNAMENTS tab. There is a webcam of the lake available at lakecuyamaca.met/webcam.
DIXON LAKE – Trout arrived on March 14, and that 1,500-pound delivery will put a charge in a bite that was down a bit. Boaters are doing well around the middle section of the Buoy Line, and the shore between Boat Dock Cove and that end of the Buoy Line is producing for trout anglers dunking floating baits or throwing jigs at schools they can spot. New lake hours are 6 a.m. to 7:30 p.m. now that the time changed.
DIAMOND VALLEY LAKE – Trout were stocked to the tune of 3,000 pounds of rainbow and 500 pounds of lightning trout on March 7. These fish have been on a good bite in the 55- to 57-degree water I the first few coves to the right of the Marina. A couple nicer swimbait largemouth have been caught along with a few on finesse stuff fished deeper, but that bite is only fair on the best days. Guide Art Hill stuck a nice largie on a 9-inch Optimum Thumper Tail.
EL CAPITAN RESERVOIR – Bass fishing is slow at the moment, but El Cap is ripe for a nice spring with rising water levels flooding gobs of bushes in most coves and arms that were high and dry a relatively short time ago. Most success on the bass front is being found by anglers who move around looking for deep clusters of largemouth and spending a lot of time on those schools with worms, jigs or underspins. The bass are not quite up in all those flooded weeds yet.
ELSINORE LAKE – Decent numbers of catfish are being caught on nightcrawlers and doughbaits. Bass and other species have been slow, but there has been tons of water coming into the lake thanks to all the rain, so the outlook for spring fishing looks good.
Lake hours are from sunrise to sunset. Annual lake use passes can be purchased at Launch Pointe (32040 Riverside Dr., Lake Elsinore) or online at City of Lake Elsinore: Annual Passes. One-day passes can be purchased at Launch Pointe and select privately owned boat launches. Starting immediately, the Launch and Park Pass for Launch Pointe will now include fishing at the facility.
GREGORY LAKE – Winter storms have buried the lake and the community of Crestline. There was a plant scheduled for this week (3,000 pounds) but it was postponed. It would have been on March 14. Best to wait for the snow to melt and safer conditions to arrive before heading up there.
HEMET LAKE – The trout bite remains decent with stocks going in once a month, but they're monster deliveries consisting of 4,000 pounds of rainbows and lightning trout. The quality is also there with fish pushing double digits (two weeks ago there was a 10.5 caught). PowerBait and Mice Tails has been best. There are jig and spoon eaters when schools breeze through. The plan is for more 4,000-pound stocks at the beginning of each month through spring. Registration is now open for the Lake Hemet Big Trout Campout. April 29-30. It sells out, which is why you can sign up this early. The first 200 registrants will receive a swag bag. NOTE: Registration into the event does not include camping, so please make your camping reservation now at golakehemet.com For derby rules, a full list of tournament prizes and sponsorship information, visit golakehemet.com/special-events.
HENSHAW LAKE – Still light on angler pressure and reports. When spring arrives, more bass and crappie guys start showing up in these parts, and catfish and carp are almost always on the table.
HESPERIA LAKE – After weather postponed the trout plant a couple weeks ago, they finally went in between storms and the bite was good allvoer the lake according to Victor Hernandez of Trucha Spoons. Floating baits like the Goritos Customz Tadpole in orange, Mice Tails and PowerBait are all working well. Trout worms are also getting them along with nightcrawlers. Safe to say this week's plant might be in jeopardy too with all the dangerous weather in NorCal, but regular stocking all season long means plenty of holdover trout are in there. The quality is still there, too. Hernandez alone caught a 9-, 7- and 4-pound trout.
HODGES LAKE – The hope is to have the lake open by April, and WON's contacts close to the situation think there is a good chance that happens. Sounds like private boat launching won't be available, so, boat rentals, float tubes, kayaks and shore fishing. All indications point toward no private boat launching for a long time, and there's some chatter suggesting the plan is to build a new dam downstream from where the current dam is. It also sounds like there is a new launch ramp. The lake is currently closed for the season to all recreation.
IRVINE LAKE – The final trout plant of the season (at least the last on the schedule) was on March 3, but WON will keep an eye on it to make sure that is not the case, because with this continued cool weather is perfect for trout. Even if more do go in, the fishing has been slow for trout with all the new water going in staining the water quite a bit. That being said, when it finally clears up, there should be plenty of holdover rainbows ready to eat. Catfish action has been decent during these muddy conditions. Irvine Lake is open to shoreline fishing only, Friday through Sunday. No state fishing license is required.
ISABELLA LAKE – Recreation at the lake getting shut down because of storm-related issues (falling rocks, etc.) is within the realm of possibility. Lake levels are rising at a relatively rapid pace with the upper Kern River absolutely cranking at 20,000 cfs (up to 40,000 at one point) and delivering much needed water. There has been a decent catfish bite in deep water after all this turbulence woke them up. There are holdover trout in there, but the bite was slow due to the same weather that turned up on the cats. The 32nd-annual Lake Isabella Fishing Derby will be held April 1 through June 4, 2023. Derby registration opens Jan. 1, and the event will feature 500 tagged trout valued from $20 to $10,000 with $50,000 in tagged-fish-cash and prizes up for grabs. For more information, visit KernRiverValley.com.
JENNINGS LAKE – New Moon Fishing will be available March 18 when anglers will be able to fish until 10 p.m. Wright's Rainbows delivered back-to-back trout plants of 1,500 pounds each including one this week. DFW plants also continue to sneak in there from time to time. Trout are holding deep (20 to 30 feet) so best to attack them from a boat or from the T-Dock. Panfish are on a good bite on mealworms close to shore. Half Moon Cove has been best for that. The lake is full and the water temp is 57 degrees. Lake hours are 6 a.m. to 5 p.m. Friday through Sunday – the campground shoreline is available to fish seven days a week from 8 a.m. to 5 p.m.
JESS RANCH LAKES – "The lakes will be closed until April 2023" per JessRanchLakesNews.com.
KERN RIVER – Don't even think about it. Flows in the upper Kern blasted up to 0ver 45,000 cfs, then it came down to 20,000 where it was at press time. The river is doing a lot of damage and creating a very dangerous situation so if you are considering going up there, don't.
LOPEZ LAKE – No report available.
LOWER OTAY RESERVOIR – The water level is rising fast, and while the outlook for spring looks great, bass fishing is slow to fair right now. Most of the biters are showing up on finesse plastics and topping out at about 3 pounds. Bass have been surprisingly shallow in the 55-degree water with a lot of those caught coming out of 10 feet of water. Some nice bluegill and crappie are being caught by the few anglers out there targeting them, or as bass-guy bycatch.
MIRAMAR LAKE – Fishing has been slow across the board with no recent trout stocks, bass scattered deep and weather keeping anglers at home. Keep an eye on this place once spring takes hold, though. It's a big bass sleeper.
MORENA LAKE – The trout bite has fallen off a bit, and the lake can use a stocking to get things going again. Catfish remain on a good pick for anglers using cut mackerel around the T-Dock and various coves. Bass fishing is slow to fair on plastics, jigs and shad-imitating swimbaits deployed aroun Paradise Cove, Geezer Cove and along the north shoreline.
The lake was open from 6:30 a.m. to 5 p.m., but now it's open later with the time change. Boat rentals are temporarily unavailable.
MURRAY LAKE – Slow fishing for the most part, but weather keeping anglers away doesn't help move the fish-report needle, so chances are it will be fine once decent weather returns. The water is cold and off color, and there have been reports of bass being metered near the bottom in very deep water. The boat ramp remains closed, and this is posted on the lake's website: Due to ongoing lake pump capacity testing, the boat ramp and shoreline fishing will be unavailable at Murray Reservoir from mid-February through the end of March. All other recreational activities, including boat rentals, float tubes, kayaks, bicycling and hiking, will continue as normal during the tests.
NACIMIENTO LAKE – Conditions are still dirty and cold, but that's all the result of recent rains that now have the lake level up to 90 percent of capacity. Conditions should be outstanding after a solid stretch of nicer weather and the arrival of spring. Anglers can view a live webcam of the lake at 805webcams.com.
PERRIS LAKE – The bite has been a grind for most, but there are biting bass out there. A WON contact checked in after getting a few on the Ned rig in 33 feet of water. Others are coming up on drop-shots in that depth and deeper with the best luck going to anglers who keep a close eye on electronics. Kayak guys are getting into a few around flooded trees. The fly-coring bite is still there for the few anglers out there willing to fish outside the box. Water temp is up to 59 degrees.
PIRU LAKE – Cleanup efforts are full speed and the lake is full and looking great, so local anglers are getting fired up about this place opening up.
POWAY LAKE – Scheduled for a 1,500-pound trout plant on March 23 after one o that size went in on March 9. Fishing for primarily pan-sized rainbows has been good from the Fishing Pier and all along the shoreline through Half Moon Bay, Jump off Point and Boulder Bay, and then on back to Hidden Bay. Some nice bass were caught a couple weeks ago, but that scene has been quiet of late. Catfish are always available, and this time of year they'll mostly show up around the Log Boom for anglers using cut mackerel or chicken livers on light line. Each month anglers have the opportunity to win two fishing permits, and a full day motor boat. To enter weigh in your largest caught fish at the boat dock (dock scale must be used by city staff). Prizes will be given away each month in the following categories: bass, catfish, and trout.
PUDDINGSTONE LAKE – Last stocked in late December, but slated for a DFW trout delivery this week. The fishing scene has been quiet out here as it gets most of it's traffic when it's warmer and panfish are on the menu. But, it is a sleeper swimbait-bass lake and when trout are in the water it's time to keep an eye on it.
PYRAMID LAKE – Conditions have bounced back again, and a recent bass tournament was won with a 20-pound bag on Saturday. His big fish went 5.71 pounds. Overall fishing remains tough, but it's good if you can locate a group of fish. Striped bass fishing is very slow.
SANTA ANA RIVER LAKES – Piles of slug rainbows and lightning trout continue to show up. Stocking came back after a week off (due to weather) with another load of trophy fish on March 9. There's a Big Trout and Blind Bogey Tournament going down on Saturday, March 25. Free raffle, $20 buy in, 100 percent payout.
SANTEE LAKES – On March 10, Lakes 3, 4 were slated for stocking. Fishing slowed after missing the March 3 trout plant due to weather, but it has bounced back for anglers using floating baits or jigs. Catfish season will kick off with 2,500 pounds of stocking April 22-23 followed by subsequent loads (at least two per month, three in June) between that first one and the final one (consisting of 3,500 pounds of catfish) on Sept. 29. The annual "Stockzilla" event is slated for Oct. 7-8, 2023.
SAN VICENTE RESERVOIR – No report available.
SILVERWOOD LAKE – Going into the weekend, the road up (highway 138) was still closed to public travel due to wintery conditions. The lake is in good shape for when it opens, visitors should just check to see if CalTrans reopened the road before heading up.
SKINNER LAKE – Fishing is slow, but bass anglers working big baits are connecting to some quality here and there. Striped bass fishing has been slow, but there are some catfish biting around Ramp 2 and in most coves. Ramp 2 is out of commission as far as launching boats, but Ramp 1 is good to go.
SUTHERLAND RESERVOIR – Now open but fishing has been slow out of the gates, but not many angers headed up there in the weather. The water is very cold. It will be closed on the third Friday of each month. Reservoir will be open for fishing and boating on Saturdays and Sundays; shore fishing only on Fridays, March through September. Boating hours will be from sunrise to sunset.
WOHLFORD LAKE – Trout were stocked (2,000 pounds each) in consecutive weeks including this one (March 12-18) keeping the bite hot, and there's been plenty of quality hitting the scale including an 8.3, 7.9 and 7.2. The water is extra murky to the rain, so floating baits on a short leader are working best. Scent helps for anglers using nightcrawlers. Catfish are still popping up all over the lake for guys fishing with livers or cut mackerel. The bass scene has been quiet.