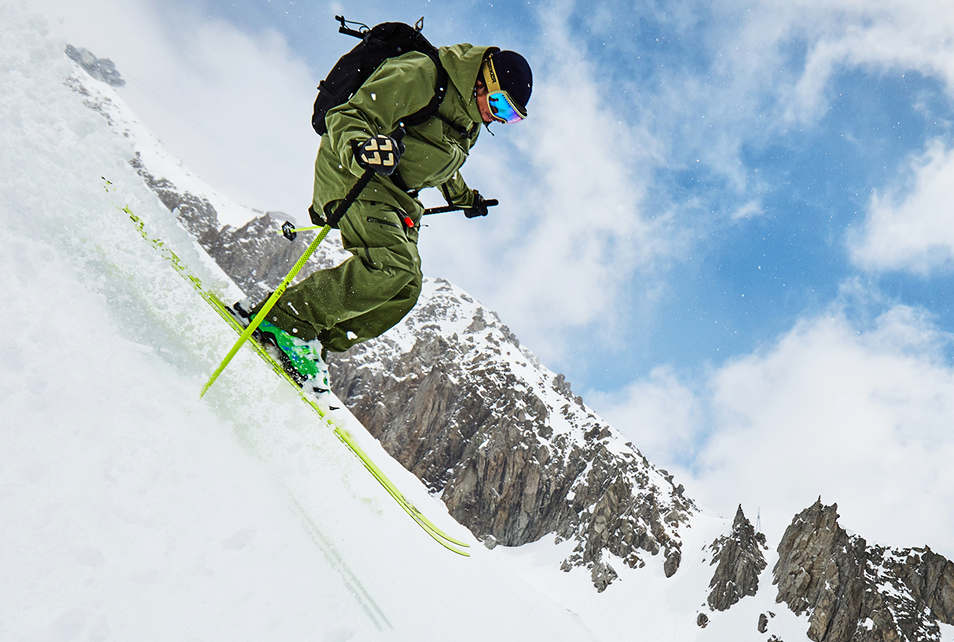 Ski touring is the most exhilarating way to travel in the mountains in the winter, but deciding which gear you need when starting can be daunting. The gear is quite geeky, there's lots of choice, and exactly how you'd like to tour determines the type of skis, boots and bindings that will be best for you. We divide ski tourers into three categories depending upon their priorities when going on a tour; Race, Efficient and Free-Rando, .
RACE tourers treat ski touring as above all a physical challenge, and want the lightest equipment to get up and down as fast as possible.
These skiers prioritise speed over the quality of the downhill skiing experience. There are many in Andorra. They are often excellent skiers but are limited by their material when skiing downhill.
EFFICIENT tourers want reasonably light gear that's practical for skinning up and that will work well in the snow conditions and on the terrain they'll encounter going downhill.
This is the most appropriate gear for starting ski touring and the rest of this blog will cover EFFICIENT category skis.
FREE RANDO tourers place more emphasis on downhill performance and want wider skis with heavier bindings.
While many free rando skiers make long trips into the backcountry, the equipment is heavier and does require more effort to tour.
Touring skis have to fulfill several criteria. They need to be light so that skinning uphill is not unduly tiresome, with a sidecut (shape) that is reasonably straight so that the edges grip well when traversing icy slopes. (when traversing with skis with a pronounced "X" sidecut, one can find the ski touching the snow only at the tip and tail, not so stable…). Skis should have a balanced medium flex with reasonably easy turn initiation, so that turning is easy and not too physical.
They need to be strong, since no one wants a ski to snap half way through a tour. Ski construction design and materials have improved considerably over the last 10 years and many brands use carbon fibre and lightweight wood such as paulownia to create skis that are light, strong and ski well in all snow conditions.
One thing to note when buying skis is the width the metal edge. To save weight most touring skis have thinner edges than alpine skis. Some brands take this to extremes and use edges that are so thin that the ski will not survive too much contact with rocks. We think it's better to have a slightly heavier ski that's more robust and will last many years if used correctly, but it's worth checking edge width when choosing your touring skis.
Ski Width
Narrower skis are lighter and grip better on ice but are less stable in soft snow, while wider skis float better in powder and on spring snow but generally grip less well and are heavier.
A good touring ski has to perform in all snow conditions so we generally recommend that tourers start out with a ski between 80-90 mm wide at the waist, with 85-88 mm being ideal.
Ski Length
Touring skis need to be long enough to offer directional stability in variable off piste snow conditions, but short enough to be agile in technical terrain and to easily make conversions. When skinning uphill we change direction by making zig-zag turns or "conversions" that require lifting the ski up and swinging the leg around to the opposite side. Supple skiers will make conversions with skis that are equal to their height, but shorter skis are easier for conversions. Shorter skis will be more agile in narrow gullies and when skiing between trees, while longer skis are better at speed in open bowls. We generally recommend skis that are 10 cm less than skier's height, up to the skier's height, but not more.
Which ski is good for me?
The following models are all good touring skis that will take you far into the mountains and back, climbing efficiently with good downhill performance. We have summarised each ski's characteristics. These are not necessarily criticisms, but a means to differentiate one ski's character from the others, so that depending upon your priorites you can better choose.
ATOMIC BACKLAND 85 SKI 2021
Good value for money and has been one of our best selling skis for several years. A little heavier than the others.
ATOMIC BACKLAND 85 WOMEN SKI 2021
The women's version of this popular ski.
BLIZZARD ZERO G 85 SKI 2021
Light, good for climbing and with good downhill performance, a bit "dry" in feeling like many light skis.
K2 WAYBACK 88 SKI 2021
Good all round performance in all conditions, is easy to ski, lacks a little in character.
K2 TALKBACK 88 SKI 2021
Justifiably a popular women's ski, efficient uphill and downhill.
SCOTT SUPERGUIDE 88 SKI 2021
A great ski for skiers with good technique, high downhill performance, low weight for it's width.
SCOTT SUPERGUIDE 88 WOMAN SKI 2021
An excellent ski for strong women tourers, requires good ski technique.
FISCHER TRANSALP 86 CARBON SKI 2021
Light, good on hard and spring snow, needs a certain technique in powder.
DYNASTAR M-TOUR 87 CA SKI 2021
Excellent soft snow performance thanks to the large tip, slightly less effective on hard snow and when skinning up.
BLACK CROWS OVA FREEBIRD SKI 2021
Very popular. Light for efficient climbing, good downhill performance in all snow conditions.
VOLKL RISE ABOVE 88 WOMAN SKI 2021
New this season, light, easy to ski in all snow conditions.
VOLKL RISE ABOVE 88 SKI 2021
The men's version of the Rise Above 88, same comments as women's.
KASTLE TX87 SKI 2021
Slightly heavier than most models here, the TX87 offers superior downhill performance.
We hope this article is useful but should you like help deciding what's best for you then get in touch, we're here to help.
We can send all this gear to Andorra, no problem. The best way to choose boots is to try them, so if you can come to our shop in Ax you can be sure to get the best fit and we can mould the boot liners for you.
We recommend buying skis and bindings using TP's Alpine Touring Package deals. Each package is chosen to offer compatible skis and bindings at the best possible price.
We mount bindings and trim skins to the shape of your skis free of charge, just tell us the make, model and mondopoint size of your touring boots.
Look forward to seeing you in the mountains!!