Hybrid cars are a good bet for tax breaks in 2006. The new year will bring more savings for buyers of at least 13 gas-electric vehicles, with those showing the most improvement in fuel efficiency securing bigger tax breaks for their new owners.
The breaks will come in the form of tax credits, and they range from $3,150 for buyers of the Toyota Prius to $250 for Chevrolet's Silverado pickup truck, according to an analysis by the American Council for an Energy-Efficient Economy.
Official credits aren't yet available from the Internal Revenue Service, but some car-shoppers already have figured out they would do better to hold off on buying a hybrid until after Jan. 1, when the new credits kick in.
The law previously allowed buyers of one of eight hybrid models in 2005 to qualify for a $2,000 tax deduction from their income taxes. That would come out to about $700 for people in the 35 percent tax bracket, and less for those in lower brackets.
"For our family, it made the most sense to not take delivery until 2006," said John Krivit, an associate professor at The New England Institute of Art, whose wife, Robin, drives 52 miles a day shuttling their children to school around Boston.
"It's not an inexpensive car, but the savings in gas along with the tax credit made it a no-brainer for us with all the driving that my wife has to do," he said. "Not to mention the good feeling that you're doing something positive for the environment."
Natural gas cars qualify, too
A few months after a car maker has sold 60,000 hybrid vehicles, the tax credit begins phasing out, reducing the chance buyers late in the year will get the same break as those who buy in January or February.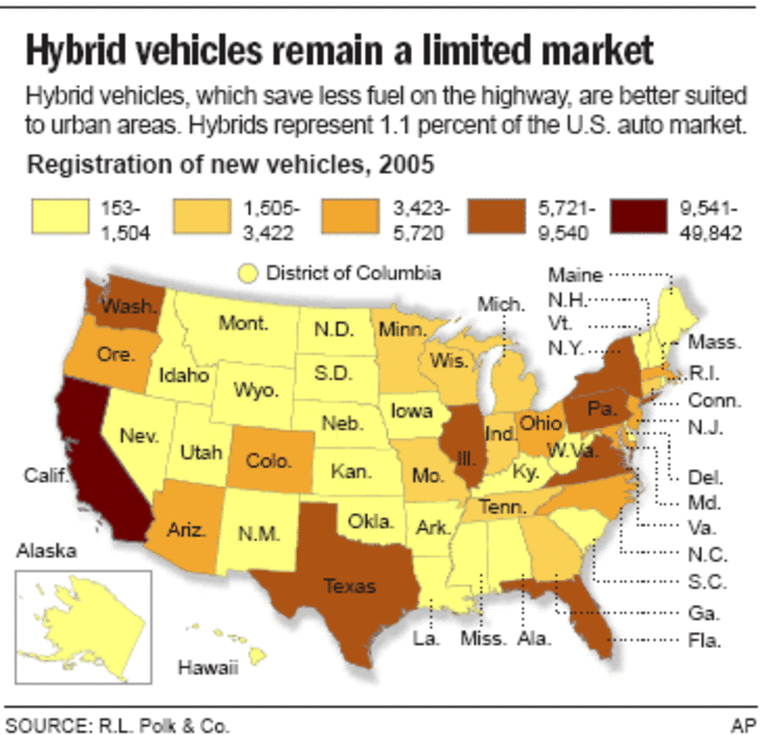 At least 13 vehicles in 2006 are expected to qualify for tax credits, which are determined by how much fuel efficiency is improved. Alternative-fuel cars can get credits, such as $3,600 for a natural gas-powered Honda Civic GX.
Some states provide additional incentives to hybrid buyers.
Even buyers of hybrids that are less efficient than some gas-only vehicles would get breaks, including $650 for a four-wheel-drive Chevy Silverado. It only gets 17 mpg in the city, but that is still an improvement over the fuel efficiency of a gasoline-fueled Silverado.
Although a non-hybrid Volkswagen Jetta gets twice the mileage of the hybrid Silverado, the Jetta does not quality for the tax credit because its fuel efficiency did not improve enough to qualify.
Wrong focus, Greenpeace says
The focus on hybridization instead of actual gallons-saved hurts efforts to reduce oil dependency, said John Coequyt, an energy policy specialist for the environmental group Greenpeace. "Handing over this little tiny rebate to the inefficient hybrids is a way to recognize their very hesitant acceptance of this technology."
Some drivers of gas-sipping hybrids don't mind sharing the wealth with less-efficient models.
Sev MacPete, president of the Prius Club of San Diego, plans to pick up his new Prius on Jan. 2 to qualify for the tax credit. He says it makes sense to give tax breaks to people who buy less-efficient hybrids because they aren't likely to look at more efficient cars, and any improvement helps.
"A person buying a Silverado or whatever is not in the market to buy a Jetta," he said.
Tax incentives may not matter much to drivers anyway. Hybrid dealers report long waiting lists and fast-selling cars, regardless of whether people will qualify for the 2005 or 2006 tax breaks.
Ahmad Rabiei, a Honda salesman in Gardena, Calif., said he has a list of 20 people waiting for hybrid Civics.
"If the car is available they get it as soon as possible," he said. "You have to be lucky."