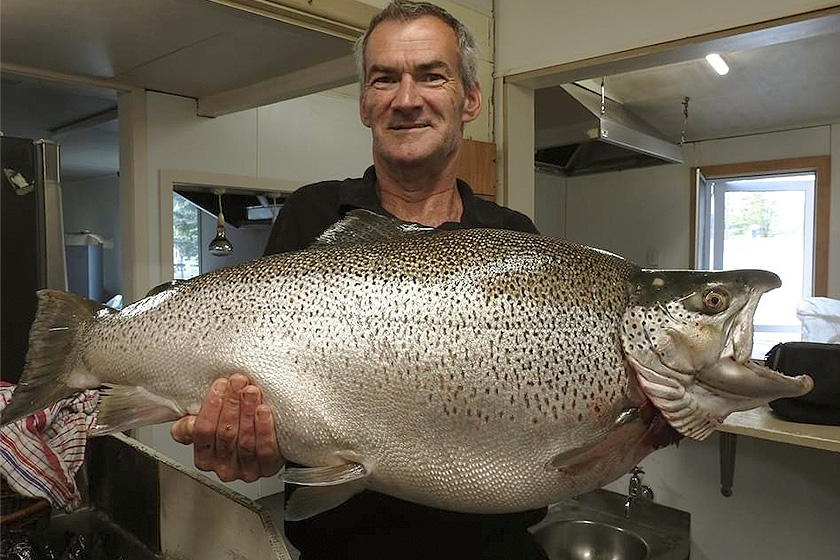 October 27, 2020, New Zealand produced its second consecutive IGFA world record brown trout when a 44-pound, 5-ounce bruiser was caught in one of the country's hydro canals. Here, Sean Colenso of the Razza Bar and Bistro—where a taxidermy mount of the fish will soon hang—shows off the 38.5-inch long trout caught by Seumas Petrie. (Photo courtesy of Sean Colenso)
July 13, 2021
By Lynn Burkhead
Media interest was piqued when the International Game Fish Association website showed an updated world record mark for brown trout thanks to the certified catch of a 44-pound, 5-ounce specimen from the Ohau Canal in Twizel, New Zealand.
The fish was caught by Seumas Petrie last fall when he fished the hydro canal with conventional tackle on Oct. 27, 2020. Petrie's new world record stretched the measuring tape to 38.58 inches in length and 34 inches in girth, exciting anglers of all kinds.
The newly minted IGFA all-tackle world record brown trout, which took a jig on 6-pound-test line, replaced the previous world record for the species, a 42-pound, 1-ounce brown trout pulled from the same Ohau Canal by angler Otwin Kandolf on March 8, 2013.
While the last two world record brown trout have come from hydro canals in New Zealand, the IGFA recognizes the fish despite a diet influenced by fish farming in the region. The latest such world record was caught by Seumas Petrie last October. (Photo courtesy of Sean Colenso)
With a stream of media reports reporting on the big fish over the last several days—including some within the fly fishing industry—clearly, the angling world's fascination with enormous fish continues.
And with that fascination comes the question of how a hydro canal in New Zealand has produced the last two world record brown trout, both with unheard-of proportions?
The Central South Island Fish & Game website answers that question in part, noting that the hydro canals in New Zealand give trout a unique opportunity to grow quite large.
"As well as large trout, the canals also offer the opportunity to catch sizeable salmon that were released or escaped from the various salmon farms," the website indicates.
"These fish are perfect for the table and make up the majority of the anglers catch and harvest. The canals and power stations they supply source their water from the pristine headwater Lakes: Tekapo, Pukaki and Ohau and take their name from them. The salmon farms present in each section of canals provide a unique fishery dynamic whereby the trout and salmon in the canals benefit greatly from the additional food sources they provide. For this reason, the size and condition of the canal fish is unmatched by any other New Zealand freshwater sports fishery."
What does all of that mean? Simply this, that the trout there are eating leftover fish food from the area's salmon farming operations, which explains why they are so enormous in size. To put it mildly, it's controversial for many fly anglers that such fish are even considered for record-book status.
While the big trout caught by Petrie was on an Okuma rod and Shimano reel, fly fishers also have the opportunity to hook into these outsized trout if they choose to fish the hydro canals.
Anglers visiting New Zealand eating establishments like the Razza Bar and Bistro—where this 38-plus-pound taxidermy mount of a local brown trout hangs—have undoubtedly been discussing the nation's latest world record brown trout specimen. Hailed by some, controversial to others because of the way the benchmark fish achieved its huge size, the 44-pound, 5-ounce specimen has been accepted by the IGFA after a local angler landed it from a hydro canal in October 2020. (Photo courtesy of Sean Colenso)
The Central South Island Fish & Game website notes that: "Fly anglers are catered for as well with sight fishing along the canal edges away from the salmon farms. Trout can be spotted on station or cruising around the weed beds and spring creek style fishing can be had albeit on a large scale! Night fishing with a lumo doll fly or large Woolley bugger can be worthwhile too as large fish come into the banks to feed at night."
While it seems true that the New Zealand hydro canal brown trout grow to their huge proportions due to the fish farming activities in the region, don't necessarily think that all of the trout eat only an artificial diet.
In fact, Sean Colenso, the Razza Bar and Bistro barman who is seen in the photograph accompanying this story (and supplied the photos to FlyFisherman.com), notes that the big world record brown and other trout approaching 40 pounds subsist on the unique food base in the area as well as other forms of prey.
Wait a minute, prey? Yup, as in the bunny hatch.
"As a point of interest, the photo taken below was taken by a survey diver," Colenso said in a Facebook message. "The photo is of a trout which took a rabbit. The fish bit off more than it could chew & got lockjaw. It died with the bunny in its mouth."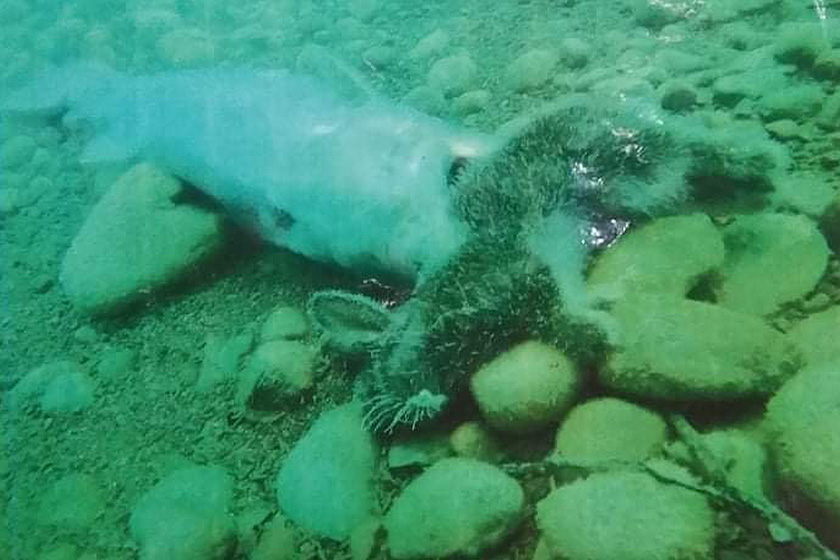 As big as the recent IGFA certified world record brown trout was — it weighed 44 pounds, 5 ounces — there could be even bigger trout looming in the future. In addition to the fish farming influence of New Zealand's hydro canals, trout in the area also take advantage of other forms of food. According to Sean Colenso, who supplied this photo taken by a survey diver, this large trout died after trying to consume a rabbit that somehow made it into the canal. (Photo courtesy of Sean Colenso)
Meaning that tying up a few Double Bunny Streamers—with the biggest sized magnum rabbit strips you can find—might be in order if you happen to have a fly rod handy near New Zealand's hydro canals.
But since most fly anglers want a far more wild and scenic experience if they're going to climb aboard a jetliner, fly across the Pacific, and drop some serious money on a bucket-list trip to New Zealand, the country's other famous trout catching options remain. After all, it's the country's renowned backcountry streams that fuel most fly anglers' dreams, not the curious hydro canals, which are controversial enough that some anglers think the IGFA shouldn't count fish from such spots in their world record listings.
The photogenic trout water of New Zealand has lured Fly Fisherman contributor and renowned photographer Barry Beck to make the long trek across the ocean to a place so wild and magical for fly anglers that he describes the country as the "…Mount Everest of trout fishing."
Fly Fisherman editor emeritus John Randolph understands the strong pull of the big browns and rainbows down under, taking his own description of New Zealand's wild trout riches a step further. He's certainly entitled to do so after an epic trip several years ago when Randolph sampled the country's best gin-clear streams and landed multiple trout approaching double-digit weights, all in pristine waters straight out of a movie scene:
"Amidst all its pastoral beauty, New Zealand has more unspoiled trout streams per area than any other country on earth, with European brown and North American rainbow trout introduced in the late 19th century," Randolph wrote. "Trout now occupy virtually all New Zealand waters.
"This piece looks at some of the most representative streams on the South Island and reveals New Zealand's least-known secret: It's the best place in the world to enjoy the widest offering of outdoor sports amid the most dramatic land- and seascapes."
While it's doubtful that the country's hydro canals will ever win over the hearts and souls of many American fly fishers anytime soon, there can be little doubt that New Zealand has wrestled the big brown trout spotlight away from Ozark rivers in Arkansas and the waters of Argentina and Europe.
That trend can be seen in the progression of the world record brown trout benchmark over the years, a run that started with the first IGFA record for the species, a 35-pound, 15-ounce specimen caught by Eugenio Cavaglia on Dec. 16, 1952, as he fished near Nahuel Huapi, Argentina.
Nearly 40 years later, Sweden took its turn as holder of the brown trout world record after Kurt Stenlund pulled a 37-pound, 7-ounce. trout from Lake Storsion. The U.S. got into the act in May 1992 when Howard "Rip" Collins took hold of the world record mark after pulling his famous 40-pound, 4-ounce world record brown trout from Arkansas' Little Red River.
This century, Michigan has occupied the brown trout throne in the IGFA record book with Tom Healy's 41-pound, 7-ounce giant from the Manistee River in September 2009. Wisconsin ascended to the top spot in July 2010 with Roger Hellen's 41-pound, 8-ounce brown trout pulled from the Badger State's side of Lake Michigan.
Now, the last two world record brownies have come from down under as the hydro canals of New Zealand have taken over the IGFA record book for now.
How do fly fishers fare when it comes to the biggest brown trout swimming in suitable waters across the globe? Better than you might think. In fact, Hans-Peter Schaar landed a 36-pound, 6-ounce brown trout on July 2, 2007, when he fly fished with a 20-pound tippet on Austria's Moll River, a fish that is the heaviest fly-rod caught brown trout ever recognized by the IGFA.
Several other notable tippet-class fly-rod world records in the IGFA record book have come from the fabled Rio Grande River at Tierra del Fuego, Argentina, a location chronicled by Fly Fisherman editor Ross Purnell in a story about one of the greatest fishing spots found anywhere in the world.
Epic-size sea-run browns landed from the Rio Grande include Mark Gates, Jr.'s 12-pound-tippet class world record brown that weighed 35 pounds, 2 ounces when it was caught on March 1, 1998; J. Gal Allee's 30-pound brown trout caught on March 3, 2019; Christine Ren Fielding's 30-pound fish caught on March 29, 2017; and Charlie Blaquier's 28-pound specimen caught on March 9, 1996.
What's the biggest brown trout ever caught on fly tackle here in the U.S.? Well, as astute big brown trout observers might guess, it's an Ozark region water, but not the well-known White River, the Little Red, or the Norfork in northern Arkansas. Instead, it's Rick Osborn's 27-pound, 10-ounce brown trout pulled from Lake Taneycomo near Branson, Mo., on Oct. 3, 2005.
While the brown trout might not get as big in other parts of the U.S. where their diet isn't shad- and scud-based like it is in the Ozarks region, there are certainly other great opportunities to catch big brownies on the fly this summer including many tailwaters across the country. For a good resource on finding and fishing such streams, check out Blaine Chocklett's great instructional piece entitled Fishing Tailwater Brown Trout.
And finally, if your fly-fishing travels take you to non-tailwater streams across the nation, simply visit our FlyFisherman.com website and type "brown trout" into the search bar. Like the big browns themselves, you'll find no shortage of valuable info about where to fish, what flies to use, and how to land on the fly one of the world's most popular game fish species.