"You can enjoy great sport from these unusual predators"
Ben Bassett
Flatfish might look like the last creatures to chase a bit of metal or plastic. However, contrary to appearances, they're highly predatory by nature, as LRF (light rock fishing) expert and Sea Angler contributor Ben Bassett has found.
"Flounders are a species associated with laziness and slow bites, yet they're surprisingly aggressive!" he reveals. "I've experienced some fantastic sport from these unusual predators and you can do the same. You need to pick your venue carefully. You don't want to be casting into huge tides or currents, and flounder aren't keen on these areas anyway. Man-made marinas, harbours and natural eddies are what I look for. Flounders can travel great distances up rivers, but I'd focus on brackish water for the highest concentration of fish.
"If your venue is tidal, target the fish on small tides. This can be easily worked out online or via apps. Neap tides (as they're called) give the flounders less current to work against and let the angler present a lure more effectively. This also makes flounders a great alternative to targeting bass, as for that species you often catch more on larger tides."
Better still, Ben suggests, you may well already have suitable gear to get started. "A light perch outfit is perfect. I use two tactics – jighead and drop shot. Jigheads are better if you're more actively searching for the fish, while drop shotting is preferred if the water is cold and you need a slower, more subtle approach. It's also excellent for sight fishing.
"Lure choice is the fun part! I like small soft plastics around 2ins long. For sight fishing I want something lighter coloured so I can keep track of it whereas, when fishing blind, more muted or natural colours are preferred. Fish them low and slow."
For more of Ben's exploits, see benbassettfishing.home.blog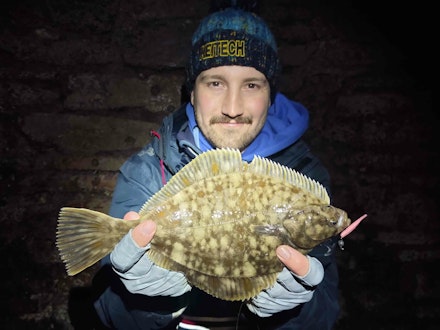 "It's not the easiest barbel tactic, but it's exciting…"
Sam Edmonds
Not content with just the traditional predators, lure fishing addict Sam Edmonds also loves branching out to other species. But can barbel really be viable?
"It may come as a surprise to readers that I like to target barbel with lures. However, with a diet consisting of aquatic invertebrates such as crayfish, and even small fish such as minnows, it's not much of a surprise that a barbel can be tricked into taking an artificial bait," Sam told us. The facts back him up, too, with research on the Teme and Severn indicating that, typically, over 20 per cent of the barbel diet consists of small coarse fish.
"I've caught barbel all year round on lures, but my favourite times of the year are summer and autumn, when it's possible to sight fish," reveals Sam. "They're very strong, so I use a pokey rod around 7ft-8ft long, paired with a 2500-sized reel and 20lb braid. I also use a fluorocarbon leader of around 12lb.
"I like to use soft plastics between 2cm-6cm, such as creature baits, curl-tails and shads. I rig these on strong jigheads between 2g and 5g, depending on the depth and current. Try to land the lure as close as possible in front of the fish, without spooking it. Usually, they pounce in a split-second, but I've had fish follow the lure from the other side of the river, before taking it right under the rod-tip. I'm not saying it's the easiest way to catch barbel, but it's a very exciting way of targeting them!"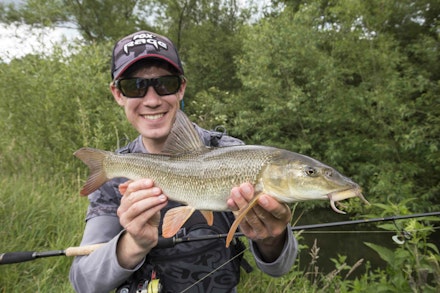 "Chancing on grayling was a real light bulb moment"
Paul Gaskell
When it comes to game fish, trout might be well known to take lures, but the 'Lady of the Stream' can also be quite predatory! On the Continent, anglers often use tiny spinners or jigs for grayling, although over here lure fishing for them is in its infancy. Ultra-light fishing enthusiast Paul Gaskell has had some great sessions, without a fly or maggot in sight!
"I'd heard of the odd massive grayling caught on a spinner, so it didn't seem too crazy!" he revealed to us. "All the same, catching trout, perch and chub on 'fishy' lures usually means fewer grayling in your life – and it's better to be selective with your lures.
"It was a complete accident to discover grayling really love certain kinds of lures. Targeting winter perch on my local rivers with BFS tactics (Bait Finesse System – which means using fine rods and tiny multiplier reels) created the light-bulb moment.
"If you've done nymphing for grayling or trotting with a centrepin, you'll know grayling love caddis grubs and worms. No wonder I couldn't stop catching them on soft 'stick' baits, Texas-rigged with a cheb weight!
"One useful tip here is to tune the sink-rate of your soft lure so it's carried naturally in the current, close to the river bed. Cast upstream and try to drift them back towards you by just reeling enough to keep contact and adding the occasional twitch.
"Ultra-light lures such as soft 'Trout Magnet' grubs on tiny jig hooks are great for this."
To see Paul's methods in action and track down his articles and excellent BFS book, take a look at fishingdiscoveries.com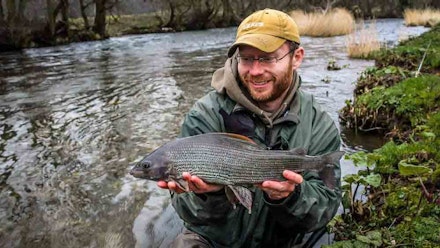 Other species that will take a lure
Chub are a true everyman's fish that often respond aggressively to artificials. In spite of the big mouth, smallish offerings such as spinners or creature baits tend to get most bites, although the best fun of all is to try surface popping bugs such as floating beetles. Fantastic fun in summer, when these fish bask high in the water!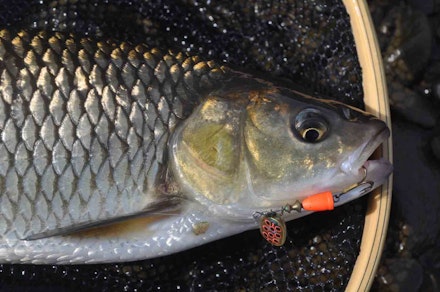 As for favourite summer holiday species, wrasse are a must for anyone heading for the coast. Common around any structures such as rocks, piers and harbour walls, they will bash flexible plastic lures hard! Soft worms and crayfish lookalikes will both do the business, but if you fish very snaggy marks, try rigging them 'weedless' with the hook partially concealed.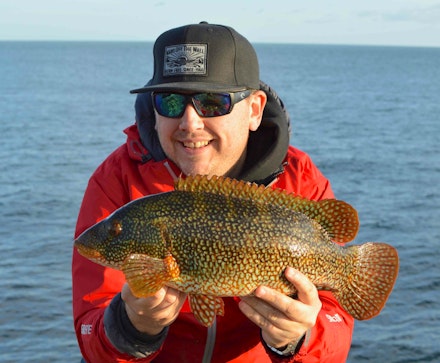 As for the smallest fish to show a mean streak, even rudd and roach get nailed on lures these days! It takes a specialised approach and light lines, but you'd be surprised how willingly they sometimes attack things like tiny grubs and even micro metal lures. A tiny 0.5g spoon, tipped with a fragment of Isome or another worm or grub-type lure, is likely to get them chasing!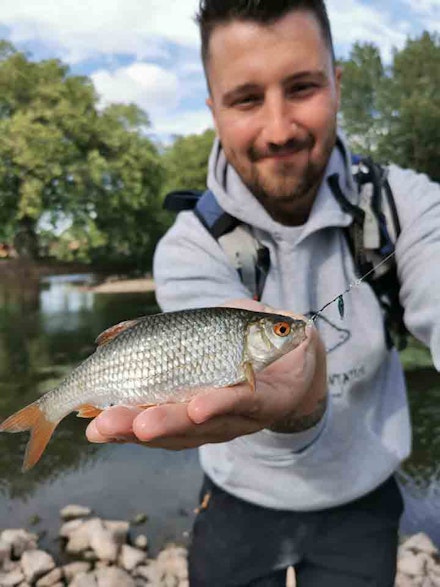 Become a lure fishing species hunter!
For tips and tactics to fool an amazing 60+ coarse, game and saltwater species on lure tackle, check out Hooked on Lure Fishing by Dom Garnett and Andy Mytton, available from Merlin Unwin Books.