Ever heard of a "wag bag"? Here's what you need to know.
Camping in wilderness environments means adding a potentially damaging element to a remote and wild area. The element? You and any waste you produce—including your poop.
Popping a squat in the woods might feel natural. And poop? Surely that's a harmless byproduct of a biological process. But human waste takes about a year to biodegrade, and can potentially contaminate water sources in the wild.
Pooping outside can be especially harmful (not to mention, unsightly) in fragile desert and alpine environments.
When bathrooms aren't available, wag bags are a simple solution to concealing and disposing of your bodily waste. They're simply bags that you poop in, so you don't have to leave your poop outside.
If you've never relieved yourself in the backcountry, the first time feels strange and unnatural. I can tell you, the first time using a wag bag can also feel strange and kinda gross, but it's a best practice when visiting remote and protected environments.
Beyond these sensitive, wild areas, wag bags can also be used in parks or public lands experiencing a spike in traffic, or have bathrooms that are seasonally or temporarily closed. In the wake of overflowing toilets at national parks during the partial government shutdown, Leave No Trace Center for Outdoor Ethics released new LNT guidelines, one of which is to use a wag bag!
Prepare for your next adventure by downloading maps. The Dyrt PRO lets you download maps and campgrounds without cell service. "My alternative to using pro would be to drive back out to cell service".
Here's What You Need to Know About Wag Bags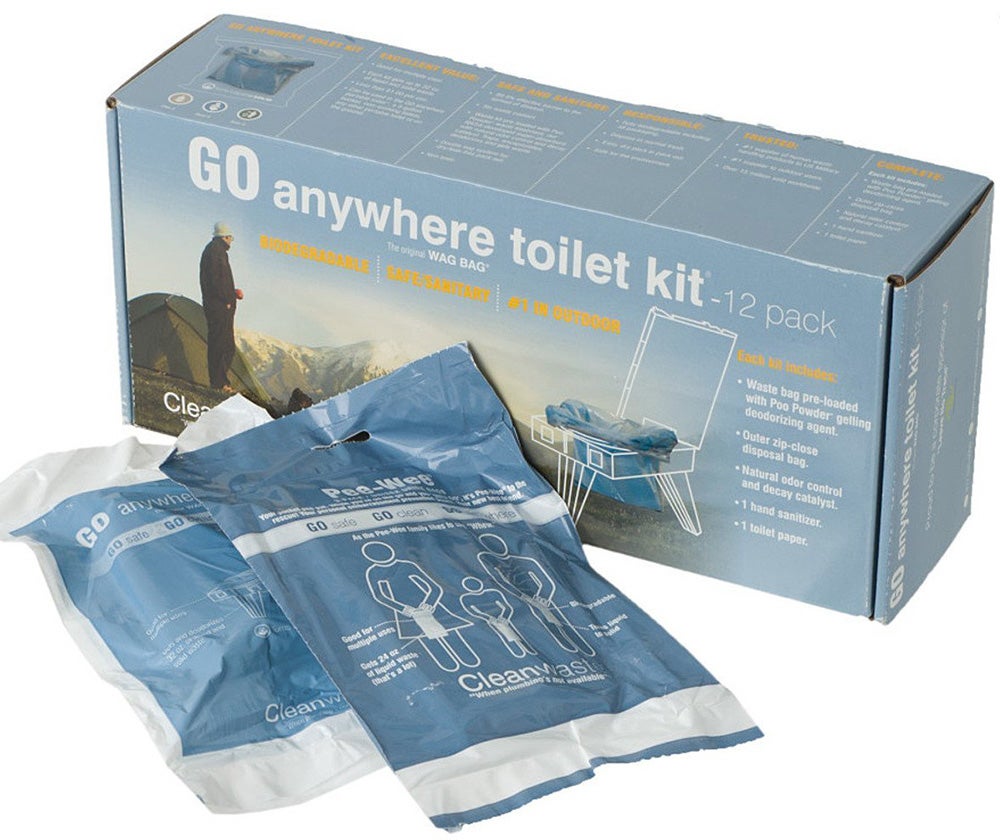 Image from Amazon.com
Wag bags are basically dog bags for humans. They're used to collect and carry human waste in the backcountry. You can use them anywhere, making them a great addition to your first-aid kit, emergency kit, or camping gear.
Each bag is puncture-resistant and contains a hand sanitizer packet, NASA-developed solidifying agent, "poo powder" to hide and contain any smells within the bag, and a small portion of toilet paper.
They're super lightweight and easy to pack on hikes, backpacking, snowshoeing, or any other outdoor activity that has you away from a bathroom for long periods of time.
Prepare for your next adventure by downloading maps. The Dyrt PRO lets you download maps and campgrounds without cell service. "My alternative to using pro would be to drive back out to cell service".
Where Should You Use Wag Bags
Wag bags are ideal for environments heavily impacted by any type of human traffic. This is true of remote alpine areas like Lone Peak Wilderness in Utah or the High Cascades of Washington. They're also best used in desert and rocky environments, where it isn't possible to break through the surface and dig a cathole.
Wag bags are essential in high-impact, high-volume areas. Any time our public lands are overrun by visitors, it's best to use a wag bag instead of compounding human waste and additional trash.
How to Use a Wag Bag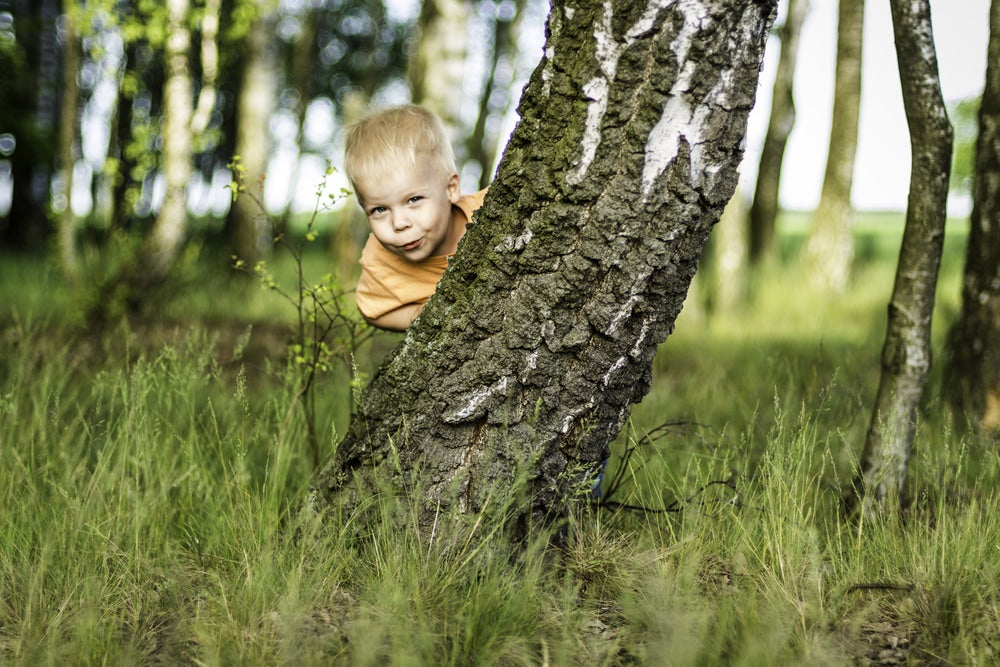 Image from Shutterstock
Using a wag bag is similar to using a cathole, but instead of digging a cathole first, the wag bag is the cathole. Pull out the bag liner on the inside of the puncture-resistant outer bag, remove the hand sanitizer and toilet paper, and hold the plastic bag around your hips to capture waste.
When you're done, use the cinch loop on the plastic bag to seal and tie off the inner pouch, then run your fingers along the ziplock enclosure on the outer pouch to seal the odor and waste.
Where to Store Your Wag Bag and Where to Dispose After Use
If you're on a multi-day trip, once you've captured your waste and sealed the bag (make sure there aren't any openings or leaks), store your used wag bag in the bottom of your backpack away from food. Storing it at the bottom means you won't have to deal with packing/repacking it throughout your trip, and it's out of sight, out of mind.
Because wag bags include a solidifying agent which breaks down and deodorizes waste, you can simply toss your wag bag in a normal trash can once you've returned from your trip. No need to reopen the bag and flush it down the toilet, the bag has done all the work for you.
Where to Buy Wag Bags
Wag bags are available at REI, Amazon, Cabela's, Backcountry, and many local outdoor retail shops. A single wag bag runs around $2.95, but you can save by purchasing a case of 12 for $34.
For those who would rather use something more familiar in the wild, multiple manufacturers sell a foldable toilet, with a rim specifically for a wag bag to fit neatly inside.
Leave No Trace Ethics for Human Waste in the Backcountry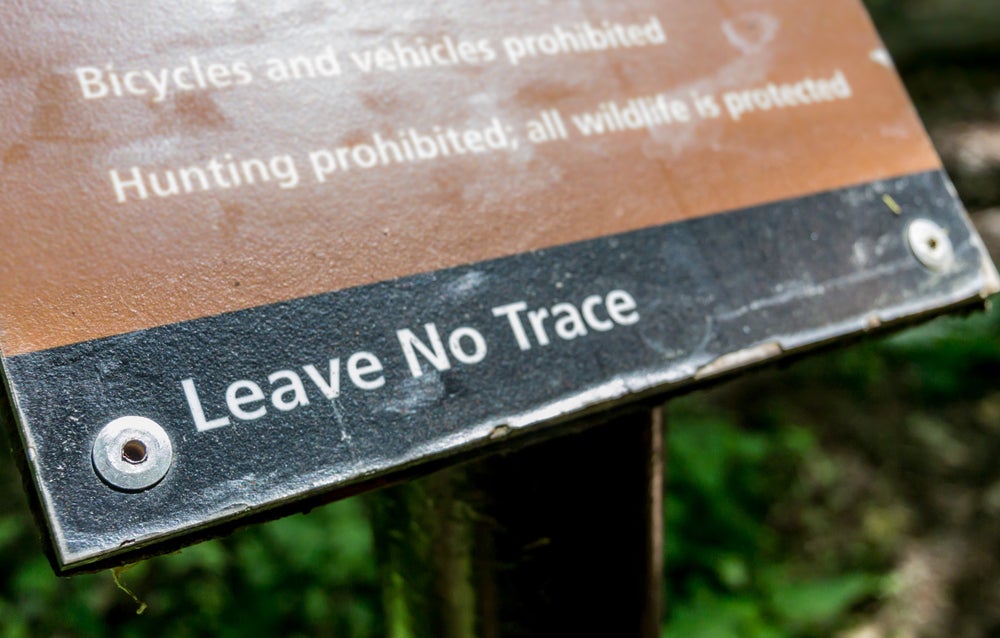 Image from Shutterstock
Leave No Trace offers four guidelines for all backcountry users disposing of human waste:
Minimize water contamination
Minimize social and aesthetic impact
Minimize the spread of disease
Minimize decomposition
If you're about to go to the bathroom and it will affect any of these principles, either find a new location to do your business, or follow the LNT principles for using the bathroom in the backcountry: find a location 200 feet from the nearest water source, dig a 6-inch hole (cathole), do your business, and fill in the hole.