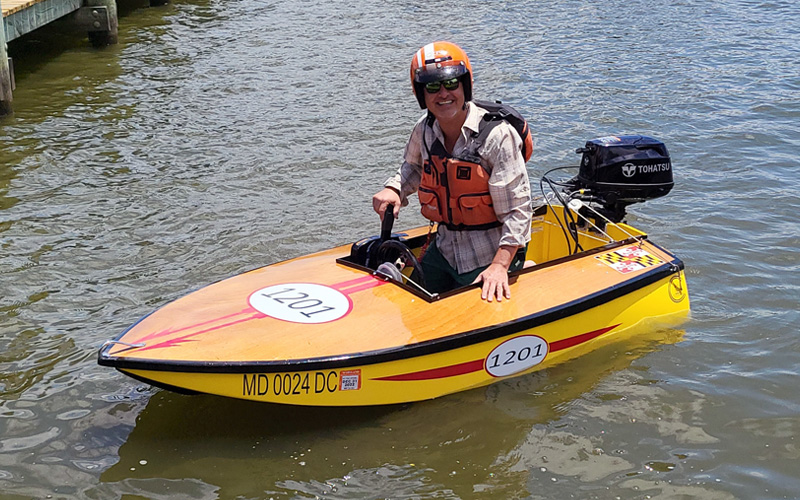 Helpful Hints on Installing a Remote Control Adapter on a Tohatsu 6HP 4-Stroke Outboard Motor
If you are in the process of purchasing a Tohatsu 6HP 4-Stroke outboard motor for your Cocktail Class Racer, or you are thinking about it, no doubt you already know your Tohatsu will need a Remote Control (RC) Adapter installed to convert its throttle/shift operation from tiller control to remote control.
The Remote Control (RC) Adapter Kit that applies currently to your MFS 6D(W)S or DS motor is Tohatsu P/N 3GR-83880-0.
Some Cocktail Class Wooden Boat Racing Association members may opt to have the RC Adapter installed by their Tohatsu dealer.
Note: A typical price for dealer installation is $170. This is Scott's Cove Marina's installation charge for RC Adapter Kits on motors purchased by CCWBRA members. Scott's Cove Marina (located in Chance, MD) is a preferred dealer for CCWBRA of Tohatsu motors, accessories, and service.
And no doubt some Cocktail members will be hell bent on installing the RC Adapter Kits themselves. If that applies to you, be aware that the kits do not come w/ installation instructions or even a parts diagram, which of course would be very useful.
Have no fear! The following information may help you complete the installation:
1. An official parts catalog can be found on-line for the 6hp Tohatsu. It includes a diagram (Fig. 14) and parts list for the RC adapter.
To download the Tohatsu Parts Catalog go to: https://tohatsuoutboardparts.com/Parts%20Catalogs/TOHATSU/4-Stroke%20&%20TLDI/Parts%20Catalog%20MFS4D-5D-6D%20(2020)%20-%20(002-21046-0BX).pdf
Note: The parts diagram (Fig. 14) and P/N listings for the RC Adapter Kit start on Pg. 49.
2. A step by step installation guide can be found in 2014 SailNet.com article, which includes thumbnail photos. It's not official, but it is handy.
To find the 2014 SailNet.com article, go to: https://www.sailnet.com/threads/adding-remote-control-to-tohatsu-6hp.171362/
Thanks to Kim Granbery for finding this 2014 SailNet.com article, since edited. It is based on Model C motors, but applies equally to the current Model D.
The RC kits are fairly straightforward to install, with patience. And this supplementary information will make it easier.
Here is a YouTube video that is helpful for review of general scope of a RC Adapter installation. Clarification: The person in the video is not affiliated with Cocktail Class Wooden Boat Racing Association, and the RC Adapter is being installed on a motor for a boat that is not a Cocktail racer. The CCWBRA provides this video link as general information, but is not recommending the video as an technical step-by-step instruction of procedure, methods, and tools for use in your installation.
ADDITIONAL THOUGHTS on coordinating the RC Adapter Kit installation with motor break-in procedure:
Note that the very first step in the RC Adapter Kit installation is removal of the tiller.
The break-in procedure for a new Tohatsu motor involves operating the motor at limited RPMs for a total of 10 hours. I don't know about others, but I did not look forward to driving around in a Cocktail racer for 10 hours total at restricted speed. So, I opted to perform my Tohatsu's break-in in a larger boat BEFORE installing the RC Adapter. That way I could use a tiller control for the break-in. If you have access to an alternative boat (small fishing boat?) to use for break-in, you may be grateful for an immensely more comfortable ride for that first 10 hours on the motor. Using your small fishing boat may also necessitate keeping the tiller in place for the break-in period (unless it's equipped for RC throttle/shift/steering).
If you install the RC Adapter Kit yourself, it's easy to schedule engine break-in before RC Adapter installation. And if instead, you plan to request the dealer to install the RC Adapter, first consider how you are going to perform the break-in. And then perhaps you might consider taking delivery of the motor, performing the break-in first, and then returning it afterwards to the dealer for installation of the RC Adapter (if dealer is agreeable).