Go-Fast Boats: Five Fabulous 50s
Here's a quintet of serious high-performance boats you don't want to miss.
With a few exceptions such as the 50- to 100-footers from Magnum Marine, a 38-foot offshore performance boat used to be considered "big." That's the way it was, at least, when I started writing for now-defunct Powerboat magazine in 1994. Mainstream production go-fast builders Baja, Donzi, Fountain, and Formula all offered 38-footers—as did custom builder Cigarette Racing Team with its coveted 38' Top Gun—and they were the standard, so to speak, in full-size offshore boats.
Times have changed—dramatically. Baja, Donzi, and Fountain are still awaking from their financially induced comas. Formula still offers its 38-footer but does far more business with its Sun Sport and Super Sport sport-cruiser lines. Cigarette still builds the 38' Top Gun and the model retains much of its popularity. But none of those 38-footers could be considered large by current standards.
No, if you're talking large in today's go-fast boat world, you're talking about something in the 50-foot range. You're also talking about something in the high seven-figure to $1 million and beyond range, because the only boat builders offering go-fast boats that size are of the custom kind, and custom high-performance boats are never cheap.
Why did big boats get so darn costly in the go-fast world? A lot of folks, especially on the boat building side, will candidly tell you that it's not a lot more expensive to build a big boat than a small boat—after all it's just more fiberglass and resin—but that you can charge a lot more money for a big boat than a small one. That's a good part of the reason, but equally important are developments in hull design and construction, and in engine building. Hulls are lighter and more efficient than they used to be. Engines are more powerful and reliable than they used to be.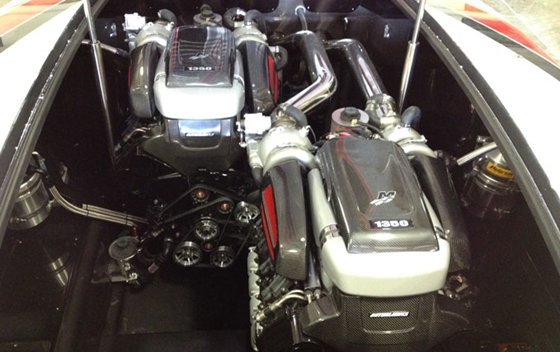 Look under the hatch of just about any new 50-footer, such as this Outerlimits, and you're bound to find Mercury Racing 1350 power.
What it all adds up to are some pretty spectacular high-performance powerboats in the 50-foot range. Here's a look at five major stunners — three V-bottoms and two catamarans from four of today's top custom builders. Looking, of course, is free. If you want one of your own, you're going to have to step up and stroke a mighty big check.
Cigarette Racing Team 50' Marauder
The largest model Cigarette builds, the 50' Marauder has been in the builder's line for the better part of two decades. But under Skip Braver, the owner and chief executive office, the big V-bottom was revamped with a modern stepped bottom. More recently—as in three years ago—the company launched a stunning version of the 50-footer called the AMG Black Series 50. Cigarette and Mercedes AMG have developed a strong collaborative marketing and technolgy relationship in the past three and a half years, and the boat was "inspired by" the AMG Coupe Black Series luxury sport automobile. A nicer pair of matching luxury playthings does not exist.
Until Mercury Racing introduced its 1,350- and 1,100-hp quad overheard cam engines a couple of years ago, most 50' Marauders were equipped with triple engines. Luca Formili Fendi—yes that Fendi—of Italy has one, for example, with triple Mercury Racing 1075SCi powerplants. But triple-engine setups tend to be tricky, and in most cases the third engine—because of its own weight and requisite installation hardware—is more trouble than it's worth. Twin 1350s have become "standard" power for the 50' Marauder, which can top 110 mph on that setup, and triple-engine setups have gone the way of the past.
Without question, the 50' Marauder is a benchmark boat whether it's in AMG-inspired dress or in something created by the customer. Most have gone to the European market over the years, but more are being ordered stateside these days.
Marine Technology, Inc. "Black Diamond" 52
Led by company founder and owner Randy Scism, Marine Technology, Inc., builds pleasure and racing catamarans—and one sexy 42-foot center console—from 36 to 55 feet long. But the newest creation from the Wentzville, MO., custom high-performance powerboat builder is a full-canopied 52-footer dubbed "Black Diamond" by its owner, a loyal MTI customer who formerly owned the well-known Corvette-themed MTI cat.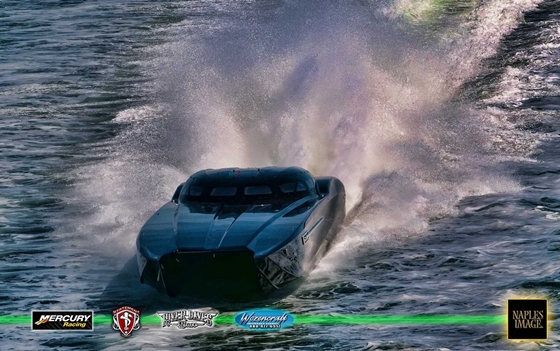 The latest creation from MTI, the 52-foot "Black Diamond" catamaran is simply outrageous. Photo by Jay Nichols.
The builder unveiled Black Diamond during the 2013 Miami International Boat Show in February, and the epoxy-and-carbon-fiber cat was the talk of the show—at least among the performance-boat enthusiasts who attended. Powered by a pair of Mercury Racing 1350 engines—the power of choice for almost everything "big" these days—the six-seat boat is capable of running more than 150 mph and is equipped with flush-mounted LED running lights with acrylic lenses. Lest anyone worry about the comfort of the occupants of a black-canopied cat on a hot summer day, the 52-footer is equipped with an air-conditioning system.
The new 52 is neither a stretched version of MTI's 48-footer nor a cut-down spin-off of its 55-footer. "It's all new molds," said Scism. "All epoxy and carbon fiber, vacuum-bagged and post-cured."
Mystic Powerboats CS5000
Almost all of Mystic Powerboats 50-foot catamarans are full-on canopied offshore raceboats—and most of them have gone out the door with twin turbine engines. To date, Mystic has built 14 of its amazing 50-footers. Notable turbine-powered creations from the DeLand, Fla., custom builder are the former Miss GEICO, which perished in a fire during practice last summer, the soon-to-debut Spirit of Qatar, the My Way and Aqua-Mania cats that are favorites on the poker run circuit, and JBS Racing.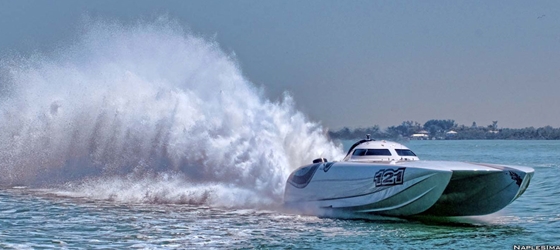 A former raceboat, the turbine-powered JBS Racing Mystic catamaran will debut with new graphics on the poker run circuit this summer.
Mystic actually has built a couple of open-canopy pure pleasure versions of the CS5000, and one of the cats is powered by a pair of—you guessed it—Mercury Racing 1350s. But a raceboat is only a raceboat if you race it—My Way has never touched the racecourse and Aqua-Mania has raced infrequently. Joining those two turbine-powered boats on the poker run circuit this summer will be JBS Racing, which did see some offshore racing during its day but was purchased about a month ago by a Michigan-based owner who says he only plans to use it for poker runs.
Of all the boats in this roundup, the Mystic CS5000 cats are the fastest. With turbine power, they are designed for and capable of reaching speeds of more than 200 mph.
Though company principal John Cosker, who designed CS5000, has focused his efforts on the racing market, he'll gladly build more pleasure versions of the 50-footer. But he admits it's more of a challenge than building pure raceboats. "The high-performance pleasure boat market is a tough market to get into," he says. "The customers are involved in everything, and there's a lot of fit and finish and detail you have to pay attention to. Raceboats are easier to sell because all you have to do is go fast and win."
Outerlimits Offshore Powerboats SL/SV 52 and SV 50
Based in Bristol, R.I., Outerlimits offers two versions of its slippery fast—we're talking more than 130 mph on a pair of Mercury Racing 1350 engines—52-footer. The SL "Super Legerra" 52 is a stand-up boat with multiple bolsters, a deep cockpit, and a full cabin. The SV "Super Vee" 52 is a sit-down with wraparound bucket seats and a lower deck than the SL 52. It also has less cockpit and cabin space than the stand-up version.
"It comes down to what the buyer wants to do with the boat," says Mike Fiore, the founder and owner of the company. "If the buyer needs a cabin and more room in the cockpit, he goes with the SL. If he wants a sit-down rocket boat, he goes with SV. Both are great boats."
Both also are also built with vacuum-bagged epoxy and carbon fiber, and post-cured, as are all models from Outerlimits.
The company recently finished its first SV 50, which is based of the hull for the SV and SL 52. The 50-footer is only available as a sit-down boat and can reach 140 mph on twin Mercury Racing 1350 engines.