Go-Fast Boats and Engines 2017
A banner year for big hardware already is in high gear.
We're just a few months into 2017 and already it's turning out to be a banner year for new V-bottom sportboats, center-consoles, and engines for high-performance powerboats. Of course there will be much more to come in the months ahead, but the year has started out strongly with bold new products as any in recent memory.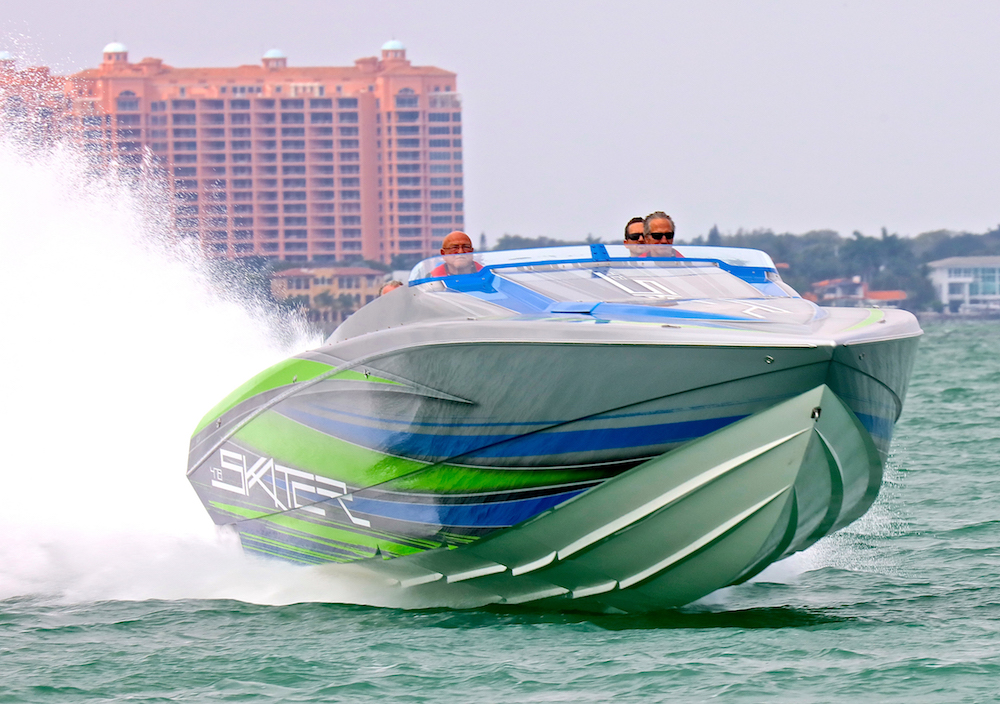 Powered by twin Mercury Racing 1100 engines, the Skater 478 has reached 122 mph. Photo by Pete Boden/Shoot 2 Thrill Pix.
Big Bad Boats
Though Skater Powerboats always will be known first and foremost for its go-fast catamarans, the Douglas, Mich., boat builder has released its largest V-bottom to date this year. Dubbed the 478, the 47-footer actually is sensibly powered by a pair of 1,100 HP quad overhead cam, four-valve-per-cylinder (QC4v for short) turbocharged engines from Mercury Racing in Fond du Lac, Wis. The full-cabin—a first for Skater—deep-cockpit stepped-hull model has topped out at 122 MPH and, by the accounts of at least three professional test drivers, is stable at that speed. It also is outfitted with an over-the-top interior from the Waves And Wheels shop in Osage Beach, Mo.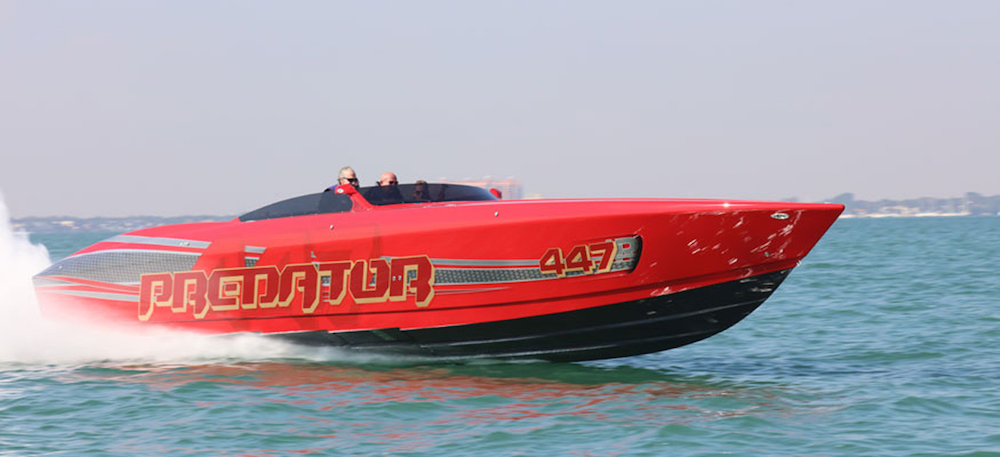 The 447 is the largest offering from Norway-based Predator Performance Boats.
Photo by Pete Boden/Shoot 2 Thrill Pix.
Most performance-boat enthusiasts outside of Arendal, Norway, probably haven't heard of Predator Performance Boats, the go-fast V-bottom builder based in that boatbuilding hotbed/hamlet. Thanks to the company's new 447 V-bottom, that's likely to change. The tall, full-cabin 47-footer complements Predator's existing outboard engine and stern-drive 33- and 34-footers, and is an impressive design with polished handling manners and superb ride quality. Powered by twin turbocharged Mercury Racing 1350 engines, the stepped-hull boat reportedly has reached 140 MPH—not bad at all for V-bottom weighing almost 16,000 pounds.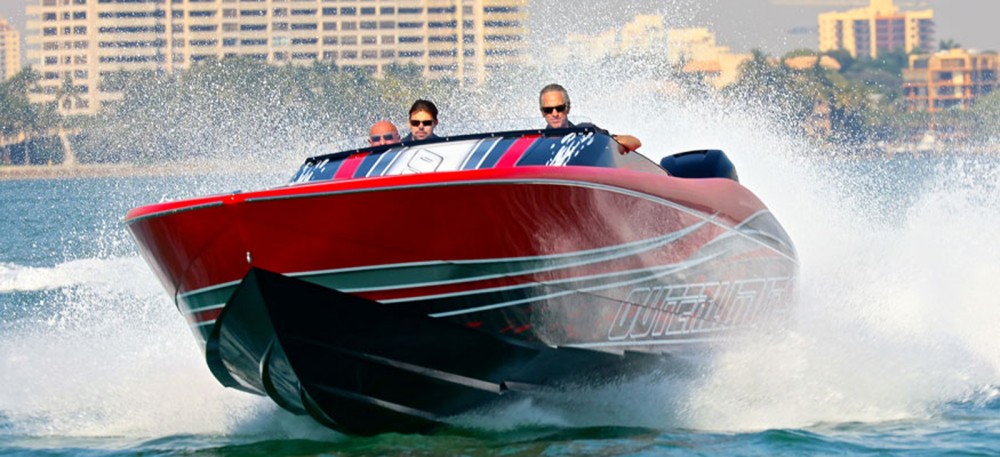 This Outerlimits SL 41 is the first full-size sportboat to be powered by Mercury Racing Verado 400R outboard engines. Photo by Pete Boden/Shoot 2 Thrill Pix.
With Mercury Racing Verado 400R outboard engines dominating the performance-oriented center-console and sport catamaran scenes, it was only a matter of time before they made their way onto the transom of a full-size offshore closed-deck sportboat. Enter the new Outerlimits Offshore Powerboats SL 41, a stand-up cockpit stepped-hull V-bottom powered by a trio of Verado 400Rs and dressed in a fast-looking paintjob from Stephen Miles Design in Owensboro, Ky. Those reliable engines have pushed the 41-footer—built at the Outerlimits plants in Bristol, R.I.—to an impressive 105 mph. And according to the boat's lucky owner there's more to come thanks to custom rake-angle CNC propellers on the way from Mercury Racing.
Still white hot, the high-performance center-console market segment sees it largest offering to date in the form of a new 57-footer for Marine Technology, Inc., of Wentzville, Mo. The massive, wide-open model with a deck-out cabin that includes fine details such as crown molding is MTI's second center-console model—the first was a 42-footer—that complements the company's line of go-fast catamarans from 34 to 52 feet. Seven Marine 627 outboard engines—five of them—power the stepped-hull MTI 57. The boat reportedly tops out in the mid- to high 80-MPH range.
Heavy Metal Horsepower
Thanks to its new 860- and 1,750 HP offerings, Mercury Racing has grown its QC4v family of engines to seven siblings. Quite simply, although there are a few independent engine builders doing great work out there the QC4v series dominates the high end of the stern-drive power market.
The closed-cooled 860 is the least powerful engine in the QC4v family. It's also the only model that's naturally aspirated—all the rest are turbocharged. The 860 is Mercury Racing's first QC4v engine to feature a wet sump oil system, according to press materials from the company. The Mercury Racing-designed oil pan features dedicated baffling and a custom windage tray. That, combined with an engine-mounted oil pump, keeps oil away from the crankshaft, "virtually eliminating parasitic power loss."
The 860 runs on 89-octane fuel, has a peak of operating range of 6,300 to 6,800 RPM, and comes standard with an M6 drive. The folks at Mercury Racing are confident enough to offer the nine-liter engine with a two-year limited factory warranty, which says a lot.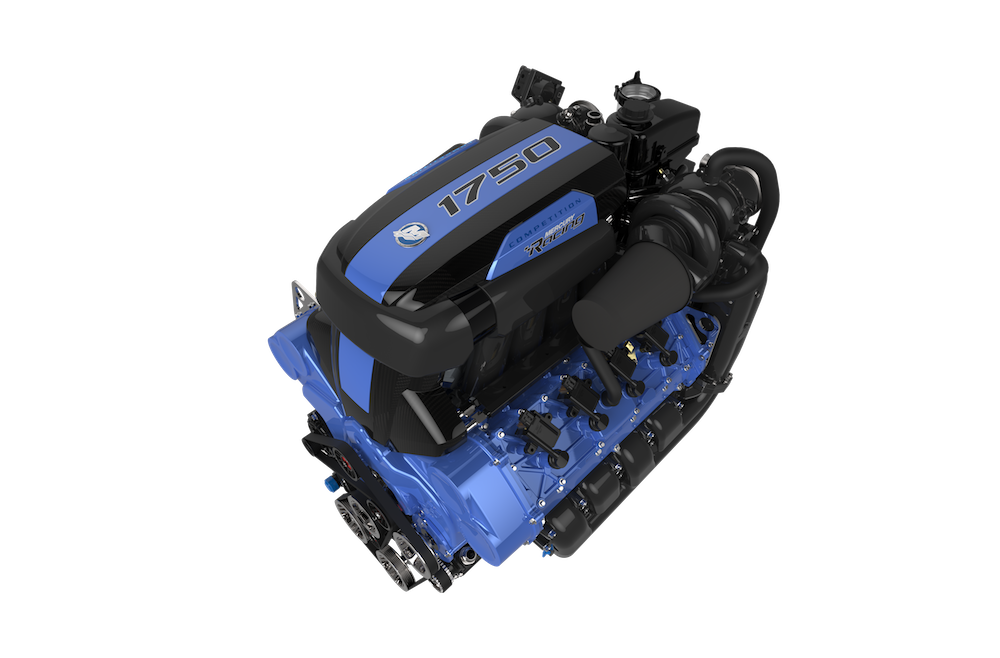 The most powerful engine offered by Mercury Racing, the 1750, is a racing engine that does not come with a warranty.
An the other end of the spectrum, the closed-cooled 1750 is the most powerful engine in the QC4v line, and it comes without a warranty. That's right, folks, it's an offshore racing-specific engine and Mercury Racing does not warranty any of its race engines. It is equipped with an M8 drive, the company's beefiest drive unit. The 1750 also boasts new twin turbochargers, each with a larger compressor wheel, to provide greater airflow for enhanced power and torque.
Widespread speculation in online performance-boating communities that Mercury Racing would introduce a more powerful Verado outboard this year proved to be just that—speculation—as Mercury Racing officials have confirmed that the company will not release an even beefier Verado in 2017. That means the 400R remains the company's most potent outboard. But now buyers can get a Verado 400R Carbon Fiber Edition, which has carbon fiber pieces and accents on its cowling. It's not lighter or faster than the original Verado 400R, but buyers into the carbon fiber look will definitely find it prettier.
Based in Detroit, a new engine company called Sixteen Power is making a high-performance marine engine power play with an 854-cubic-inch V-16 LS-based engine platform. Not two V-8s coupled together, as has been done many times before, this one is a specifically designed, one-billet-aluminum-block, closed-cooled 16-cylinder beast that will be offered in 1,200 and 1,600 HP versions. (And that's just for openers. The folks at Sixteen Marine say they can custom-build engines within that range and, for a racer willing to fund the program, beyond it.) The 1200 is naturally aspirated and designed to run on 91-octane fuel. The 1600 version is supercharged and designed to run on 93-octane fuel.
Although the V-16 engine platform is 14 inches longer than a standard V-8, that should not present an engine compartment space problem for today's bigger catamarans and V-bottoms. Plus, it's also six inches narrower than a standard V-8. The platform reportedly is in the process of being durability-tested in a 42-foot MTI catamaran and will be commercially available later this year.