Advertisement
Advertisement
Go-Fast Boat Lamination: Conventional or Composite?
Matt Trulio takes a look at the different materials and processes used in building high-performance boats.
May 21, 2013
About ten years ago, I wrote a Powerboat magazine profile of Mike Fiore, the founder and owner of Outerlimits Offshore Powerboats in Bristol, R.I. (The company celebrates its 20th anniversary in July 2013.) While we walked the production floor of the plant, I asked Fiore, a legacy builder—his father, Paul, founded Hustler boats and Mike began working for him at age 13—if building boats still pumped him up.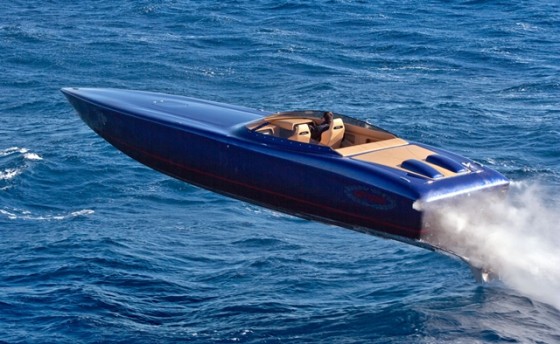 GTMM chose a conventional lay-up for its new 39-footer primarily for ride quality issues. Photo by Forest Johnson.
He laughed. "Do I look at a drum of resin and a roll of fiberglass, and then look at one of my boats, and say, 'Wow, that comes from those?'" he said. "No. I don't see that as 'magic' any more, because when it comes right down to it the boat business is a just a lot of hard, messy, itchy work. But do I still love it? Yes I do."
Probably because I'm not Mike Fiore and I don't have to deal with the hard, messy, and itchy day-to-day headaches of building go-fast powerboats—I just get to write about them—I still see it as remarkable that powerboats start as drums of liquid and rolls of material and end up as, well, powerboats. In fact, I find it magical.
Open Molds Opened Up
While there is some closed-model injection manufacturing happening in the mainstream powerboat world (picture something stamped-out as a single unit such as plastic Whiffle ball bat) there is none of it in go-fast boat manufacturing. That means go-fast boat hulls, decks, and parts are built in "open"—meaning open to the production environment—molds and tools. A hull mold looks a lot like a hull, only it is mounted on swiveling triangular stanchions with wheels so it can be manipulated and moved throughout the lamination process.
Similarly, a deck "tool" looks a lot like the deck of a boat.
Many go-fast boats are built with what's called an "inner liner"— a single piece that goes between the hull and deck and incorporates the boat's sole (floor), seat bases, and other goodies. That, too, requires a separate tool.
Lamination or "lay-up" as its called in the business, is what happens traditionally when vinylester resin, a catalyst to harden the resin, and fiberglass are combined in the molds to create the various pieces of the boat, which will then be joined together in any number of methods, from bonding with fiberglass and resin to chemical adhesives.
Before the hull and deck are joined, stringers and bulkheads—the boat's skeletal system—are installed. They provide internal support for all the molded pieces.
So now you have the (very) basics of open-mold go-fast boat construction. If you ever did papier-mâché as a kid, you can picture it. You start with stuff that has no substance or structure and end up with something substantial and structural.
Most go-fast boats, including the V-bottoms from Cigarette Racing Team and the catamarans from Marine Technology, Inc., are built using what the industry terms "conventional" lamination materials, meaning vinylester resin, some kind of catalyst, and fiberglass of various weaves and weights. A few other builders, notably V-bottom and cat builder Outerlimits, catamaran/V-bottom/yacht builder Mystic Powerboats and catamaran builder Douglas Marine/Skater use what the industry calls "composite" lamination materials, meaning epoxy—the "glue" that requires no catalyst—carbon fiber, Kevlar, and E-glass. First seen in the boating world on the sailing side, the use of these materials was pioneered by the aerospace industry.
So now you have the (very) basics of conventional and composite lamination materials. Which is better? Neither — they both have pros and cons and applications to which one or the other is better suited.
Conventional—And Composite—Wisdom
Here are four general things you need to know about composite-built go-fast boats, and it's worth noting that while most people agree on all of them, there are those who don't.
They are lighter than conventional lay-up boats.
They are—pound for pound—stronger than conventional lay-up boats.
Because composites form a more rigid structure than conventional lay-ups, they "rider harder" than conventional lay-up boats.
They are more expensive than conventional lay-up boats because composite materials cost more. (On this, there is zero debate.)
When GTMM contracted Mystic, which builds its own models with composites, to build its first 39-footer (Check out Speed On The Water digital magazine for a review on the recently tested model) company owners Giovanni Theodoli and Scott Smith opted to have the boat built with conventional materials to soften the ride. (The boat is offered, however, in a full-composite lay-up version.)
"A full-composite boat does not ride as well in the mid-range as a vinylester one," said Smith when the boat was being built. "The ride is way too stiff for a pleasure boat."
But Mystic builder John Cosker, who naturally did what his client requested, doesn't necessarily see it that way.
"I don't think so epoxy boats ride harder, though a lot of people say that," said Cosker. "I have ridden in both epoxy and vinylester boats, and to me the epoxy boats just seem more solid, not rougher. To me, the vinylester boats have more a 'kettledrum' sound and are creakier when they ride, but that could just be design.
"But I never built one of my own boats with vinylester, so I've never made an actual apples to apples comparison," he added.
From a boat builder's perspective, there are pluses and minuses to conventional and composite lamination. For example, in a conventional vinylester resin boat, vacuum-bagging the hull and deck is not required—though some builders still do it to form what they believe is a stronger bond between materials and force out excess resin to save weight—whereas in composite boat-building vacuum-bagging the hull, deck, and almost all the parts is the industry standard.
As noted above, conventional layups incorporate some kind of resin to initiate hardening of the vinylester resin in the fiberglass. Once the process starts, it cannot be stopped, which puts conventional lay-up boat builders under a deadline—a tough one if the process happens more quickly than the builder had planned—to get the layers of glass down before the resin gets too hard.
Epoxy, on the other hand, for the most part cures on its own over several hours in ambient temperature, although both Mystic and Outerlimits post-cure in "ovens" with temperatures as high as 160 degrees. Worth noting is that Douglas Marine/Skater founder and owner Peter Hledin does not post-cure his epoxy catamarans—he simply doesn't think it's necessary. It's also worth noting that Hledin has been using epoxy and carbon fiber in his boats for more than 20 years without post-curing, and his build quality and longevity is world-renowned. (Make of that what you will.)
At one time, vinylester boats were superior in their ability to accept gelcoat, which serves as a release agent from molds and tooling, as well as base white (in most cases) color, than epoxy coats. Advanced processes and new materials such as the new epoxy-friendly PPC gelcoat Mystic is using ("We put it right into the mold," says Cosker) have eliminated epoxy's inability to hold gelcoat as an issue.
Of course, this is just a primer. Get yourself in front of an advocate of one lamination system or the other and you'll get an earful, especially if you espouse the merits of the "opposing" system. What would I choose if my resources were unlimited? I'm not going there, because I still think it's magic that a boat comes out of a drum of liquid and a roll of material in the first place.
And while I know a little about the other stuff, that's enough for me.
Advertisement
Advertisement
Advertisement
Advertisement