July 17, 2015
By Terry Lacoss
No fish in the sea is immune to the lure of fresh menhaden.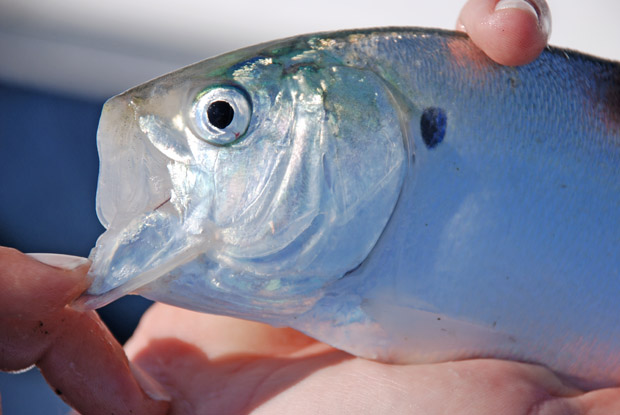 If menhaden ranged throughout Florida, I'm convinced they would top every angler's list of best baits. These fish are oily, reflective and loaded with energy. From the backwaters to the beaches, they're a top menu item for a huge variety of gamefish, from seatrout to sailfish.
Also frequently called pogies or bunker, menhaden begin schooling in north Florida tidal estuaries, inlets and along the beaches during early March. They are found in excellent numbers during the warmer months of June, July and August. The main migration begins to thin out as waters cool in the fall; some of the menhaden apparently migrate south, others to deeper water.
The amount of recent rainfall usually determines where you'll find pogy schools. During very dry periods, it's not unusual to find them well up tidal rivers. With normal rainfall, schools can be located at the mouths of inlets and along the beaches where tides carry plankton-rich waters from marshes into the open ocean.

Northeast Florida fishermen become well-attuned to the patterns of the pogy, and it is in this region of the state where we'll focus our present attention. Note that the tactics are readily adjustable to other areas where menhanden are present, either as a regular part of the ecosystem or as seasonal visitors.
From Ponce Inlet north through St. Marys Inlet, many summer fishing days begin with catching bait. Unlike sharing the locations of quality gamefish, fishermenare usually happy to share the locations of pogy schools with other fishermen. You can often pick up reports on the VHF outside the inlet. Also, bait and tackle shops can often point you in the right direction.
Once out on the water, look for divingpelicans or boats with castnetters on the bow. Motor slowly to the school of pogies with the wind on your stern and shut your engine off just outside of castnet range. Pogies will typically swim into a wind-driven current or tide. An 8- to 10-foot castnet with a 3/8-inch mesh is most efficient when netting pogies. Be sure the net has a long rope that allows it to sink all the way to the bottom.
If pogies are not schooling on the surface, you can locate them with your fishBusters finder. Where they're thick, pogies may darken the screen from just under the surface to the bottom.
With a livewell full of pogies, what's next? Take your pick!
Slow-Troll for Mackerel and More
Small boaters competing in Northeast Florida kingfish tournaments are often referred to as the "mosquito fleet." However, there's nothing small about the baits they fish with and the giant king mackerel they target. Events like the Greater Jacksonville Kingfish Tournament may draw hundreds of boats, the majority
less than 25 feet. No need to run far to catch big kings, when schools of pogies are just off the beaches and inlets.
"We have everything that a large kingfish boat has, except everything we have is smaller," said Bob Johnson. "We have a 22-gallon baitwell that holds up to 22 pogies, or one pogy for every gallon of water. A 500 GPH Rule livewell pump is secured to the transom."
During the 2009 Nassau Sport Fishing Association Tournament of Champions, Johnson teamed up with Keith Lane of Yulee, Florida. They won the event while fishing from one of the smallest boats entered, a 17-foot Boston Whaler, called Traveler. At 9:30 a.m. on the final day of the two-day event, a king struck a live pogy fished in their propwash. It went on to weigh 48.64 pounds.
For slow-trolling pogies, the standard "stinger" rig begins with a 4-foot section of 31-pound singlestrand
wire haywire twisted to a 30-pound black barrel swivel and (typically) a 4X strong, No. 4 treble. To the eye of this hook, haywire wrap an 8-inch section of 43-pound wire, followed by a second treble. The lead hook is barbed through the nose of the bait, while the trailing hook should lay just ahead of the tail.
A second stinger may be added in the same fashion, to make room for a double-pogy configuration. In this case a larger, stronger pogy is best trolled ahead of a smaller one, to keep the leader from tangling. The first fish is barbed on the front hook, the second on the second hook, and again the trailing hook lies just ahead of the last pogy's tail.
Pogies are deadly when trolled as flatlines 30 to 80 feet behind the boat. They also get big bites in the propwash, as well as deep with the aid of downriggers. Most anglers use 20-pound-class oufits with high-speed reels filled with 300 to 400 yards of 20-pound monofilament. For added stealth, a 15- to 20-foot section of 20-or 30-pound fluorocarbon shock leader may be attached to the main line.
Kingfish aren't the only species liable to swipe a slow-trolled pogy. The same rigs attract dolphin, sailfish, tuna, barracuda, cobia, Spanish mackerel, amberjack and wahoo. My son, Capt. Terry David Lacoss, saw a 93-pound wahoo come over the gunnel of his charterboat after eating a double-pogy rig.
"Our first choice of securing live baits is castnetting pogies," said Terry David. "Outside my home port of Amelia Island, pogies often school right in the deep waters of the Amelia River, particularly when there has been a lack of rainfall. A second option would be to castnet pogies at St. Marys Inlet, or along the beaches. Once we've filled our wells with 50 to 70 pogies, we head offshore and slow-troll over live bottom."
Bottom Fish Mania
Anchoring or drifting over offshore ledges can produce excellent bottom fishing on live or dead pogies. The baits have a very strong scent that attracts grouper, triggerfish, cobia, amberjack and (currently closed) red snapper.
For bottom fishing, use 4 feet of 80- or 100-pound-test fluorocarbon leader, a 6- to 8-ounce egg sinker, and a 5/0 to 7/0 circle or kahle hook. Barb the pogy up through the bottom of the mouth and out through the top. You can use a swivel to keep the sinker away from the hook, but many anglers simply rig with line-to-line knot such as the uni-knot,and allow the sinker to slide all the way to the hook, where it holds the bait dead on the bottom.
Tarpon
Pogies are excellent tarpon baits, whether they're fished live or dead, on top or deep in the water column. Off Northeast Florida, a popular style of tarpon fishing begins with castnetting a livewell full of menhaden, then filling a 100-quart cooler with dead pogies.
Fishermen set up a chumslick with floating and cut pieces of pogies as they drift along the beaches. Grinding pogies with an onboard meat grinder and placing the ground chum in a meshbag off from the gunnel is also an excellent tactic. Hooked pogies are drifted in the chumslick with 20- to 40-pound tackle using an 8-foot section of 100-pound fluorocarbon shock leader and a 7/0 circle hook. Baits may be fished on the surface with the aid of a small float, or allowed to drift just under the surface without weights or floats.
Targeting pods of pogies along the beaches is another excellent way to hook tarpon, as well as cobia, redfish and a wide variety of sharks. Here, fishermen look for schools of pogies under siege. Obvious signs include pogies showering the surface, or gamefish striking pogies in the school. A tried-and-true angling tactic uses a 20- to 30-pound spinning outfit with an 8-foot section of 80-pound fluorocarbon leader and 7/0 circle or kahle hook. Cast a lip-hooked pogy into the middle of the school and allow it to drift down to the bottom where most strikes occur.
Inlet Mixed Bag
At the mouth of some inlets, anglers anchor and fish dead on the bottom with either live or dead pogies. Here 30- to 50-pound class tackle is employed with a fishfinder snap threaded onto the main line (yep, same type as is used in surf fishing). Attach a 4- to 8-ounce pyramid sinker to the snap, just enough weight to keep the pogy on the bottom. To the main line, tie 8 feet of 80-pound fluorocarbon leader and finish with a 6/0 or 7/0 circle or kahle hook. Live or dead pogies are barbed through the mouth and fished dead on the bottom.
Be mindful that anchoring in inlets can be dangerous, particularly during periods of strong tides and heavy traffic. As a rule, never anchor in a marked channel. Always anchor from the bow, and select an anchor type which may be dislodged in the event of a hangup (see this month's anchoring feature).
Fishing Northeast Florida inlets in this manner produces dependable action for tarpon, redfish, cobia and sharks. Don't forget to fish at least one pogy on top, to attract king mackerel and cobia.
Backwater Bays
Menhaden spawn during the spring at inlet mouths where fertilized eggs are carried into the backwater tidal estuaries and bays. During late summer, small pods of maturing pogies school over flooded flats and in deep channels in the backwaters. These pre-adult pogies become excellent forage for redfish, jack crevalle, flounder, bluefish and seatrout.
In the backwater bays and rivers, drifting a pogy under a popping cork is a deadly technique for all of the mentioned species. Use a 7- or 8-foot, 20-pound-class spinning outfit, an 8-foot section of 20-pound fluorocarbon leader and a No. 1 kahle hook. Attach the popping cork to the shock leader 2 to 18 inches above the hook. Hook a live pogy through both nostrils and drift it under the popping cork.
Live pogies can also be fished on a light jighead, 1/8 ounce or thereabouts, to probe the bottom and oyster bar edges, for flounder and redfish. FS
First Published Florida Sportsman June 2011
About the Author