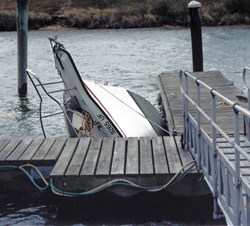 Boat owners may be surprised to find their boat's insurance policy may not cover a common sinking like this.
Alexandria, VA (PRWEB) January 30, 2014
Insurance is one of those things you hope you never have to use, but if you do, you expect the policy to fix the boat or compensate you fairly. If you haven't taken a close look at your boat insurance, you could be surprised to find that you may not be entitled to a payout with some common types of claims. That's because unlike home or auto, boat insurance policies offer a wide range of coverage, from very little to a lot. Boat Owners Association of The United States (BoatUS) recently took a look at the most common claims over the past five years, and has these tips so you will know if your boat's insurance policy will live up to your expectations:
Consequential Damage: If you take hurricane losses out of the list of common claims, the number one claim is for sinking, and half of all sinkings occur at the dock when some small part below the waterline fails. The most common culprits include hoses/hose clamps, stuffing boxes, outdrive bellows, and sea strainers. But these parts most often fail due to "wear, tear, and corrosion" which is a lack of maintenance issue, so policies won't pay you for a new outdrive bellows or sea strainer. But what about the rest of the boat sitting sunk on the lake bottom? Some policies won't cover that, either, as they exclude any "consequential" damage as a result of wear, tear and corrosion. That's why you need "Consequential Damage" coverage that covers losses that often start with a failed part.
Fuel-spill liability: Some policies only pay the cost of cleaning up a fuel spill if it occurs due to a "covered loss." So if your sunken boat wasn't covered because the outdrive bellows failed due to wear, tear or corrosion, the resulting fuel spill won't be either. Sometimes fuel spill coverage is subtracted from other liability payments. A better policy separates out fuel-spill liability and provides coverage up to the maximum amount you can be held liable for under federal law, which today is a whopping $854,000.
Salvage: Hurricanes lead the list of most common claims from 2008 to 2012. In every hurricane boats get scattered and need to be salvaged and safely brought back to their storage area. That takes cranes, travel lifts, flatbed trucks, and other heavy equipment that typically costs hundreds of dollars per foot of boat length. However, as a few boaters found out with Hurricane Sandy, some policies subtract the money paid to salvage the boat from what you get paid to fix the boat, while others only offer salvage coverage up to 25% or 30% of the insured value. A better policy provides separate salvage coverage up to the insured value of the boat – in addition to any payments to fix the boat or replace equipment.
Wreck removal: When fires, sinkings, hurricanes or running up on a shoal destroy your boat, you end up with a "wreck." Most boaters assume their insurance company will cover the cost of cleaning up what's left, but some policies will give you a check for the insured value and only a specified percentage for wreck removal – 3% to 10% is typical – and walk away. That leaves your wallet short and you managing a job you have little knowledge of. Better policies pay up to the liability limit, usually $100,000 or more, to clean up the mess, and don't let you go it alone.
Liability-only policies: Looking through the claims files, injuries make the top ten list for payouts not because of their frequency, but because settlements tend to be expensive. Having no insurance could leave you open to a six-figure settlement. If you have a liability-only policy, the better ones will cover injuries as well as salvage, wreck removal and fuel-spill liability.
###
About BoatUS:
Boat Owners Association of The United States (BoatUS) is the nation's leading advocate for recreational boaters providing its over half-million members with government representation, services such as 24-hour dispatch, on water boat towing as well as roadside assistance for boat trailers and tow vehicles, feature-packed boat insurance programs, money-saving benefits including marina and service discounts, and vital information that improves recreational boating. Its member-funded BoatUS Foundation is a national leader promoting safe, clean and responsible boating.