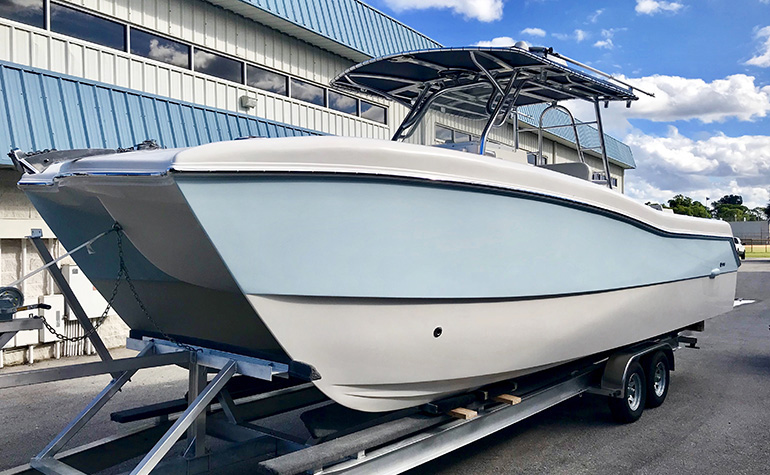 Finished job, ice blue Awlgrip, on a Prowler 30. Original color was Navy blue.
May 10, 2022
By Dave East
The Florida sun can take a toll on gelcoat shine. Leave it unattended for too long, and you may need more than wet sanding and buffing to bring it back. If the cost of a professional job is not in your budget, painting your boat yourself may be the best option.
Let's look at painting the sides of your boat using the roll-and tip method. This same process would apply if you wanted to paint the entire hull, but that's a much larger project and with a lot more prepwork involved.
Click to View Post Navigation
IT'S ALL IN THE PREP
This is the most important step. Start by sanding the area you want to paint with 320 grit sandpaper. A DA (dual-action) sander works best for this. Use a 6-inch round pad if you have an air driven sander or a 5-inch round pad if using an electric sander. What you want to do is remove oxidation and rough up the surface so the primer can adhere. Don't over sand; strive for a smooth, uniform finish.
Proper prepping is essential for a clean finished look.
Rinse the hull with clean water, no soap, and let air dry. To remove any remaining sanding dust or surface contaminants, wipe the hull sides down with Awlgrip Awl Prep cleaner and a clean rag. Using painters tape and plastic sheeting, cover areas of the boat you do not intend to paint or may drip paint on. Take special care to tape closely around thru-hull fittings, eyes and other hardware.
PRIME AND SEAL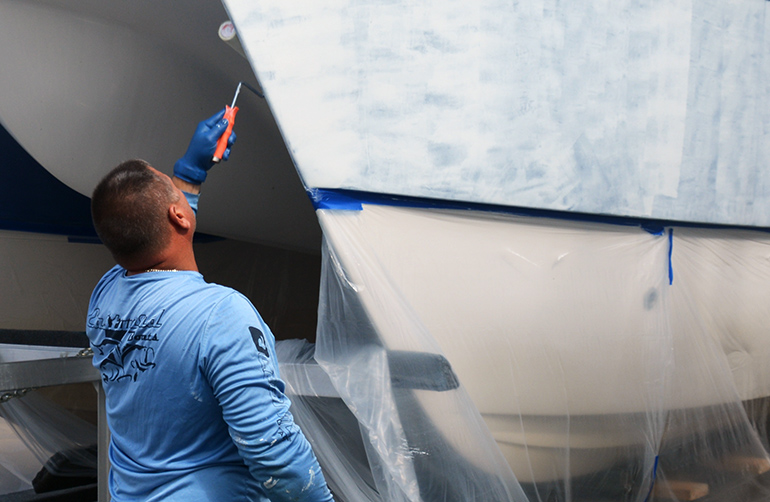 My primer of choice is Awlgrip 545 Epoxy Primer D8001 and D3001 converter. Refer to the Awlgrip website for the proper mixing ratios for this or any other Awlgrip primer you may use. The application is basically the same as the final finish paint and it will give you some confidence with the procedure.
Mix the amount of product based on the square footage of the area you can comfortably paint within the pot life of the primer, once mixed. Typically, I mix what I can apply in about an hour. Pour the mixed primer into a roller pan and using a foam roller nap, apply the primer to the hull side.
Assuming you're painting from the rubrail down to the waterline, roll out the primer from the bottom of the rail all the way down to the bottom edge. Only paint approximately three feet in length at a time. Immediately after rolling the paint, use the tip of the paint brush and gently stroke the wetted surface the full length of the area you just rolled. Start at the top and work your way to the bottom.
As you move down the hull's length, use the same procedure and overlap the previous painted area by a few inches. Roll first, then tip with the brush. As you brush out the surface, drag your paint brush from the newly painted area onto the previously painted area, just a bit past the overlap. Continue down the hull to your stopping point. Typically, the bow to the stern transom corner.
SAND AGAIN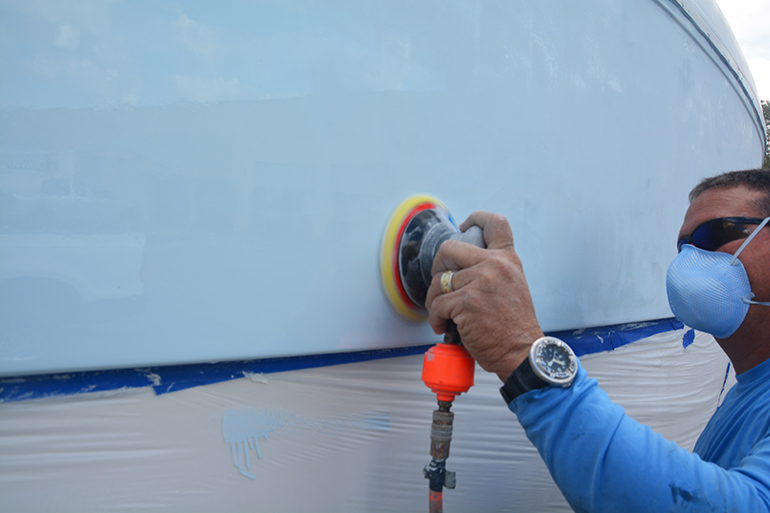 Allow the primer to dry a minimum of overnight. Using 320 grit sandpaper and a DA sander, go over the primed areas to knock off the gloss and smooth out any runs in the product. Here again, don't over sand, you don't want to sand through the primer.
Wipe down the hull again with Awlprep and you're ready to apply the final finish.
TOPCOAT COLOR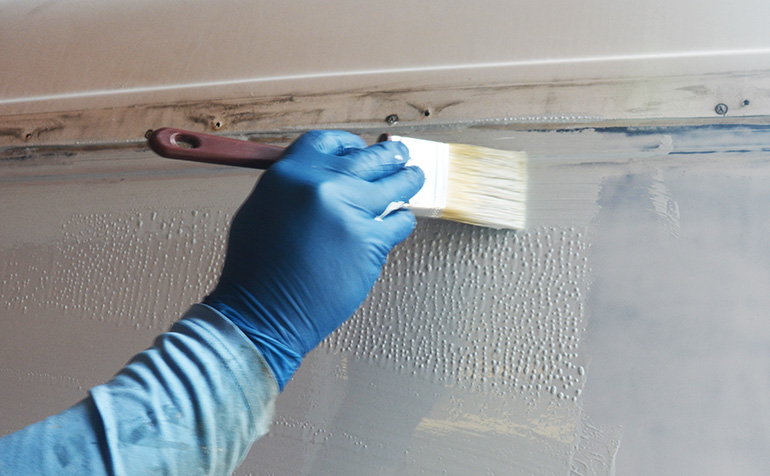 The most forgiving paint I've found for the roll-and-tip process is Awlgrip Top Coat. It's a polyester urethane product and dries to a hard, durable shine. Instead of attempting to apply one thick coat, it's best to apply two to three lighter coats. The paint will be less apt to run or sag.
The paint is a three-part product of Awlgrip Top Coat, Awlgrip reducer and Awlcat #3 converter. Refer to Awlgrip's website for proper mix ratios.
Roll and brush the paint in the same manner as the primer. Work your way around the hull with the same overlaps and remember to drag from the newly painted area onto the previously painted areas. Allow each layer to dry overnight and for best results, sand in between each layer of paint with 400 grit wet and dry sandpaper. Sand lightly—you're only wanting the dull the surface, not sand off much product.
OPTIONAL FINAL STEP
After the second or third layer of paint, most people stop there and are ready to return the boat to service. But, if you're trying to achieve the same finish as if the paint were sprayed, you can wet sand and buff the final layer. You will need a 6-inch DA air sander and 800 grit wet and dry sandpaper. Here again, you're only wanting to dull the surface to remove any sags or brush marks that didn't flow out on their own. A spray bottle with water will keep the hull wet as work your way around the hull. Follow up the wet sanding by buffing the paint with a 1000 grit buffing compound and then again with a 2000 grit buffing compound. FS
PRODUCT LIST
Full cost of materials listed below for job shown: $930.
Awlgrip Top Coat Paint: Gallon Snow White $171.79
AwlGrip Reducer: Gallon T0031 Brushing Reducer $61.14
Awlgrip Awl Cat #3 Converter: Half Gallon H3001 Brushing Converter $171.15
Awl Prep Cleaner: Gallon T0170 Awlprep 400 Wipe Down Solvent $35.70
AwlGrip 545 Expoxy Primer D8001: Gallon $110.05
AwlGrip D3001 Converter: $103.60
Sandpaper 320 Grit: 320 9×11 $18.79 a sleeve
Sandpaper 400 Grit: 400 9×11 $24.18 a sleeve
Painters Tape: 1.88" 3m Blue painter's Tape $8.68 a roll
Plastic Sheeting: 1.5 mil 20×200 plastic $51.54
Gloves: Nitrile 5 mil gloves $8.86 a box
Rags: 5# box is $10.55
8" Roller Frame: 9" linzer roller cage $2.47
2.5" paint brush (a tapered edge, camel hair brush): 2.5" Corona Urethaner $8.00
8" foam roller naps: 9" slicker #3.43
Paint roller tray: metal roller tray $3.22 Tray Liner $.55
Mixing sticks
Mixing buckets: 2.5 quart mixing bucket $1.58 a piece
800 grit wet and dry sandpaper: $28.23 a piece
1000 grit buffing compound: Aquabuff 1000 gallon $53.09
2000 grit buffing compound: Aquabuff 2000 gallon $51.47
Next: We install a new rubrail.
Previous DIY Project: How to Clean and Protect Aluminum
Florida Sportsman Magazine May 2019