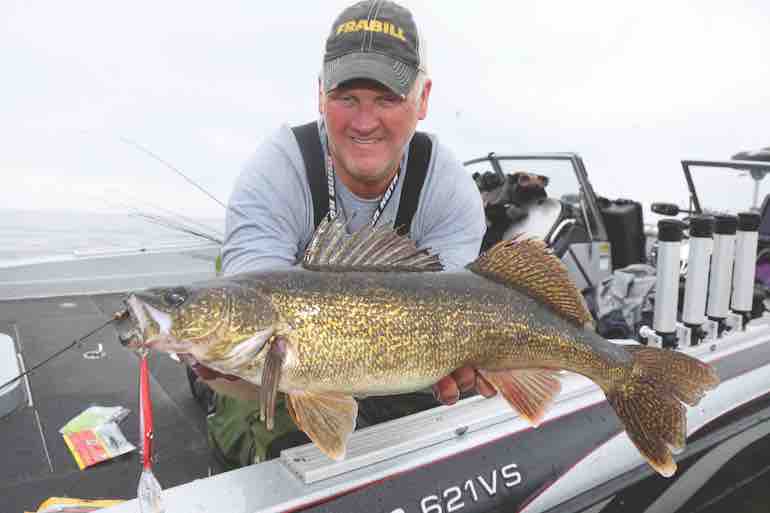 It's best to carry a wide range of bait options on a cool-weather walleye trip; sometimes big fish like big baits. (Photo by Ron Sinfelt)
March 11, 2020
By Jeff Knapp
Starting in late fall, as water temperatures drop into the low 50s and upper 40s, walleyes begin a migration toward areas of reduced current. Prior to this, during the summer and early fall, fish are more scattered, utilizing a variety of food-rich habitats, including ones with significant flow. This all changes as water temperatures drop, driving the fish to move to places that do not require them to burn more calories than they consume.
DEEP SPOTS
Deeper river pools, ones out of the flow of the river's main force, become the wintertime sanctuary for 'eyes. Holes located below current-deflecting structures like gravel/rock bars often hold fish. It's common for such obstructions to be located at the mouths of feeder streams, formed when storm-driven rain washes material out of the tributary into the main river. On navigable waters, buoys marking these hazards are often present.
Pools found downriver of islands can have the "right stuff," as can the insides of sharp river bends. Some deep holes are the result of commercial dredging. Be on the lookout for places where surface debris collects, ice first forms and where waterfowl gather, all of which are indicators of mild current areas with the potential to hold winter walleyes. Keep in mind that deep is relative. In some rivers a 12-foot hole is deep; in others, 30 feet.
MIGRATION
Walleye migrations are also driven by the upcoming spawn, which takes place as longer periods of daylight and warmer weather elevates water temperatures into the mid-40s. On rivers impounded by dams, expect a significant portion of the walleye population to be located within the first mile or two below the dam. Dams create a barrier that blocks, or at least impedes, upriver progress.
Naturally, the availability of open-water walleye fishing at this time of year is dependent on the weather, physical characteristics of the particular river and access. But even during the toughest winter, some fishing opportunities often exist below dams, where current keeps things open, and near warm water discharges, common at power plants and below water treatment and industrial facilities.
Great catches of walleyes can be made not only because high numbers of fish are concentrated in relatively small areas, but because the species bites rather well in cold water. But this doesn't mean they'll chase down a bait. In water temperatures often measured in the 30s, it's usually necessary to get your offering right in front of the fish and present it slowly. In general, walleyes will be in a catchable, though non-aggressive state, throughout much of the day. As twilight approaches, though, they'll often seek out food, moving to the shallower edges of the pools that held them earlier.
Let's consider a hypothetical walleye-holding pool on a major river impounded by a fixed crest navigation dam, one featuring a lock chamber on one side and a small hydroelectric facility on the other.
As its name suggests, a fixed crest dam is simply a concrete dam spanning the width of the river. Save water that passes through the power turbines, or that used to operate the lock chamber, all the water passes over the top of the dam. Years of water plunging over the dam has scoured a deep hole, the bottom material deposited downriver, forming of a sizeable cobble-covered island. The island defects the force of the main river, resulting in a slack-water pool below that runs for a couple hundred yards before quickly giving way to a shallow flat below.
STRATEGIZE
A sound strategy during the daylight hours is to slowly drift along the mild current of the of the pool below the island, presenting baits just off the bottom in a vertical manner. Boat control is key, as you're using the boat to present your baits. For this tactic to be done correctly, the trolling motor is used to maintain a snail's pace drift, correcting for influences such as wind and current. A keen eye on the sonar tells the angler when to let out more line, or bring some in, based on depth variations. Precise bait location is refined by occasionally making bottom contact with the bait, then lifting it a few inches.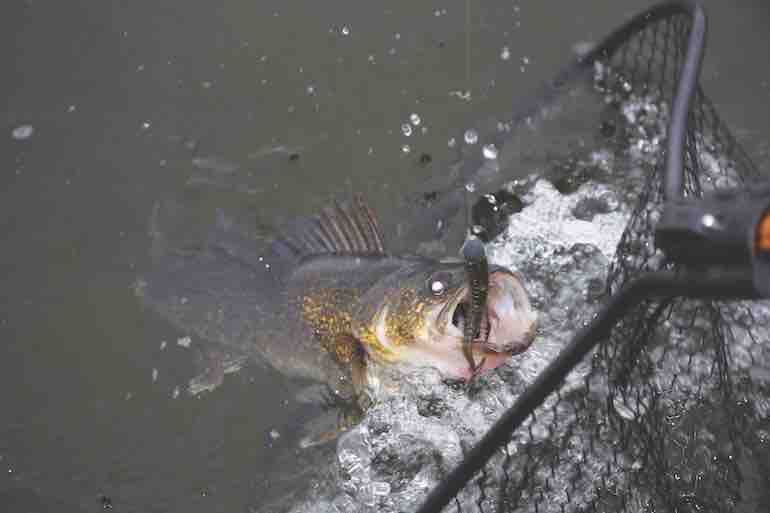 Baits with profiles that allow for vertical drifting in deep-water areas will get down to feeding walleyes. (Photo by Ron Sinfelt)
Within our make-believe river spot are several key areas. River walleyes love current seams, so the area close to where the mild current meets the stronger current is one such spot. It's likely current seams will also be present around the outflow of the hydro plant. Also, any abrupt depth changes can provide edges fish relate to. Expect there to be an area of slack water along with a current seam at the mouth of the lock chamber(s)which will hold walleyes, particularly if the lock is used infrequently.
The drift-fishing method described here allows one to efficiently work them all.
The plunge hole below the dam will often hold fish, particularly if river flows are low. This can be another excellent spot to target, providing it's safe and legal to do so, as this area can be restricted from boats. Expect walleyes to be located along the edge of the scour hole, where it quickly transitions to shallower water downstream. It's a great spot to hover above, fishing directly under the boat.
The leadhead jig is a classic walleye presentation; it's particularly well-suited for river fishing. Walleyes have a hard time ignoring leadheads, such as VMC's Mooneye jig, when tipped with a live minnow. The compact profile of this combo fishes well vertically. Northland Tackle's Fire-Ball jig, which sports a short shank ideal for live-bait fishing, is another great option. Bucktail jigs, fished with or without the addition of a minnow, provide another look. VMC's Hot Skirt Glow and Bucktail jigs are two good choices. Usually, 1/4-ounce is best, but it's wise to carry some 1/8- and 3/8- ounce versions.
Fatheads and shiners work well, though live minnows can be tough to come by during the winter months, as bait shops don't always carry them at this time. Artificial varieties will produce, even better than live minnows at times. I've had great success with Berkley's Gulp Alive Minnows and Powerbait Minnows, both in the 3-inch and 4-inch varieties.
Blade baits—tightly vibrating metal lures—such as the Heddon Sonar, Silver Buddy and Reef Runner Cicada, also excel on winter river walleyes. These lures, which are fished without the addition of a minnow, tend to trigger a reaction strike rather than a feeding one. I never go on a river during the winter without one rod rigged with a 1/2-ounce blade. Fish the lure vertically, just off the bottom, with short, sharp upward jigs, followed by a brief pause. Expect some hits to come on the pause; others will just "be there" when you make your next upward jigging motion.
As daylight wanes, it's common for walleyes to move shallower, actively feeding. In the case of our hypothetical area, expect some to migrate up onto the flat below our slack-water pool. Some might slide up close to the cobble island.
The mouth of a feeder water is another key twilight spot, as walleyes move from the main river up into a creek mouth, a place often loaded with baitfish. Another key spot is the downriver edge of a gravel bar, particularly if there's a walleye-holding hole below.
Whereas it's wise to be mobile earlier in the day, covering the water, now's the time to get out the anchor, positioning the boat to cast up to the shallows. It's also the best time and place for shore/wading anglers to get in on the action.
Because the water being fished is shallower, often 10 feet deep or less, sizing down to a lighter jig is often wise. Bites might have been light, even spongy during the day. Come evening you'll often get that great, sharp, walleye tap. It's not uncommon to catch as many walleyes during the last half hour of fishing as you did during the previous few hours, so don't be in too big a hurry to end the outing.