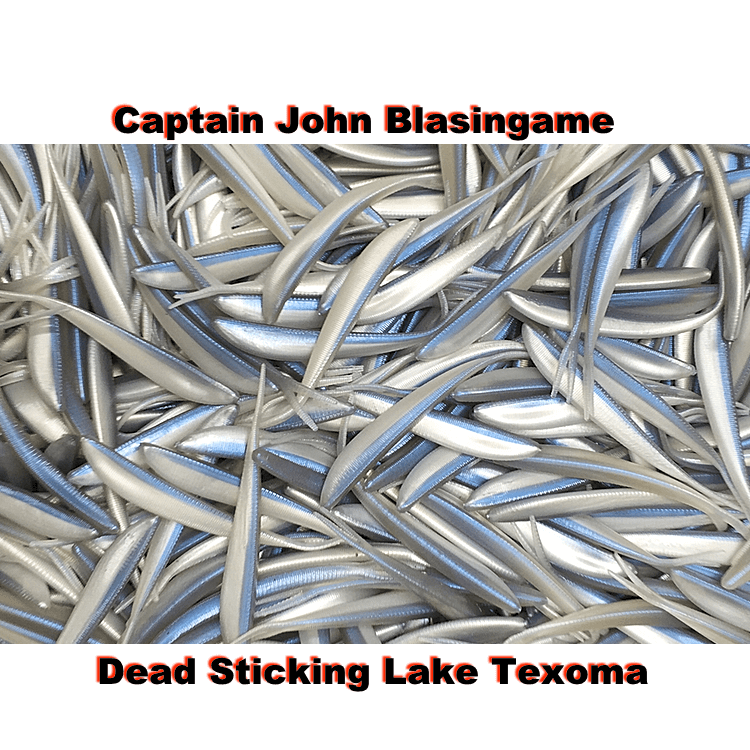 Dead Sticking Lake Texoma Striper
Don't put your fishing rods up this winter, Dead Sticking Lake Texoma will be epic this year! Lake Texoma fish records could be broken this winter! What is Dead Sticking? Is it hard to catch Striper Dead Sticking? No worries, Dead Sticking is easy and yes you will catch big Striper on Lake Texoma! We will look for birds, or schools of bait, then drop a jig head with a soft plastic fluke straight down from the boat! That's it, very simple! We simply hang a soft plastic lure vertically at the depth we are marking Striper. No movement on the lure, sit and wait for a tap, and set the hook! Dead Stick Season will start mid to late November and run until mid-March! We catch our biggest Striper during dead stick season!
How to Deadstick Lake Texoma Striper this Winter?
What is deadsticking? When the weather gets cold (Texoma water surface temperature 60 or colder) Striper stop chasing shad. Shad stop moving all over the lake and they seek warm water. Striper will find these large pods of threadfin shad and feed for weeks. Lake Texoma Striper want to eat in the winter, but don't and won't expend energy. We catch striper by dropping a one-ounce jig to Striper we have located on our electronics! The technique is easy, drop a 4-inch or 5-inch zoom fluke straight down and hold the rig with zero movement! Striper will ease up to your zoom fluke and suck the bait in! it feels like a tick of the rod or a heavy feeling. Hook sets are FREE, so let them rip. You will miss lots of Striper during a trip, but the ones you stick will be big!
Top 3 Lake Texoma Striper Deadsticking Tips
Find the Threadfin Shad! Look for balls of bait on your electronics and you will see Striper close by. Don't forget to thump a bit on the bottom of the boat with a broom handle and tennis ball taped to the end. You can use a crutch tip too!
If you don't catch Striper in 20 minutes, MOVE! Cover ground until you find feeding Striper!
Try to fish a lightweight jig head. The more natural the zoom fluke looks, the more Striper you will catch! Our Deadstick Season on Texoma runs November to March, come join us today!
Dress for Success and Catch Striper Deadsticking Texoma
The weather can get cold in the winter, so please dress in layers. If the sun comes out and it warms up, you can shed some clothes! We love to deer hunt, but don't miss the BEST fishing of the year this winter on Lake Texoma! Guided striper fishing Texoma is super! We love to post our trip pictures on Facebook! Please LIKE US! For more information on Fishing Lake Texoma, follow this link, Striper Time with Lake Texoma Fishing Guide
Lake Texoma Striper Fishing