Customer service associate takes store's goal to heart
Sat., Nov. 5, 2005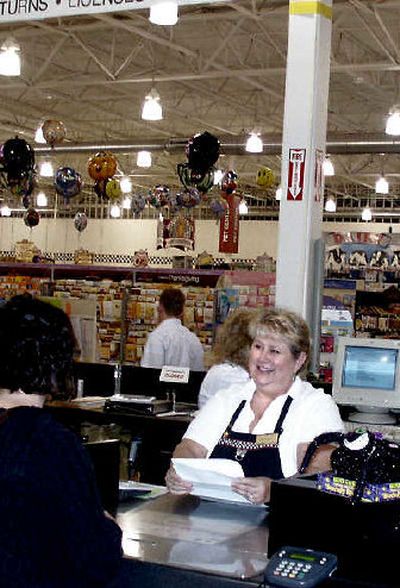 Can you imagine having a job where one minute you might be exchanging a gift for cash, dispensing a fishing license or selling a ticket on a chance to win millions of dollars – simultaneously answering incoming phone calls to a very busy store?
Claudia Frasca, the first employee a customer to the Coeur d'Alene Fred Meyer is likely to see most days, does that and more – with a pleasant attitude and infectious laugh. Working behind a counter bearing a sign with the words: "Your complete satisfaction is our goal," she takes the words to heart.
As the store's lead customer service associate, Frasca, 51, monitors the phone system, accepts returns and sells money orders, hunting and fishing licenses and lottery tickets. Finding the job challenging and ever changing, Frasca uses what Customer Service Manager Eve Cluster calls her "great customer skills" to satisfy shoppers.
Employed at the Coeur d'Alene store since it opened, Frasca attended junior college and has been in the grocery retail business for most of her adult working career. In her spare time she reads and enjoys fishing and camping with her husband.
What is your job title? "Lead customer service desk associate."
How long have you been doing this? "I have been in grocery retail for 37 years and at Fred Meyer since it opened in April of 1997."
How did you choose this line of work? "A manager recognized skills in me and thought I would do a good job in customer service."
Are you paid: (a) well; (b) more than you are worth; (c) slave wages, (d) could be better? "I am paid well because I receive medical, dental and vision benefits, but I would like more pay per hour, because I think I deserve it (she says with a laugh)."
What is the best thing about your job? "The best thing about my job is that it is always challenging – and I like a challenge. Every day is new and different. I love the multitasking part, because it makes the time fly by so fast, but I also like doing all the different functions – answering the phone, solving problems, returns, money orders, Western Union, hunting and fishing licenses and tags. Also lottery tickets – I've had some big winners, including one for $10,000!"
What is the worst thing about your job? "The worst thing is to (try to) make someone happy or satisfied when they yell at you or slam the phone in your ear."
Do you plan on doing this job (a) until retirement; (b) until something better comes along? "I do plan on doing this job another three to five years, as I need to get my 15-year-old daughter into college and I need medical benefits for my family."
Do you have any on-the-job funny stories? "There are lots of funny stories. Some customers bring in items they think came from Fred Meyer only they have a sticker from a different store on the item. Or they hand you a receipt from a different store – or you open a box to check out the item and it's not even the same item that's supposed to be inside the box."
Any bad experiences? "You feel for customers when there's a line and you see the frustration in their faces. You'd like to say, 'Smile, I've been at the end of this line all day long.' "
If there was a movie made about you and your job, what actor should play you? "Linda Carter, Wonder Woman. She can do 10 things at once and keep a smile on her face."
Local journalism is essential.
Give directly to The Spokesman-Review's Northwest Passages community forums series — which helps to offset the costs of several reporter and editor positions at the newspaper — by using the easy options below. Gifts processed in this system are not tax deductible, but are predominately used to help meet the local financial requirements needed to receive national matching-grant funds.
Subscribe now to get breaking news alerts in your email inbox
Get breaking news delivered to your inbox as it happens.