Craftsman Electric Blower 3-in-1 – 12 A – 450 cfm – 260 mph – Backpack
Article #00277238 Item #000474596 Model #CMEBL7000 Format 12AM
$ 119 Each
This item is not currently available for immediate purchase, but can be ordered by visiting the selected store.
Home & Garden RONA Scarborough Golden Mile (416) 751-7556
Description
The Craftsman 3-in-1 blower, vacuum and mulcher features a powerful motor to help tackle tough tasks. With its convenient tool-free design, you can easily switch between a blower and vacuum and finally a mulcher. Collect up to 55 litres of debris with the backpack collection bag featuring lightweight straps to provide comfort and ease on the job. This product is backed by a 2-year limited warranty.
POWERFUL MOTOR: 12 Amp motor for clearing tough debris
GET THROUGH TOUGH TASKS: Performance of up to 450 CFM and 260 MPH
TOOL-FREE CHANGE CONVENIENCE: Easily convert from blower to vacuum and mulcher with tool-free change
COMFORT DURING USE: Backpack collection bag makes it easy to carry up to 55 liters of mulched debris, with an easy-to-empty wide-mouth opening
Common applications include vacuuming and mulching leaves and other debris and clearing debris from hard surfaces
Includes (1) CMEBL7000 Corded Leaf Blower, (1) Backpack with Hose, (1) Blower Tube, (1) Vacuum Tube and (1) Concentrator Nozzle
CRAFTSMAN 3-year Limited Warranty
Ecological Attributes
Using an electric tool generates significantly fewer greenhouse gases (GHGs) and air pollutants than a conventional model using gasoline. Also, the use of a plug instead of a battery reduces the impacts associated with its production and end-of-life.
Product specifications
Amperage
12
Assembled Weight (kg)
5.112072
Assembled Weight(lbs.)
11.27
Base Warranty Labor(Months)
36
Base Warranty Parts(Months)
36
Color
Red
Color Family
Red/Pink
Commercial/residential
Residential
Decibel Rating(db)
0
File/Certification Number
80016580
Ideal For
Leaf and debris removal for up to 1/4-acre yards
Interchangeable Tips
Yes
Maximum Air Speed(MPH)
260
Maximum Air Volume(CFM)
450
Model Description
12-Amp 450-CFM 260-MPH Corded Electric Leaf Blower Vacuum Kit Included
Mulching Capable
Yes
Mulching Impellor Material
Plastic
Package Contents
CMEBL7000 corded leaf blower, backpack with hose, blower tube, vacuum tube, concentrator nozzle
Power Source
Electric
Safe For Indoor Use
No
Safety Listing
CSA safety listing
Series Name
N/A
Start Type
Push start
Type
Backpack
Usage
Heavy-duty
Vac/mulch Ratio
12:1
Vacuum Capable
Yes
Vacuum Kit Included
Yes
Variable Speed
No
Warranty
3-year limited
Frequently bought together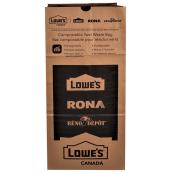 DURO BAG
Duro Bag Lawn and Leaf Bags 30 Gallon 2 Plies Pack of 5
Format 5/PK
3 . 44 Each
Article #67745000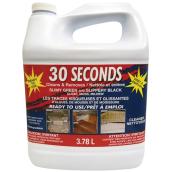 30 SECONDS OUTDOOR C
Outdoor Cleaner – "30 Seconds" – 3.78 L
Format 3.75L
20 . 99 Each
Article #35845001
You may also like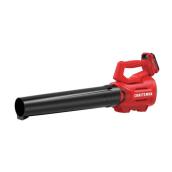 CRAFTSMAN
Craftsman Cordless Blower – 20 V Lithium-Ion- 340 cfm
Format 20V
Save $20 until Mar 22nd, 2023
$ 109 Each
$129.00
Article #00277239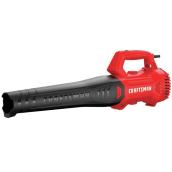 CRAFTSMAN
Craftsman Axial 9-Amp 450-CFM 140-MPH Corded Electric Leaf Blower
Format 9AM
64 . 99 Each
Article #00277347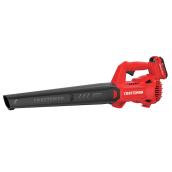 CRAFTSMAN
Craftsman 20V Lithium Ion 200 CFM Cordless Electric Leaf Blower – Battery included
Format 20V
$ 109 Each
Article #00277348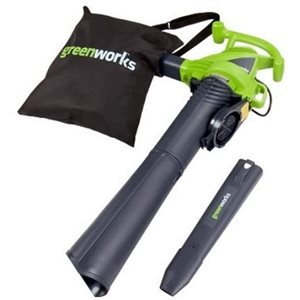 GREENWORKS
Greenworks 12 A 2-Speed 230-mph, 375 CFM Corded Electric Leaf Blower (Vacuum Kit Included)
$ 109 Each
Article #330968653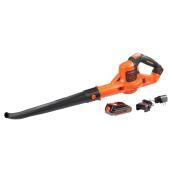 BLACK & DECKER
Cordless Leaf Blower – 20V
Format 20V
$ 176 Each
Article #22465090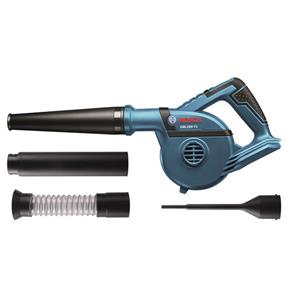 BOSCH
Bosch Blower – 18 V
99 . 99 Each
Article #330609670
GREENWORKS
Greenworks Pro Cordless Leaf Blower – 80-Volt – 580 CFM – 145-mph – Tool Only
$ 166 Each
Article #330766381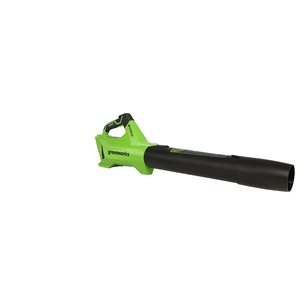 GREENWORKS
Greenworks 110-mph 24-Volt Lithium-Ion 450 CFM Brushless Handheld Cordless Electric Leaf Blower (Tool Only)
$ 120 Each
Article #330968627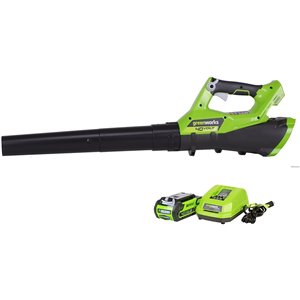 GREENWORKS
Greenworks Axial Cordless Leaf Blower – 40-Volt – 390 CFM – Tool Only
$ 104 Each
Article #330766356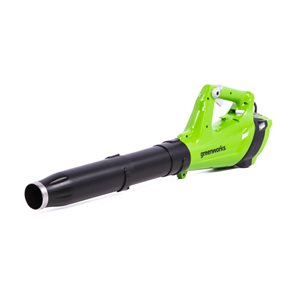 GREENWORKS
Greenworks 9 A, 130-mph, 530 CFM Corded Electric Leaf Blower
79 . 99 Each
Article #330968619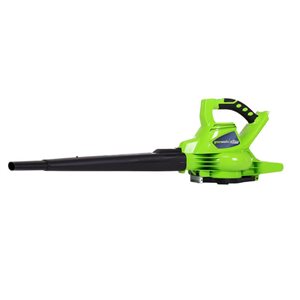 GREENWORKS
Greenworks 40 V, 340 CFM Brushless Cordless Handheld Electric Leaf Blower/Vacuum (Tool Only)
$ 169 Each
Article #331067996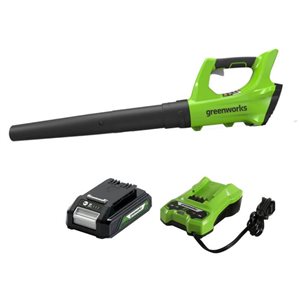 GREENWORKS
Greenworks Powerall 24 V Lithium Ion 330 CFM Handheld Cordless Electric Leaf Blower with Battery and Charger
$ 149 Each
Article #331067963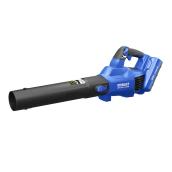 KOBALT
Kobalt 40 V Max 520 CFM 120-mph Cordless Brushless Leaf Blower (Bare Tool)
Format 40V 520CFM
$ 129 Each
Article #45595099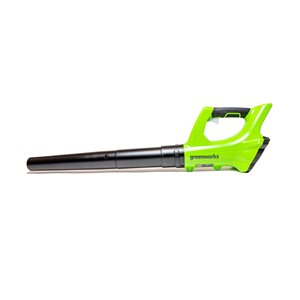 GREENWORKS
Greenworks Axial Cordless Leaf Blower – 24-Volt – 530 CFM – Tool Only
93 . 99 Each
Article #330766344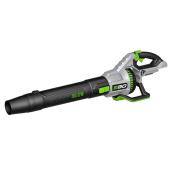 EGO
EGO POWER+ Cordless Brushless Electric Leaf Blower – 765 CFM – 56V (Bare Tool)
Format 765CFM-56V
Save $20 until Mar 22nd, 2023
$ 329 Each
$349.00
Article #32165187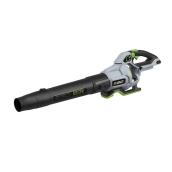 EGO
EGO POWER+ Brushless Handheld Cordless Electric Leaf Blower 56V 160-MPH (Tool Only)
Format 650CFM-56V
Save $20 until Mar 22nd, 2023
$ 279 Each
$299.00
Article #32165068
Is the impeller metal or plastic? If metal is it steel or aluminum?
The impeller is made of what looks like cast aluminum.
Date published: 2022-10-24
Can you buy the bag separately?
I don't know off hand. It would be best to contact the mfr. for details
Date published: 2022-04-04
Will pebbles or rocks vacuumed damage this machine?
Craftsman Electric Blower 3-in-1 – 12 A – 450 cfm – 260 mph – Backpack is rated out of 5 by 347.
Rated 5 out of 5 by Larry from Attention !!! Read this it works Like alot of other comments I bought the blower took it home and it would not start. The instructions don't make it real clear but the blower cover has like a safety built in it. If you close the cover and don't turn the inside ring clockwise until you hear a click it will not start. So when you close the cover make sure you turn clockwise until you hear a click and it start every time
Date published: 2021-11-18
Rated 3 out of 5 by JLee from Risky and Shocking I am on my second one. I bought one of these and was getting shocked while holding it around the power switch area. Took it back and got another. The same thing is happening. Now I cannot return at this point. Not sure why Craftsman would put something like this on the market. This product needs to be improved/removed from the market. Craftsman should also provide existing owners with a new/improved model or reimburse. Even a small shock can cause a problem depending on who the user is.
Date published: 2022-03-18
Rated 1 out of 5 by Christopher995 from I ignored all the other reviews and bought anyway The bag as not sewn shut straight out of the box. Had to finish sewing it around the zipper to close the 12″ hole in the bag before I could even use it – fine whatever. Instructions on how to attach the nozzle to suck leaves sucks – you twist the inside black piece that looks identical to the outside black piece. At least make one piece a different color or something to know what to do. Worked really well the first 2-3 piles of leaves and cut the leaves into tiny little piece and the bags weighed about 50lbs each. Now, it doesn't cut up leaves anymore and just sucks them into the bag. The bag fills up in about 3 minutes and a full plastic bag weighs around 12lbs. I don't have any idea what is better than this – but this is not worth buying.
Date published: 2022-11-10
Rated 5 out of 5 by KAntoniak from Amazing Blower! [This review was collected as part of a promotion.] The Craftsman 12 Amp Corded Blower/Vac/Mulcher exceeded my expectations! It is so lightweight and versatile, making yard maintenance much easier. Set up was a breeze and changing the attachments is easy. The bag is large enough to hold a lot of debris and isn't bulky or cumbersome. The vacuum mode is strong and it sucks up debris so easily. The blower is powerful to blow even wet materials away with ease. This is by far the best yard tool I have in my arsenal now to keep my large yard looking great all year! I definitely recommend it!
Date published: 2020-02-05
Rated 5 out of 5 by Susan from Something is Wrong I bought this for my small yard. Loved the backpack feature! Used it several times as a blower to clean gutters and blow leaves out of rock landscaping and it worked well. Plenty of power to get through even packed down leaves from winter. Today I hooked it up to vacuum up some DRY leaves in the rocks and it shocked my hand right at the plastic handle. I tried it again and as soon as it encountered more than a tiny amount of leaves it shocked me again. Ouch! It never did that when blowing only when vacuum was attached. I hate to return it but perhaps it's a defect in mine and I could get a replacement.
Date published: 2020-08-08
Rated 4 out of 5 by bnixon from Great Vacuum Mulcher My old Toro was working well, but seemed to get clogged and the hanging bag was bad for my back, so I decided to try this given the backpack bag. I bought it on Friday, and used it for 3-4 hours on Saturday and Sunday to clean leaves and it worked great. Less back pain and a powerful vacuum. It jammed only once when I ingested some acorns, but otherwise was jam free, but something required a push of leaves stuck in the funnel. Unlike my Toro, I never had to disconnect the funnel or bag to clear it. Capacity is good and I can fill a large 30-gallon brown bag with 2-3 backpacks full of leaves. It is a decent weight. Not lightweight, but also not a burden and I used it one handed most of the time. My only compliant is that I wish the base of the funnel pickup was wider.
Date published: 2021-11-21
Rated 1 out of 5 by Mway from Poor Quality I was looking forward to using this after my 15-year-old Toro died. When I unboxed it there was a rattle in it that was a bit alarming but when I put it together the blower worked but I only used it about 5 minutes. The next day I put the vacuum attachment on it which was a chore and when I turned it on I felt a shock in my hand. I immediately turned it off and thought I was imagining it. I turned it back on and got shocked again. I am very disappointed in the quality of a "Craftsman" product.
Date published: 2022-03-05
Rated 3 out of 5 by WesR from Lacks power I like the machine overall. It turns general leaves and debris into finely chopped pieces and dust. However, it can't handle sweet gum seeds and turns them into little wooden balls which fall out (see photo). Yountville have to rake those! Also, a crucial part to connect the discharge hose was a cheap tie lock, which lets the hose slip out of place. I had to make a repair to my almost new machine. If I had it to do over again, I'd invest in a more powerful one, since I have two big sweet gum trees.
Date published: 2020-12-20