Cover More Water with the Best Trolling Motors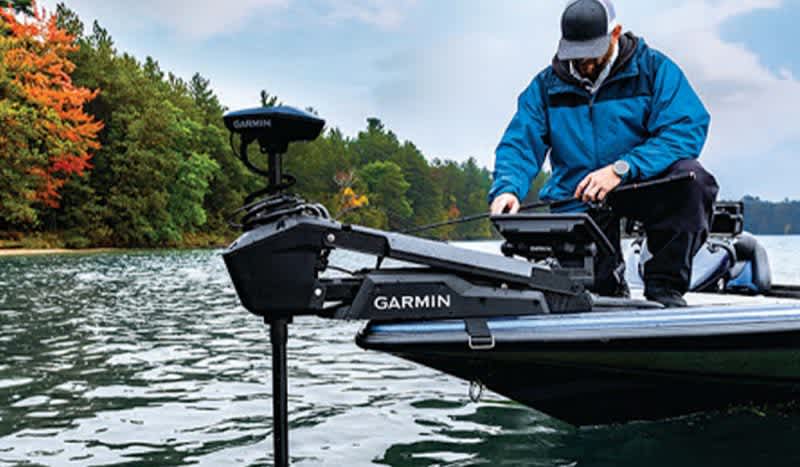 1. Minn Kota Terrova Bow Mount – Editor's Pick
Of course, you can't go wrong with a Minn Kota trolling motor, and the Terrova is a hugely popular model with good reason. You can pick from 55lb., or 80lb. thrust with 45 in. or 54 in. shaft lengths. For my boat, I'd go with the 55lb., 45in. model, but it's up to you. These Minn Kota trolling motors have the latest version of the i-Pilot GPS system with a hand-held remote and foot controller. Integrate in a Humminbird plotter and fish finder with Mega Down Imaging and you've got a motor that will help you navigate precise location on the lake and get on the fish, as well as anchor you in place, even on windy days. It has an easy one-touch deploy system and Bluetooth connectivity so you can also use an app on your phone to control and monitor the trolling motor.
I'll be honest, I'm barely scratching the surface of all that this puppy can do. If you're in the market for a bow-mount Minn Kota trolling motor, you owe it to yourself to take a look at this one.
3. Motorguide X3 – Budget Pick
If you're looking for a no-frills bow mount trolling motor that runs on a simple 12volt (one battery) system and doesn't cost an arm and a leg, take a look at the MotorGuide X3. The X3 is a 45lb thrust trolling motor made from sturdy aluminum. It has a weedless, three-blade prop and is controlled by a foot pedal with cables for controlling the trolling motor's thrust and movements. The coolest part is the price – well under $500. In fact, it can be had for around the $450 mark. For smaller boats, or for those trying to keep costs down but wanting a trolling motor for fishing, this is an outstanding buy.
4. Lowrance Ghost – Quiet Power
All right, you already know that Lowrance is one of the world leaders in marine electronics. Their navigation and sonar devices are about as good as it gets, and when they jumped into the trolling motors game, we all knew it would be a winner. The Lowrance Ghost trolling motor does some things well, and some things extremely well. Like other trolling motors in this price range – which is in the $3,000 range, the Ghost is fully integrated with all the sonar imaging and GPS enabled goodies. You hook up your Lowrance systems to it and it gives you a clear picture as to what's under and around your boat. There are options available to further expand your view, and you can control everything from the touch-screen of your HDS LIVE, HDS Carbon, Elite FS and Elite Ti² displays. Cool stuff. The Ghost is super quiet, too. Unlike the competition, it uses a brushless electric motor that uses less battery and runs quieter. You barely hear it. The unit is drive-by-wire with a foot controller. This is a very cool trolling motor and you should look into it.
5. Mercury Marine 8HP – Kicker Picker
Big water anglers will often have a bow-mount trolling motor and a gas outboard kicker motor to use as a true trolling motor. I have buddies that I fish with often who run this type of set-up. Instead of trying to get a 50-60hp motor to throttle down, you can drop in the kicker, like this 8hp Mercury Marine four-stroke outboard that you can have delivered right to your door. Boat motors are hard to come by right now, too, so this is a big deal. This tiller-operated motor has a 20-inch long shaft and is perfect for your walleye, musky or smallmouth boat. It has a five position trim with auto ratchet and shallow-water drive. The Mercury has a manual choke and primer with a decompression lever to make starting easier. This is a great gas-powered trolling motor to get you on the fish.
Pick the right trolling motor
There are so many options for trolling motors, and we didn't even discuss the transom-mount motors beyond the kicker. How do you pick the right trolling motor for you? There are several factors, ranging from budget to boat size. You can easily have too small of a trolling motor, but honestly, it'd be hard to have too much trolling motor for most boats. Looking at power, trolling motors with more thrust tend to run more efficiently at lower speeds. When you add in wind, waves and current, the larger trolling motors will help keep you going the way you want to go with less effort and input from you. Letting you focus on the fish.
How do you pick the minimum amount of thrust for your boat? Start off with the weight. The rule of thumb I've seen most often is to use a minimum of 5lb. of trolling motor thrust for every 200lb. of your boat's fully-loaded weight. This includes you and all of your gear, friends, family etc. that you will take in the boat with you. A 1,400lb. loaded fishing boat would require at least 35lbs.of thrust to just move the boat. That doesn't include wind, waves and current, along with navigating and all the fun stuff you use a trolling motor for. I'd suggest 55lbs. or more. More is better, although it does require more juice.
The nest part is looking at the electronics you run in your boat. Do you want/need to integrate your fish finder/GPS system with your trolling motor? Then you need to check compatibility and the functionality of your trolling motor. That's a big reason why Lowrance and Garmin got into the trolling motor business.
Why troll, and what exactly is trolling?
Trolling is a simple idea, really. Basically, it means you're going to use your boat and motor to cruise along at a slow pace while you have lines out with lures to cover a larger area of water. It is an extremely effective method for catching walleye, salmon, musky and other aggressive fish species.
To troll properly, you need the right equipment. Rods, lures, line and more is part of the equation, but there is much more to it. One of the most important elements to trolling is your motor, whether that is an electric trolling motor, or a gas-powered kicker motor.
Trolling helps you cover more water faster than by moving to spot-after-spot and casting. It also allows you to use the maximum amount of lines legal in your area. More lines means increased chances of connecting with fish. It also helps when targeting fish species that are actively looking for bait, such as when a school of walleye are on the move, or when targeting salmon in open water. Without the right motor, however, you're going to run into issues.
Speed Control
There are several really strong reasons to set up a troll, and you simply cannot troll effectively without speed control.
Too slow and your baits will drag along with a horribly sluggish demeanor, but going too fast won't do them any favors either. The key thing to keep in mind during a troll is you want to imitate natural bait. Done right, and you'll trigger a predatory species' instinctive response, meaning you'll get a strike even if that fish isn't active in a feeding pattern.
Optimal speed for trolling depends on the type of fish you are targeting and the bait you are presenting. For most species of freshwater fish, that is usually in the 2-2.1 mph range. This can jump up to 2.2 to even 3 mph depending on the size of the water you're hitting. Great Lakes anglers trolling for salmon or trout usually are in the 3 mph range or slightly higher, depending on the weather and the time of year. The important thing to always keep in mind is to control the speed for the species and presentation.
Electronics are important
Electronics are right there with the motor in importance to a successful troll. Good electronics allow you to monitor speed, depth and bottom contours, as well as, notify you of target fish and bait fish concentrations. If you're serious about trolling, you'll have a unit with GPS and mapping technology that will allow you to target specific areas, and structures.
Another area you don't want to overlook with trolling and speed are the thermoclines within the body of water. Temperature affects fish and their metabolism in a major way. Fish often move with the changing water temperatures and will hang on the edges looking for food. Be prepared to adjust your speed accordingly when there is an increase or decrease in water temperature in the depth you're trolling in.
Dealing with batteries and volts
Your electric trolling motor needs power that comes from deep-cycle batteries. Each battery is 12 volts, so if your trolling motor requires 24, or 36 volts, that tells you that you need 2-3 deep cycle batteries. As we covered in our guide to deep cycle batteries, they're not all created equal. They also add to the weight of your boat, so factor that into your trolling motor selection.
Many of the manufacturers are slowing switching to new Lithium Ion technology for deep cycle batteries. This is not a bad thing, other than the cost. A quality Lithium Ion battery will run well over $700, but it will last a long time, and it cuts the weight down by a huge margin. You can see savings of up to 50 pounds! If you're running a 36volt trolling motor, you will want to bite the bullet and go with the higher cost, but lighter weight batteries. It'll give you better performance when you're on the water.
How deep does my trolling motor need to go?
For the best performance, you need to have a long enough shaft for your trolling motor to be at least 12 inches below the surface water. It will work better and reduce the chance of damage from coming in contact with the boat.
Can I use any battery to run a trolling motor?
You can *technically* use a car battery to operate a trolling motor, but you really don't want to do it. Trolling motors are hard on batteries and that's why deep-cycle batteries are recommended. Your trolling motor can drain a car battery enough times that it would no longer hold a charge and need to be replaced/disposed of.
What's the difference between an electric trolling motor and a gas-powered kicker?
A gas kicker motor is great for trolling in straight lines, usually on bigger water. The top walleye guys will use a big outboard to rapidly get to their favorite spots, and then switch to a kicker to slowly troll with planner boards and Dipsy divers at the right speed for the lure to do its job.
The same guys also have an electric trolling motor to fish structure and other areas where they aren't doing a straight-line troll. Depending on your boat size and type of fishing, having both is a great idea.
We are committed to finding, researching, and recommending the best products. We earn commissions from purchases you make using the retail links in our product reviews. Learn more about how this works.