Aberdeen, Washington, the home town of Nirvana frontman Kurt Cobain – a place he once mocked as "Twin Peaks without the excitement" – is holding its first annual Kurt Cobain Day on Thursday.
Celebrations will include the unveiling of Cement Resurrection, a full-scale statue of Cobain by local artist Randi Hubbard, at the Aberdeen Museum of History. Local band Gebular will play a set expected to contain a number of Nirvana covers. And cupcakes, cookies and light refreshment will be served, according to mayor Bill Simpson.
Aberdeen and Cobain have had an uneasy relationship. The Nirvana star dropped out of school and claimed he was bullied. After he killed himself, in 1994, it took Aberdeen more than a decade to officially acknowledge him. In 2005, the council added Come As You Are, the title of a Nirvana song, to the bottom of its welcome sign. Local officials have also complained that an unofficial monument to the star at a local park contains the quote: "Drugs are bad for you. They will fuck you up."
Aberdeen is not the only town looking for a piece of the action. Neighbouring Hoquiam, where Cobain lived "for a little while", according to mayor Jack Durney, is planning its first Nirvana day on 10 April – the day the band will be inducted into the Rock and Roll Hall of Fame, alongside Hall & Oates. If only they could have played together.
Last year Cobain's widow, Courtney Love, who holds the majority of the rights to the band's songs, told Bust magazine: "The Nirvana stuff is fucking cursed in my opinion … Somebody has to guard the gates of this thing, because you know what would happen? The second I sell [the rights], it becomes a jukebox musical, makes a billion dollars, and you've got jazz hands on Broadway. Or he'll be in Gatorade commercials."
(Love did not, however, manage to stop Miley Cyrus from covering Smells Like Teen Spirit.)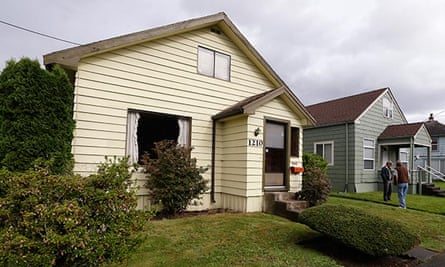 Ever wanted to see all of Latvia's top punk bands in a single day? Thought not. But just in case, why not attend Sid Vicious Day in Riga? Sadly, you've just missed the latest Sid Vicious Day, which featured performances by the shitflowers, Traumatized, Defectives and Eye TV. But there's always next year.
It's not just the musical who suffer. Famous writers are another target for mawkish memorialising. Every July, a hundred or so well upholstered white-haired old guys gather in Key West, Florida to see who among them most resembles Ernest Hemingway. Looking like a herd of Santas resting up after Christmas, they dress in varieties of "Papa" drag and compete in events including arm wrestling, fishing and drinking. One assumes a herd of ambulances hovers nearby.
Would Hemingway have approved? It seems unlikely. As he once said, "Happiness in intelligent people is the rarest thing I know." But then again, the bar is open. As Hemingway also said: "An intelligent man is sometimes forced to be drunk to spend time with his fools."
October 27 is Sylvia Plath Day in Northampton, Massachusetts. The poet attended Smith College there. Thankfully, there are no look-a-like competitions. Daddy would not have approved.
Joe Hill, labor activist, songwriter and capitalism's most wanted has been celebrated in November in Portland since 1990. Hill fans – apparently forgetting the famous note Hill wrote to a friend shortly before he was executed, in which he said "Don't waste any time mourning. Organize!" – meet to sing his "rabble-rousing song" before, we assume, leaping on their fixed-wheel bicycles to shell-craft giant union banners to hang above their artisanal, shade-grown kombucha pop-up stand.
It's difficult to decide what Hill would have disliked more – Portland, or the fact that would-be Hill 2.0 Billy Bragg once ate some of his hero's ashes, saving some for Michelle Shocked, the once-radical songwriter turned gay-baiting born again Christian.
Hill was framed for murder and executed by firing squad on 19 November 1915. When the deputy leading the firing squad called out: "Ready, aim …" Hill shouted: "Fire! – Go on and fire!" No doubt he'd caught a glimpse of his afterlife.
The paintings of Jean-Michel Basquiat, who died at 27 in 1988, of a heroin overdose, now decorate everything from tea towels to Uniqlo t-shirts. There's even an upmarket line of scented candles that feature his work. It's easy to see Basquiat's contemporary Keith Haring, or his mentor, Andy Warhol, embracing a scented candle – but not Basquiat. What does it smell of? Death, smack and a hint of spray paint?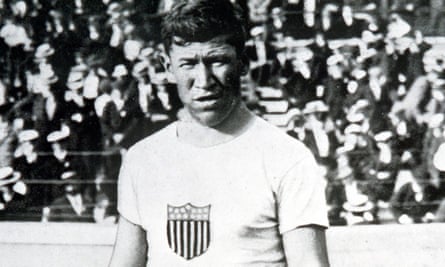 Perhaps the most bizarre "tribute" belongs to Jim Thorpe. When the multi-discipline athlete, who was of Native American ancestry, died in 1953, his children held a traditional burial ceremony on the Sac and Fox Reservation in Oklahoma. In barged Patsy Thorpe, the athlete's third wife, accompanied by state troopers. They seized the body and departed for Pennsylvania.
Patsy had sold her husband's corpse to Mauch Chunk and East Mauch Chunk, Pennsylvania, two struggling towns, on the promise that the two would merge, rename themselves and build a memorial to the Olympic gold medalist. He had never set foot in either Chunk. Sixty years later the town of Jim Thorpe, PA, is embroiled in a legal battle with members of the Thorpe family, who want their famous forbear returned to Oklahoma.
At least Cobain escaped that fate.