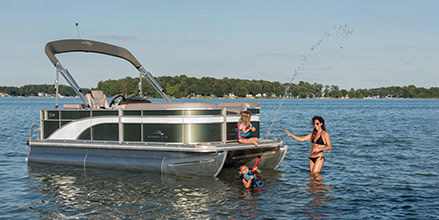 Choosing a Pontoon Boat Deck Size to Fit Your Needs
Owning a pontoon boat allows for you to enjoy many different recreational activities with your friends, family and neighbors. It's easy to get caught up daydreaming about fishing in one of the confortable fishing chairs on deck, diving into the lake with your family off the easy water access features, or even moving the neighborhood picnic out onto the boat for a day of fun on lake; but how do you know what size to get?
Determining a deck size for your pontoon boat can be a difficult decision, it's important to take into consideration both the amount of people you'd like to transport as well as the size of the body of water you plan to use the boat on.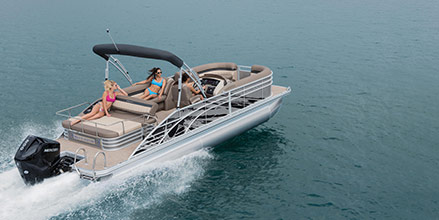 Generally, a 17 to 19-foot pontoon boat is best for small bodies of water that tend to be calmer. These boats are great for entertaining groups of up to eight people.
20 to 22-foot boats are well suited for lakes and rivers that do not have large waves. The mid-sized boats are well equipped to seat up to 13 passengers.
The larger 23 to 28-foot boats are capable of cruising through rough waters and offer enough space for up to 15 people to enjoy a day on the lake.
If you need a little help deciding what size deck would work best for you, contact a local Bennington Pontoon Boat dealer.