Picking the best spring bass fishing lures probably comes down to understanding the transition from cold to warm water, the level of color in the water and a bit about the biology of your venues and fish. As well as how to pick, I've made sure to include my Amazon affiliate links to suitable options so you can easily follow along with the strategies. Qualifying purchases don't alter the retail price to you & typically create a 4% commission to Fishing Discoveries. These are a great way to support future content creation – thank you!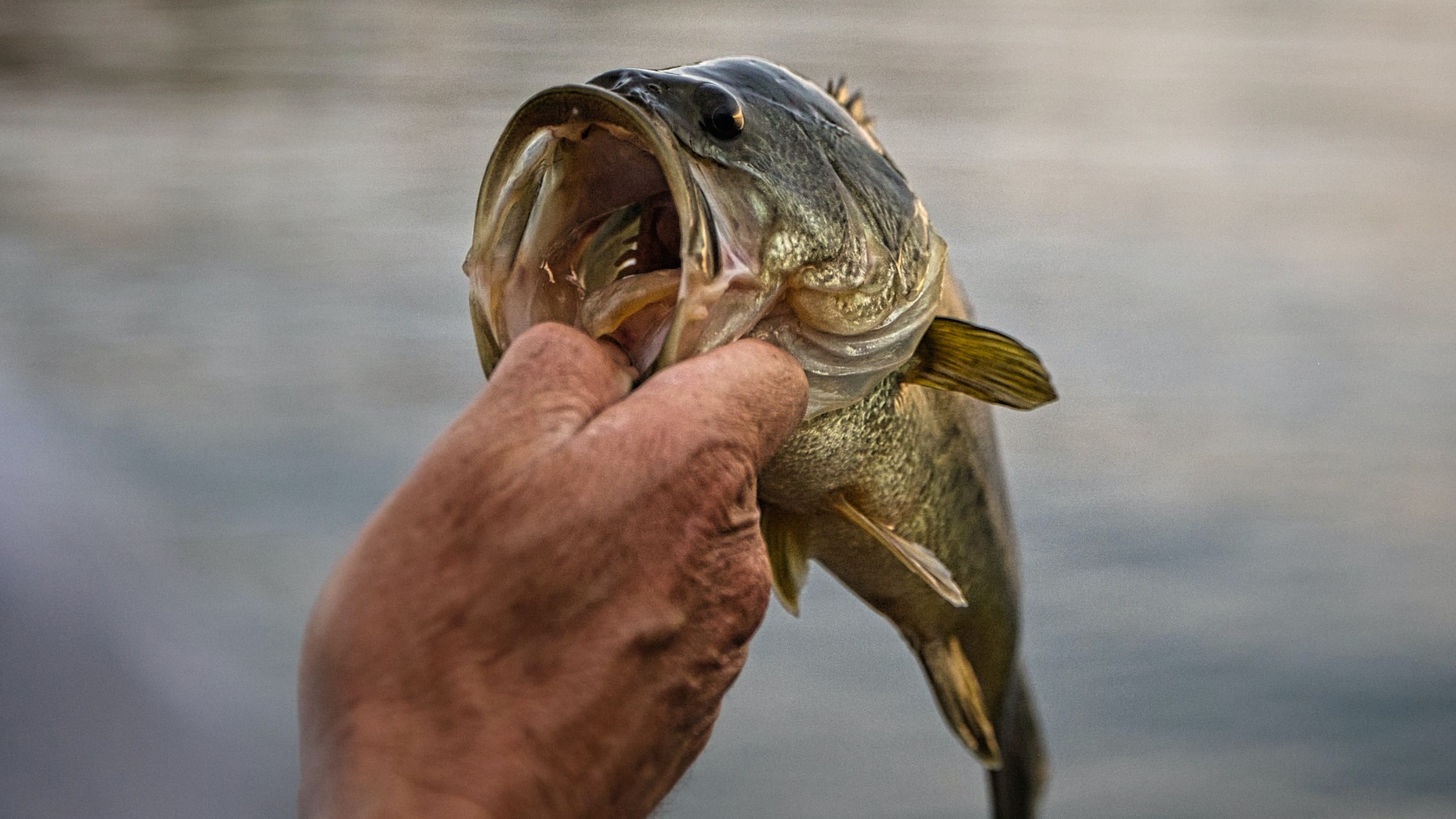 Having one or two lures from each category in the Table of Contents (below) should set you up with a solid, adaptable toolkit of spring bass fishing lures. If you're already good to go on your strategy, then you can skip right to each lure type by clicking any topic here:
Choosing the Best Spring Bass Fishing Lures: How to Pick a Color
Spring is a time of transition – with temperatures (and a bunch of other factors) at the beginning of spring being COMPLETELY different to what's happening at the end of spring. That means we need some guidelines to make the best choices under these changing conditions.
To break this down into super simple steps, let's use two factors
Water temperature (Main Factor)
Water Color (Modifying Factor)
Water Temperature
In early spring, and COLD water it can be a great idea to try out red crawfish colors. With largely inactive baitfish populations, cold water bass often rely heavily on a crawfish diet.
As the water WARMS up and the bluegills, shad and other baitfish shoals kick into high gear, then it's a great idea to start throwing more bait-fish style colorways.
This applies well to hard baits, creature baits, soft swim baits. Sometimes, for worms, there might be some specific forage at your venues that makes particular colors "hot" local specialities – so keep that in mind.
Water Color
SECOND qualifier is water color. For that cold, colored water, the crawfish palette should be pretty full on bright orangey reds.
For clearer cold water, it's worth shifting towards yellower shades.
Natural colours for warming clear water in mid-spring (translucent brownish/greenish – matching changing colours of crawfish)
In warm water that might be a bit stained (but not muddy/chocolatey) going for contrasty (e.g. chartreuse and purple) baitfish style colorways
Rootbeer and similar (including natural bluegill) could be good baitfish colors for clearish/slightly stained warm water
When into water temps of 60 to 62 plus degrees, then your shad colours really come good, with natural silvers for clear water and chartreuse and silvery colorways to combat stained water
As our first two recommended styles of baits, it turns out that Crankbaits and lipless cranks work great with this scheme…
Are Crankbaits Good for Spring Bass?
Crankbaits that imitate naive, bumbling baitfish or a busy, rummaging crawfish (occasionally bouncing off bottom structure) are a killer mainstay option of spring bass fishing lures. As the water warms just a little bit, bass will tend to come shallower and these baits are best for more open water – or skirting the edges of grass (since there are obviously much better "weedless" options for getting into the grass).
Squarebill Crankbait: Strike King KVD 4
Diving to 6 feet and with an extra large profile, this lure meets the demanding design criteria of legendary bass angler, Kevin VanDam (KVD). This is your shallow water, spring power fishing choice for targeting that early season specimen bass. The squarebill and profile gives a fantastically busy "wandering/hunting" action, while still running true. It also deflects perfectly off cover to entice strikes. To avoid spooking pressured fish, these baits are designed WITHOUT internal rattles. Instead the action, size and profile create highly attractive visual triggers while sending out pressure waves by displacing the water around them.
Here's a 1 minute video of the bait in action:
Use the button below to check out 21 different colorways (fitting perfectly with the color-selection strategy in this article):
Lipless Crank Bait: Best Spring Bass Fishing Lures for Burning Across Shallow Flats
Strike King Red Eye Shad
Alrighty then – although this is definitely not a "Strike King" only article, the two styles of crankbaits offered here come from a strong lineup with a great reputation (and wide variety of colorways).
Because spring is the time for bass to move into shallower water, the lipless crank bait becomes another important weapon. Again, keeping in mind the idea of spring as a transition in conditions and behaviour – water temperatures between 45 and 60-degrees start to look good for throwing lipless cranks.
While the squarebill crankbait has a fairly tightly-calibrated diving and running depth, lipless cranks can be allowed to sink for differing "countdown" times and then run at a variety of depths. As a result, these baits can give you access to some deeper water than many billed crankbaits in colder water temperatures. The tight wiggle action is a great trigger – sending out signals of a young baitfish out of its depth in a bad neighbourhood!
The Strike King Red Eye Shad in a half ounce size has a great rattle sound (again as a different option from the silent squarebill) and is a tad slower sinking than some other lipless cranks. This makes it fantastic for suspending and burning just above the grass layer on shallow flats – just skimming the cover without snagging up in it.
That ability to cast out and burn back (across a range of depths) make them a great search fishing option for locating willing fish and intercepting them as they move from deeper into shallower water.
NOTE: As a change tactic, fishing them on the looping "jig" style retrieve where you hop it along areas of cleaner bottom creates another layer of versatility to these great baits.
All told, these are extremely worthy of a spot in your best spring bass fishing lures lineup.
Swimjig: Best Spring Bass Fishing Lures for Penetrating Inside Edges of Grass
Googan Baits Grass Hero Swim Jig
Another important note about spring bass fishing is that lakes with grass usually tend to see bass willing to move up into much shallower water EARLIER in the season while it is still cold (compared to very open lakes). However, compared to mid summer when those fish want to back right up super deep into the middle of that cool, dense cover; spring sees them sitting closer to the inside edges.
You have a big problem trying to fish crankbaits actually into cover like that (exposed trebles are a nightmare in that situation). Skimming the outside edges and above submerged grass is (consequently) the way with crankbaits.
LUNKER TIP: A sizeable white-color (or White & Chartreuse) swimjig (particularly when paired with a good-size soft swimbait trailer) is a bit of a secret weapon for picking out some big spring bass. When you include white as a main color, it accounts for a whole range of water stains – and still remain easily visible. At the same time, that visibility doesn't tend to come at the cost of being so in-your-face that it spooks pressured fish.
Of course, you still have the option for more muted "Bluegill-like" colors too (particularly for clear water).
Because you can also fish swimjigs in a similar way to how you might use a spinnerbait or crankbait, you can still cover the outside edges. PLUS with the special design weed-guard (transparent and more flexible) on the Googan Grass Hero, you get really good hook-up potential while being well protected from snagging while you're fishing right into the grass.
In the 3/8 oz the Grass Hero has a 4/0 hook and the half oz a 5/0 – and both allow great options for trailers.
The hand-tied skirts are more robust than banded options – and they also tend to create far better puff and flare effects when you pulse and pause the bait during the retrieve.
Swimjig Trailer (big Spring Bass Combo!)
Hot Spot Googan Baits GSW-48-WPS Saucy Swimmer 4.8″, White Pearl Shad
PRO TIP: An important way to improve your success with swimjigs is to add a great trailer. Don't just focus on the "wiggle" action though – for the full effect you need something with enough mass and a chunky enough tail to create significant body-roll.
Paired with the Grass Hero Swim Jig, this fat, scented, big boot-tailed soft swimbait is a kick-ass option.
BIG Senko: Best Spring Bass Fishing Lures for Invading Spawning Beds
Another important element of spring is the bass getting on the beds ready to spawn. After egg-laying takes place, the male stays on the bed to guard it from intruders – and that is a key opportunity for spring bass anglers.
Beds: The edges of big areas of grass, small pockets of clean bed between weed growth – anything where a patch of cleaner bottom (Especially GRAVEL) borders onto cover – all make great real-estate for a bass looking to spawn.
During this time when guarding those eggs, male bass are highly intolerant of any intruders that might be looking to mess things up by eating their eggs – so dropping a big-old wacky-rigged senko worm in the middle of that area is likely to be picked up right away and carried off the bed.
Drab, natural (almost bass-like) colors often work really well to trigger this response and going large with the size of worm should help to increase the strength of that response by creating a greater "threat".
Here's a 6″ Watermelon with large black flake by Gary Yamamoto (Senko worm OG!) ↓↓
Weedless Wacky Kit
To get that great, maddening, action in front of a bass on its bed – wacky rigging is a time-honored solution. Using an "O" ring extends the life of each bait massively. PLUS, by adding the weedless hook to that, it lets you throw into pockets of cover and give you access to beds that would otherwise be impossible with a bare hook-point.
Here's a kit for doing exactly that – where all the components are guaranteed to fit and work together right out the gate (it even includes a written guide to help increase your chances of success):
Best Spring Bass Fishing Lures Roundup
There you have it, an adaptable team of lures to target the key biological aspects of what is happening in the life of bass during spring. With this deliberately restricted "Essentials" shortlist you can intercept bass as they transition from deep to shallow water, follow the "flip" in their feeding from crustaceans to baitfish, penetrate into grass hidey-holes and also target bass on the beds.
A mix of hard and softbaits, exposed hook point and weedless rigs are all baked in to this selection – along with links to the exact lures and kit being described for each recommendation.
Good luck!
Paul