There are few things in this world that I love more than a high-quality kayak paddle. Paddles are works of art that have a practical application. A great kayaking paddle can help to elevate the whole paddling experience. From the way the paddle feels in your hands to the way it interacts with the water.
That being said, I would never insinuate that you need to have a high-performance paddle. I've always said that any kayak or paddle is better than no kayak or paddle. You should get what you can afford. This article will help you pick a new paddle if you spend a lot of time paddling and have the money to spend money on a new paddle. Upgrading your paddle is one of the best things that you can do to elevate the whole paddling experience.
These Best-In-Class Awards are being given to the best high-performance paddles of 2021. I chose these from the paddles that I had the opportunity to test in 2021. There are likely other paddles on the market that deserve to be part of this conversation. That being said, there is no denying that these award-winners deserve special recognition.
Lendal Storm paddle review
The bent shaft Lendal Storm is a full carbon paddle that retails for $625 USD. The paddle weighs a mere 22 oz or 650 g. The blades have a surface are of 609 square centimeters. They have a foam core that gives them a light and lively feel. The Lendal Storm carbon paddle is available in lengths of 205 to 220 centimeters. It is primarily designed for touring or sea kayaking in any conditions.
Why does the Storm get my nod as one of the best high-performance paddles of 2021?
Despite its light weight, the Lendal Storm is a paddle that feels like it can handle almost any condition. The fact that the Storm is only available from 205 to 220 centimeters reinforces the fact that it isn't designed for big and wide recreational kayaks.
Ferrule System on the Storm paddle
What makes the Storm unique is the ferrule system (where the two-piece paddle connects in the center). The Storm's lever lock provides a very secure connection, which allows you to choose any feather/twist that you want, and to add five centimeters of length to the paddle if so desired. Although five centimeters isn't enough to make this a one-size-fits-all paddle, it is a nice little feature.
Werner Ovation paddle review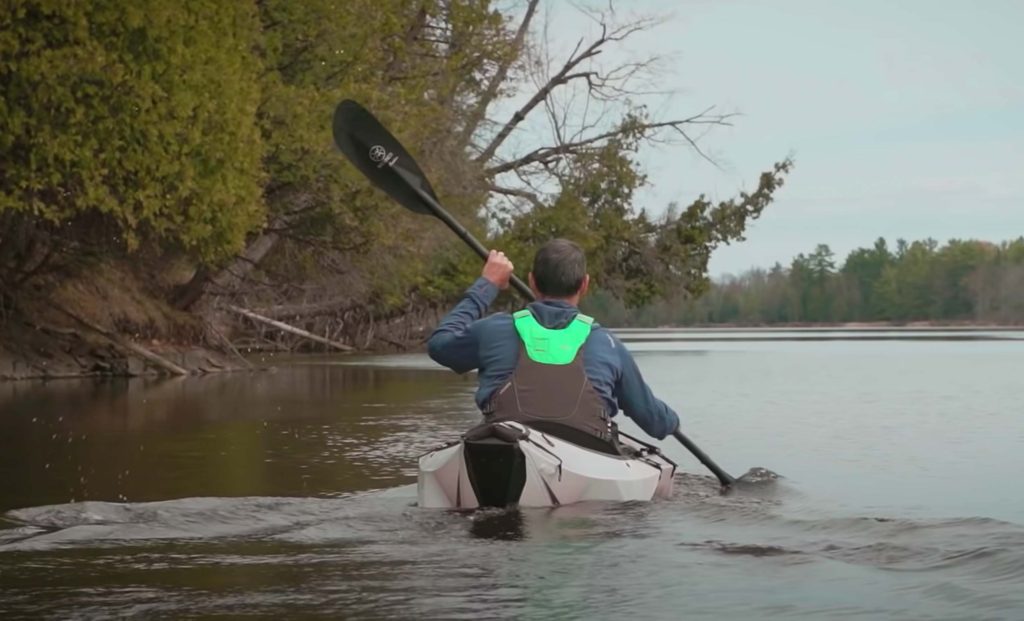 The Werner Ovation is a full carbon paddle that's available with a straight shaft or bent shaft. The bent shaft version retails for $590 USD and weighs a mind blowing 20.5 ounces, or 577 grams, making it one of the lightest paddles on the market, if not the absolute lightest. The blades have a surface area of 643 square centimeters and a foam core that makes them feel as though they want to pop out of the water with every stroke you take. The Ovation comes in lengths of 210 to 240 and is primarily designed for leisure paddling in calm water.
Why does the Werner Ovation get my nod as one of the best high-performance paddles of 2021?
Not only is the Ovation one of the lightest paddles on the market, but it has a uniquely beautiful feel in the hands, as the blades seemingly leap out of the water following each stroke.
Who is the Werner Ovation paddle for?
The Ovation is not for everyone. The price put it out of range for many people, and the paddle is not designed to handle rough or challenging paddling conditions. This is a paddle for people who like to cruise around in calm water. It's a paddle for people who are willing to trade power and durability for a uniquely magical paddling experience.
Aqua Bound Whiskey Fiberglass paddle review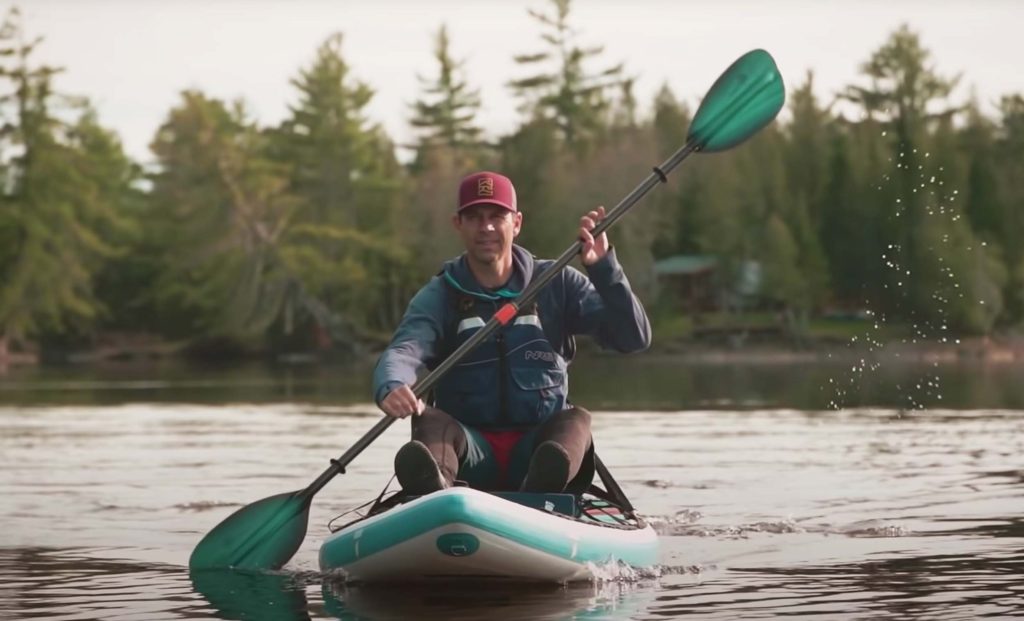 The Aqua Bound Whiskey Fiberglass paddle retails for $315 USD. The paddle has a carbon fiber shaft and fiberglass blades that have a surface area of 613 square centimeters. Available in length of 200 to 240 centimeters, the paddle weighs in at 26 ounces or 737 grams.
A kayak paddle that delivers remarkable value
Designed to handle a wide range of paddling conditions, the Aqua Bound Whiskey is the only paddle without carbon blades to crack this 'Best-In-Class' list. While the Whiskey isn't the lightest paddle, or the top performing paddle, on this list, it is the least expensive paddle and it delivers remarkable value. Furthermore, the Whiskey's 'Posi-Lok' ferrule system is second to none. It offers infinite feathering, and once locked in place, there's no discernible play.
So who is the Whiskey Fiberglass paddle for?
It's for any paddler who wants a significant paddle upgrade without absorbing the cost of a full carbon paddle. The Whiskey is for beginner to expert recreational and touring paddlers who want a paddle that they can take into all but the roughest of conditions.
Gearlab Outdoors Kalleq paddle review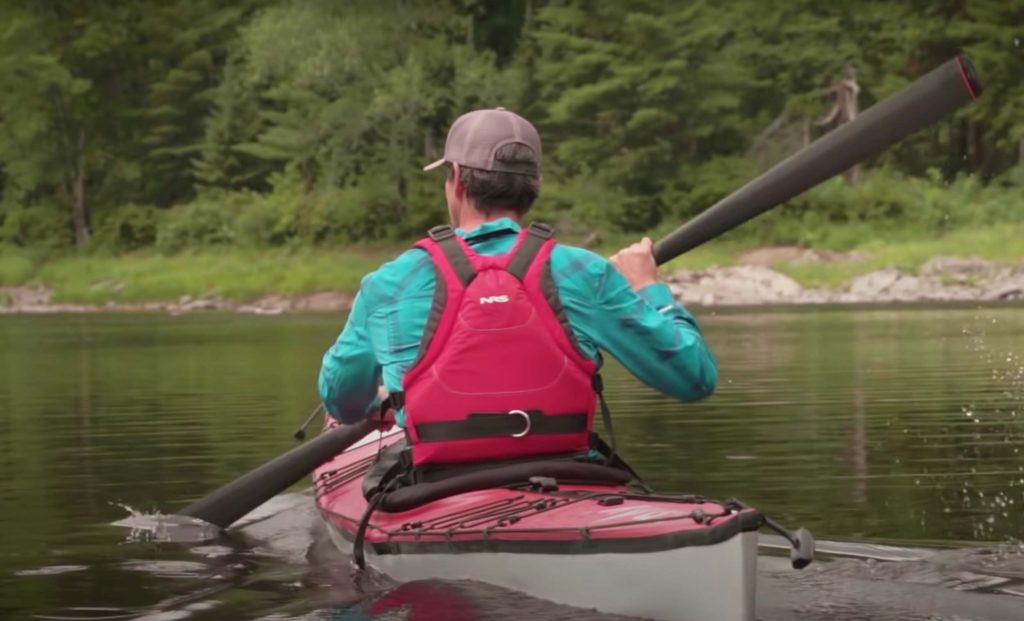 The Gearlab Outdoors Kalleq is a full carbon Greenland paddle that retails for $438 USD. The Kalleq comes in lengths of 200, 220, and 230 centimeters and weighs 25.5 ounces or 720 grams. It's primarily designed for expeditions, recreational touring, and rolling.
Greenland paddles
If you've never seen a Greenland paddle before, here's what you need to know. Greenland paddles don't only look different from other paddles, but they require a different paddling technique which takes practice to learn. The benefit of using a Greenland paddle is that it reduces shoulder and body strain, especially during long days of paddling.
Kalleq paddles deliver a smooth and lively stroke
Why did I choose the Kalleq as one of the top high-performance paddles of 2021? The Kalleq delivers a smooth and lively stroke and feels great in the hands. The ferrule system is very straightforward and offers zero play, and the paddle has replaceable nylon tips, which dramatically improves its durability. At $438 USD, the Kalleq is also very well priced for a full carbon paddle.
Who is the Gearlab Outdoors Kalleq paddle for?
This paddle is for anybody who has the budget to go full carbon and wants a Greenland style paddle. It's for people who enjoy long days of touring, and who want a paddle that reduces the strain on the upper body and shoulders.
Wilderness Systems Apex Carbon paddle review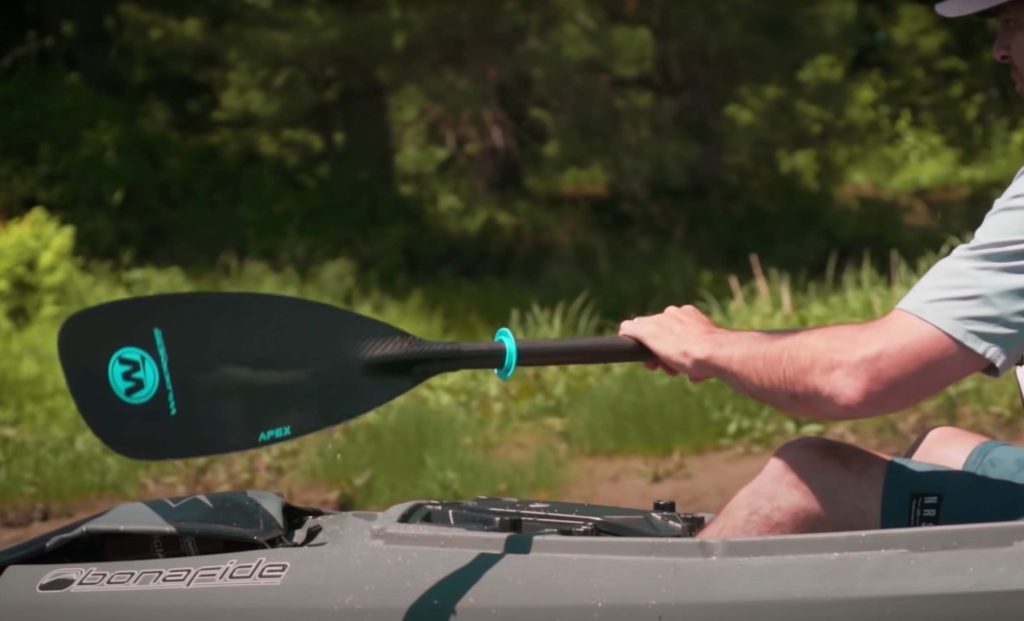 The Wilderness Systems Apex Carbon paddle is a full carbon paddle that retails for $440 USD and weighs 27 ounces (765 g). The foam core blades have a surface area of 610 square centimeters and the paddle comes in two telescoping lengths of 205 to 225 centimeters and 220 to 240 centimeters. The Apex is primarily designed for recreational paddling and touring in varied conditions.
There are a few reasons the Apex is an award winner.
For one, at $440 USD for a full carbon paddle, the Apex delivers great value. Futhermore, the 20cm telescoping capability of the paddle makes it the only true, one-size-fits-all carbon paddle on the market. For example, I will often use a 220 cm paddle for narrow touring or sea kayaks, and a 240cm paddle for wider sit-on-top recreational kayaks or fishing kayaks. One Apex paddle accommodates either of these situations.
Who is the Apex Carbon Paddle for?
The Apex carbon paddle is for beginner through expert paddlers who want a high-performing paddle that can deal with anything but extremely rough conditions. It's for paddlers who might paddle a variety of kayaks, so that the telescoping ability of the paddle is worth its extra weight.
Those are the Best-In-Class paddles of 2021!
While all these paddles do a great job of elevating the kayaking experience, I can't stress enough that they are far from essential upgrades. Any paddle that gets you on the water and moving is a wonderful thing. The important thing is to get out there, be active, and enjoy the incredible natural playgrounds that surround us. Happy paddling!