Lena Abraham is a freelance contributor with Delish, and was formerly Senior Food Editor, where she developed and styled recipes for video and photo, and also stayed on top of current food trends. She's been working in the food industry for over 10 years, and will argue that the best fish tacos in the world are made in New York. Don't @ her.
Grilled Pork Tenderloin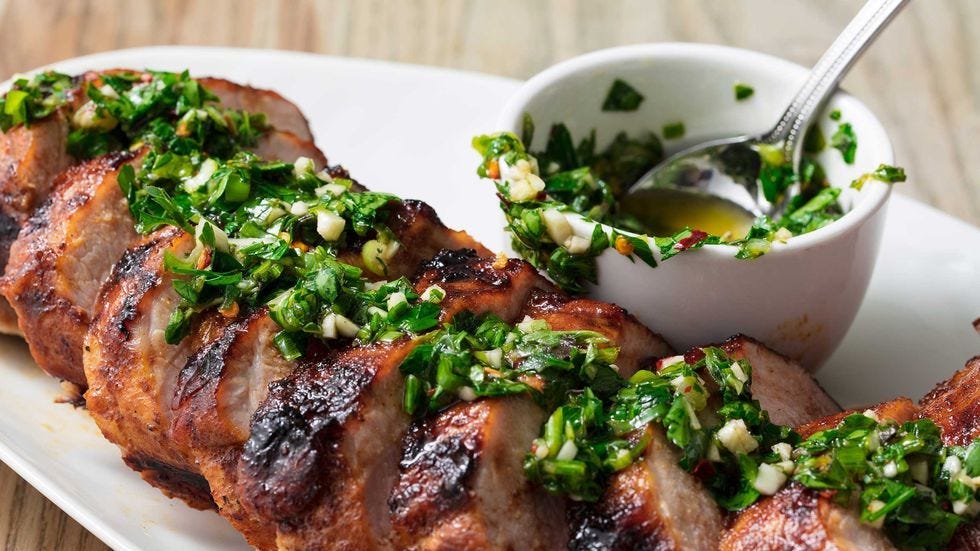 Pork tenderloin is one of our favorite cuts of meat for beginner cooks. It's relatively affordable, takes on rubs and marinades beautifully, and is generally pretty easy to cook. It tastes great roasted, but there's a lot of love for this grilled version.
Thanks to a magical combination of brown sugar, cumin, paprika, and lemon zest, this is honestly one of our all-time favorite pork recipes. Grilling doesn't take long, but will depend on how large your tenderloin is as they vary in size. Check it with a thermometer to guarantee it isn't overcooked and will be juicy and tender. While it grills, get started on the herb sauce. Is it necessary? Maybe not. But it's amazing and makes everything taste 1,000 better. Round out the meal with some grilled vegetables like asparagus or zucchini to create a dynamite summer dinner. We also love using some leftover slices on a sandwich—just make sure you hang on to some sauce to spread on the bread!
If you tried this recipe, let us know how it went in the comments below!
Yields:

4 serving(s)

Prep Time:

5 mins

Total Time:

1 hr
Click to View Post Navigation
Ingredients
Pork Tenderloin
Zest of 1 lemon

2 tbsp.

packed brown sugar

2 tsp.

smoked paprika

1 tsp.

ground cumin

1 tsp.

kosher salt

2 tbsp.

extra-virgin olive oil

1 1/2 lb.

pork tenderloin
Herb Sauce
2

scallions, white and pale green parts only, thinly sliced

1/2 c.

fresh parsley, finely chopped

1/4 c.

extra-virgin olive oil

2

cloves garlic, minced

3 tbsp.

red wine vinegar

2 tbsp.

fresh oregano leaves

1/2 tsp.

crushed red pepper flakes

Kosher salt

Freshly ground black pepper
Directions
Pork Tenderloin

Step 1In a small bowl, whisk lemon zest, brown sugar, paprika, cumin, and salt. Stir in oil to create a paste. Spread paste all over pork.
Step 2Prepare a grill for medium-high heat; preheat 5 minutes, or heat a grill pan over medium-high heat. Grill pork, turning occasionally with tongs, until charred and an instant-read thermometer inserted into thickest part registers 145°, about 20 minutes. (For larger tenderloins, bake in a 400º oven until desired temperature is reached, 15 to 25 minutes more.) Let rest 10 minutes.

Herb Sauce

Step 1In a medium bowl, stir scallions, parsley, oil, garlic, vinegar, oregano, and red pepper; season with salt and black pepper.
Step 2Slice pork and arrange on a platter. Spoon herb sauce over top to serve.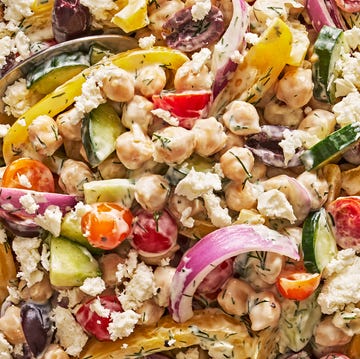 Greek Chickpea Salad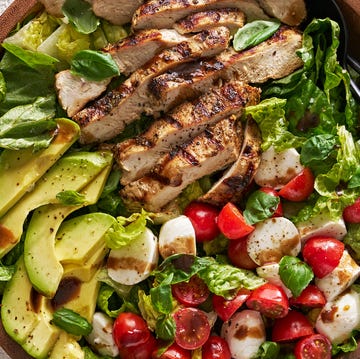 Chicken-Avocado Caprese Salad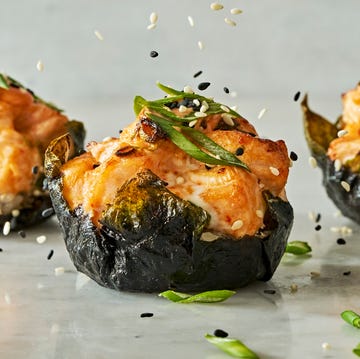 Baked Salmon Sushi Cups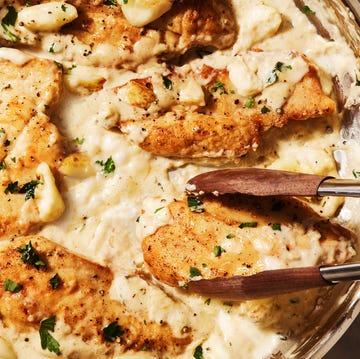 33 Creative Creamy Chicken Recipes