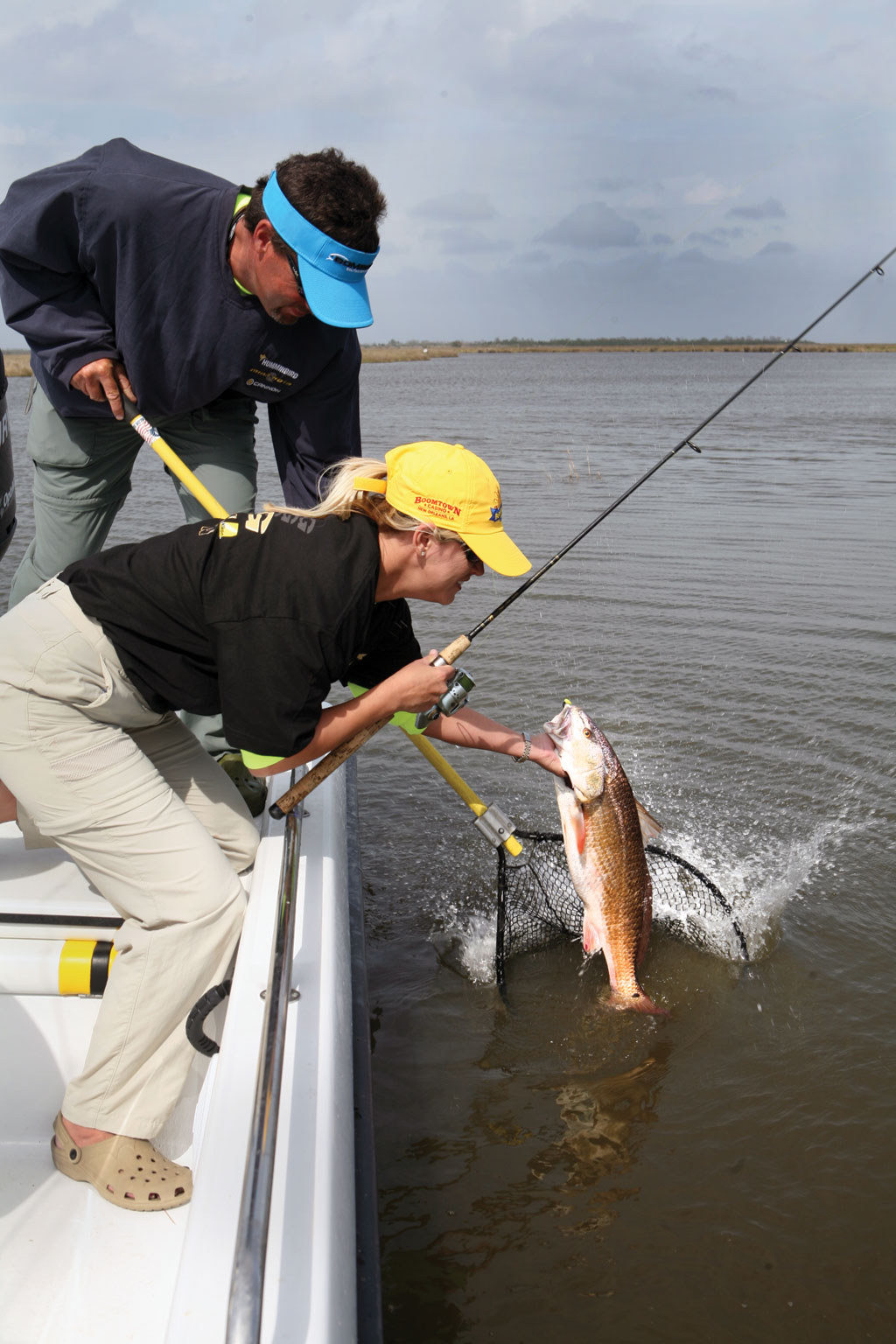 July 09, 2012
By Captain John Gribb
Inshore shallow saltwater anglers all have their favorite targets and all of them are active this time of year. Speckled trout are feeding actively, flounder are on the flats and fun fish like ladyfish and food fish like whiting are biting. But red drum — or redfish, spottail bass, puppy drum and channel bass — are a perennial favorite.
Different stages of the tides require different approaches. Most seasoned light-tackle fishermen know how to catch reds during low tide when schools drift around shallow tidal flats and sight casting is the name of the game. During moving tides, in and out, and during high tide periods, spotting redfish is more difficult, but they are not necessarily more difficult to catch.
WHERE TO LOOK AND WHAT TO LOOK FOR
When the falling tide drains all the water from the spartina marsh grass and forces all swimming creatures into the tidal creeks and mud flats, it's prime time for catching redfish. Inshore redfish spend most of their time in water less than 2-feet deep and on the low tide flats they will almost always maraud in schools. Look for signs like V-shaped wakes or nervous water signaling redfish schools chasing food. Sometimes you'll even see blow-ups on bait that are very obvious.
Fish that drop back into tidal creeks that still hold water at very low tides will often congregate in holes.
When half-tide rising water begins flooding grass banks, oyster banks and points, then baitfish, shrimp and crabs flee to these safe havens while redfish often stage nearby waiting for sufficient water depth to advance.
High tide flats appeal to anglers with and without boats. A venue for fly fishing anglers and light tackle spin casters, these flooded, hard-bottomed flats, teem with fiddler crabs and other small baits. They offer the excitement of stalking your prey along with the thrill of the strike. Look for the same pushing wakes and nervous water as on low-tide flats, but also look for tails. We rarely see tailing redfish on low-tide flats but tailing is common in the high-tide grass. There aren't many more beautiful or exciting sights than wiggling spotted tails glistening in the sunlight.
TECHNIQUES THAT WORK
Captain Tuck Scott, head guide at Bay Street Outfitters, (at www.baystreetoutfitters.com) knows how to catch redfish at all tides, but the techniques vary depending on the tide. At low tide, redfish fishing is a combination of hunting and fishing, because most of the time you cast to fish you have spotted. Captain Tuck suggests two techniques for working to a spotted school of fish. Casting in front and well beyond the fish and reeling the lure back at a constant slow speed works well. The other option is the "drop and wait" where you cast several feet in front of the school and let the lure sit on the bottom until the fish reach it. A little jigging action will then get you hooked up. Be careful to cast to the edges of schools rather than over them so you can catch several fish before they spook.
Captain Tuck likes casting a "new penny" colored Strike King Redfish Magic, which is like a fresh water spinnerbait, or a DOA 3-inch shrimp in addition to the traditional jig and trailer combinations.
When blind casting at low tide, he dredges pools of deeper water on flats and outside of creek mouths with the same lures. Use a slow retrieve that bumps a jig along sandy bottom areas and a slightly faster retrieve if oysters are present. With the spinnerbait a constant slow retrieve is fine since they rarely get hung up.
MID-TIDES — RISING OR FALLING
Mid-tide redfishing is like prospecting, since you rarely see the fish. Captain Tuck uses the same tackle and lures as at low tide and he targets the first shelf of oyster and mud banks and the first grass edges as they cover or uncover with water.
HIGH TIDE
Working high tides from a boat is similar to working mid-tides except there is more water. Now you cast directly over flooded oyster points and deeply into the flooded grass with a spinner bait or a 3/8 ounce, gold Johnson or Nemire Red Ripper spoon, which rarely hang up.
One of Captain Tuck's favorite tactics is wade fishing the high-tide marshes with a fly rod or light spinning rod. You are back to hunting when you fish this way, and when you spot some tails you have two options — move fast, or move slow and quiet. While shuffling rapidly toward tailing fish, your steps through the water produce a wake that will spook the fish as soon as it reaches them, so quick and accurate casting is essential. Moving slowly and quietly, it is possible to get within range of feeding fish and make multiple casts without spooking them, but sometimes they just stop feeding and disappear before you reach them. Each approach has its plusses and minuses.
For wading high-tide flats, the gear is the same but the lures are different. For the spin casters, Captain Tuck suggests casting a 1-inch Gulp! molting peeler crab 6 feet beyond the feeding fish and slowly cranking it back. Most fishermen should thread the crab imitation onto a 1/0 Gamakatsu circle hook with two medium split shot up the line to avoid gut hooking the feeding redfish that will certainly swallow the bait. Fly anglers should land a crab pattern like a #2, #4 or #6 Merkins, Fools Gold or Redfish Toad about a foot in front the fish for a quick hookup.
Bait fishermen can lip-hook minnows on a Johnson spoon, use a Carolina rigged mud minnow or a cork rig with shrimp or minnows in all the same places and catch fish at all tides.
Some of us know how to catch redfish at high tides and some are adept at low tides but being proficient at all tides is the sign of an expert. As they say on the "cast for cash" bass and redfish circuits, anybody can catch fish at times, but catching them when you want to is the difference between a pro and an amateur.