{{>productsMenu}}
Catalogs
RFQ
{{>trendsMenu}}
Equipment >
Water, Electricity >
Boat alternator
Boat alternators
{{product.productLabel}} {{product.model}}
{{#if product.featureValues}}
{{product.productPrice.formattedPrice}} {{#if product.productPrice.priceType === "PRICE_RANGE" }} – {{product.productPrice.formattedPriceMax}} {{/if}}
{{#each product.specData:i}}
{{name}}: {{value}}
{{#i!=(product.specData.length-1)}}

{{/end}} {{/each}}
{{{product.idpText}}}
{{product.productLabel}} {{product.model}}
{{#if product.featureValues}}
{{product.productPrice.formattedPrice}} {{#if product.productPrice.priceType === "PRICE_RANGE" }} – {{product.productPrice.formattedPriceMax}} {{/if}}
{{#each product.specData:i}}
{{name}}: {{value}}
{{#i!=(product.specData.length-1)}}

{{/end}} {{/each}}
{{{product.idpText}}}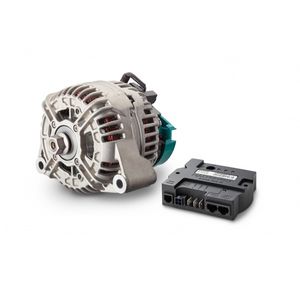 … automotive style alternators offer many advantages. Most manufacturers offer a second alternator option, better known as PTO or Power Take Off option. This provides a straight-forward way to add an Alpha …
Mastervolt
… replacement alternator meets or exceeds original manufacture spécifications and original equipment output » Units are engineered and constructed with plated fans, pulleys and hardware to resist corrosion in harsh environments …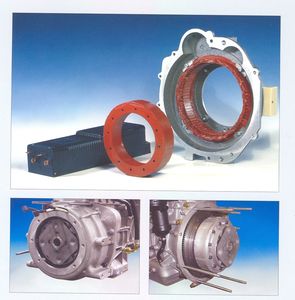 … sets cause more and more protests from the neighbour's boats. Optional retails list prices of such equipment installed in the boat range from between 3 to 4 times of the Genset unit price. In the boats …
Generate precise electrical power from your engine, regardless of RPM, with DYNAWATT 4000. DYNAWATT® 4000 Power System with sine wave output is compatible with sophisticated electronic equipment, digital controls, power tools, TV's, …
Dynawatt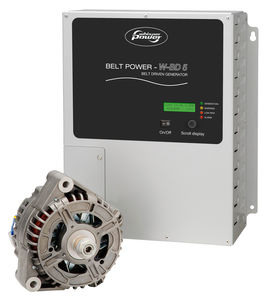 SPECIFICATIONS Power (continuous) – 3500 W Max current (continuously) – 16 A Max. inrush current (320 ms) – 32 A Voltage – 230 V Frequency – 50 Hz POWER / INVERTER BOX Net weight – 9.6 kg Dimensions (h x w x d) – 376 x 323 x …
WhisperPower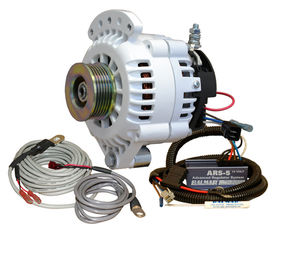 … Selling Alternator Line 70A, 100A and 120A Versions Patented Smart Ready® Technology Dual Fan Cooling High Airflow Frame Maximum RPM: 12,000 USCG Title 33, ISO, SAE and CE Compliant Ideal for Modest Charging Upgrades Balmar …
Balmar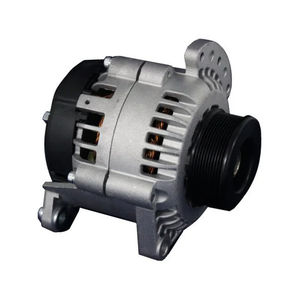 … -Output Marine Alternator will ensure more electricity is available when you're away from the dock, which gives you more power for electronics, lighting, windlass, AC appliances, marine …
ElectroMaax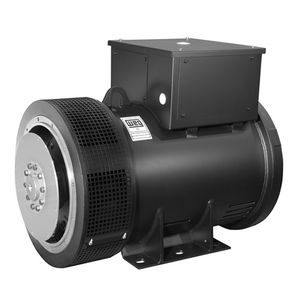 WEG's large experience on the manufacturing of alternators, added to modern design, production capacity and testing availabilities have resulted in the competitive line of brushless synchronous alternators …
Your suggestions for improvement:
Please specify:
Help us improve:
remaining
A marine alternator is a mechanical accessory used to generate electrical power. It is designed to withstand the rigors of the maritime environment.
Applications
These devices can be installed directly on the main engine or on a generator set. A step-down/step-up alternator may be used along with a standard model to serve as a supplementary power source. Alternators are extremely useful when a vessel carries equipment with high power demands such as thrusters, windlass and air conditioning.
Technologies
A rotor equipped with carbon brushes revolves around a stator, producing induced current. The mechanism is driven by a belt from the main engine or the generator motor. Most internal combustion engines are equipped with a standard alternator.
An added step-down/step-up model can provide several hundred amperes for charging even the largest battery banks. A regulator allows it to generate the correct level of current needed for charging or for supplying the various loads.
Determine electrical needs over 24 hours, both for charging and direct use, to calculate power requirements. Some supplementary power alternators are compatible only with specific engine makes and models. Be sure to supply this information to the manufacturer.
– Fast and efficient charging
– Little or no maintenance required
– Heavy
– Reduces engine performance
Receive regular updates on this section.
Please refer to our Privacy Policy for details on how NauticExpo processes your personal data.
Brand list
Manufacturer account
Buyer account
Our services
Newsletter subscription
AboutVirtualExpo Group