5 Things Worth Knowing Before You Try To Learn How To Kitesurf
Benefit from our hard-won experience on a Kite WorldWide trip in Morocco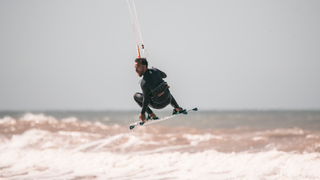 Photography: Adam Drake-Hughes (@adamgetssurfrage (opens in new tab) / @drakehughesphotography (opens in new tab))
Carve your way through the water at speed, use a wave as a ramp and perhaps throw in a few tricks if you've been doing it for a while – really, why wouldn't you want to kitesurf? The answer is that learning to kitesurf is hard. "Facefuls of sand and surf" hard. "Being hurled through the air while trying to stand up on the board then Googling the difference between bruised and broken ribs" hard.
That, at least, was my experience, attempting to learn over a five-day trip with KiteWorldWide to Essaouira on the Moroccan coast, flying with RyanAir from Stansted. But ask anyone who skis or snowboards how easy learning that was, and then ask them if it was worth it. When I asked a group of experienced German kitesurfers why it was worth persevering, they needed just one word – "freedom".
Imagining that feeling, plus losing a few hours watching kitesurfing videos on YouTube, will probably be enough to get you looking at flights and packages, so here are a few pointers from Coach and Abdeloauhad Nasser (pictured, above), co-owner of Explora Watersports (opens in new tab), which provides lessons for KiteWorldWide (opens in new tab) in Essaouira and other locations.
1. You Don't Have To Be Fit…
"It's more of a technical sport," says Nasser. "That's why it's getting very popular, because everybody can do it from ten years old to 70 years old." That said, learning will be easier if you're used to endurance sports like running and have a bit of strength to keep going while you acquire the technique, which requires getting used to a new set of co-ordinated movements for your feet and hands, just like learning to drive a car. In the six weeks before the trip, as well as my usual cycling to work, I opted for one strength class a week through Classpass and I think it was time well spent.
2. …But You Can Be Prepared
One thing you can easily do to get ahead of the game is try the individual elements of kitesurfing before you go – namely power kiting and cable wakeboarding. "It's exactly the same position on the board," says Nasser, "so you just need to understand the kite. If you have a feeling for the board, learning's so easy." There are cable wake parks all across the UK and it's similarly easy to find an activity centre that will offer an experience with a power kite.
3. Flying The Kite Is A Bit Like Driving A Barge
While we're not recommending spending a weekend on a canal to prepare to learn kitesurfing, we found the trick to steering a longboat carried over to the kite. Both are very easy to oversteer and if either stray off-course, it's almost always too late to correct deftly. Anticipating where the kite's going and making small corrections in plenty of time keeps things steady and under control.
32 Great Outdoor Challenges
The Best Activity Holidays In The UK
The Best Adventure Holidays In The UK
4. Anyone Can Pick Up The Basics In A Fortnight
Everyone's different, so who knows how long it will take you to pick up kitesurfing? But whoever you are, it'd be a surprise if you weren't able to crack it in two weeks, conditions permitting.
The process I went through, which will probably be similar wherever you learn, starts with learning how the kite works on dry land, how it's set up and how to stay safe. You'll launch the kite on the beach and find the "wind window" (essentially where to put the kite to get different levels of power), and also need to overcome the instinct to tense up when things go wrong: the trick is to let go and all the power in the kite will dissipate.
Once you can demonstrate control you'll walk the kite out into the surf and try body dragging, which means getting the kite pull you through the water.
The next part is the trickiest, and it's the point where my trip ended after four sessions over three days. While keeping the kite in the air, you have to slip your feet into the board's straps, get some power in the kite, stand up and get going – travelling a few metres before falling over. This, said Nasser, can take two or three lessons to get past, but after that it's working up to travelling downwind, 50m away from the shore, turning and going back towards the shore. Kitesurfing, in other words!
The other reason you might want to take your time is so you can learn in the sea. There are many places where you can learn on flat, calm water where you're not trying to slip a board on while getting battered by waves (hot tip: wait for the set of waves to pass), but if you plan on continuing with kitesurfing you'll inevitably end up on the sea at some point so why not surmount that obstacle while you're learning?
5. Make Sure There Are Other Things You Want To Do At Your Destination
There was plenty of wind during my trip but it tended to be too blustery in the morning, making those times a bit of a write-off. Even going to a destination with reliably windy conditions like Essaouira is no guarantee you'll be able to kitesurf whenever you want, so it's worth making sure there are plenty of other ways to pass the time.
Essaouira has a ton of active stuff to do with surfing, horse riding (opens in new tab), camel riding, quad biking, beach yoga (opens in new tab) and hiking aplenty. There's also the medina to wander around, featuring shops, markets, restaurants (Umia (opens in new tab) and Ramsess (opens in new tab) were particular favourites) and more in the fortifications of the old town.
We also stayed in the new luxury villas at Jardin Des Douars (opens in new tab) – surprisingly affordable if you fill each room with couples – and there was a private pool to splash about in and an onsite spa to try. It'd be foolish not to choose a treatment which uses argan oil, since Morocco is the source of this in-demand beauty product.
Coach travelled with kitesurfing travel specialist KiteWorldWide (opens in new tab). Kitesurfing and surfing lessons were provided by KiteWorldWide's partner Explora (opens in new tab)Watersports (opens in new tab). Ryanair (opens in new tab) now flies direct to Essaouira from London Stansted.
Coach Newsletter
Sign up for workout ideas, training advice, the latest gear and more.
Jonathan Shannon has been the editor of the Coach website since 2016, developing a wide-ranging experience of health and fitness. Jonathan took up running while editing Coach and has run a sub-40min 10K and 1hr 28min half marathon. His next ambition is to complete a marathon. He's an advocate of cycling to work and is Coach's e-bike reviewer, and not just because he lives up a bit of a hill. He also reviews fitness trackers and other workout gear.
Sign up for workout ideas, training advice, the latest gear and more.
Thank you for signing up to Coach. You will receive a verification email shortly.
There was a problem. Please refresh the page and try again.